5 Ways to Score a Free Flight Upgrade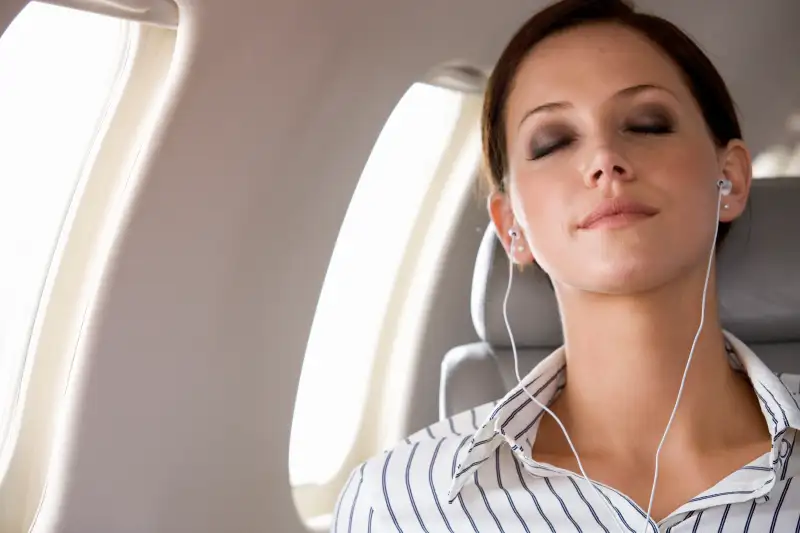 i love images—Getty Images
Today's crowded planes make it a lot tougher to get a free upgrade. As recently as 2003 about one-third of the seats on U.S. planes were empty—and as a result a free flight upgrade from coach to first or business class was easier to get. Just asking for an upgrade politely and wearing business attire were common bits of advice for success in those days, says Gary Leff, co-founder of the travel website Inside Flyer.
Today, you may need to follow other strategies. One reason is that a lot more people are packed into planes today, limiting the number of seats available for upgrades. Last year domestic flights were 85 percent full, on average; this June flights were 88 percent full, on average.
In addition, many airlines have reduced the number of first-class and business seats in order to add more "extra leg room" seats in coach. And the few upgrades that are granted are often given to those with elite status by computer before flights even take off. Any remaining empty seats are likely to be in coach.
Even so, there are some ways you can increase your odds of getting a better seat without paying more. Here are some strategies to try:
1. Buy a Business- or First-Class Seat
First-class tickets used to cost about four times more than coach fares a few years ago. Now the price difference can be a lot less. "Airlines have cut the price of first- and business-class tickets, preferring to fill those sections with people who will at least pay something for them," says George Hobica, founder of the travel site Airfarewatchdog.
As a result, on some flights there's not that much difference in price between coach and first class. And when you take into account the cost to check a bag (which you could have to pay if flying coach) and the cost of buying food in coach, paying for a business-class or first-class ticket can be the same price or even cheaper.
"I recently flew an American Airlines flight from Los Angeles to Portland and found the first-class seats were just $15 more than coach," Leff says. After factoring in the $25 it costs to check a bag and buy a meal in coach, first class was cheaper.
Although finding such deals are rare, it pays to check the prices in all sections of the plane when you book, just in case.
2. Avoid Competing With Business Travelers
Business travelers who fly often may have an elite status, so they are more likely to get a free flight upgrade than others, Leff says. To improve your chances of getting the upgrade, fly when business travelers are less likely to be in the sky. For example, avoid early Monday morning flights, when most business travelers leave on trips, as well as Thursday and Friday evening flights, when they tend to be returning home. Your chances of getting an upgrade are best on Tuesdays, Wednesdays, and Saturdays, when planes are emptier.
Read More: Top pick tires for 2016
3. Hang Around the Gate
Gate agents may be able to grant a flight upgrade if the coach section is overbooked. Leff says that their most important task is to get the plane off on time, so if there are seats available in the front sections of the plane, they may upgrade people during boarding.
To get one of those seats, arrive a bit early at the gate, when the agents are a little less frazzled, and tell them politely that if they are upgrading passengers you'd like to be considered. Then wait at the gate even after your row is called so that you are one of the last to board. "They won't want to take the time to get someone off the plane to upgrade them," Leff says.
The trade-off, Leff notes, is that if you don't get upgraded, the space in the overhead compartments near your seat may be full by the time you board and you'll have to check your bag.
Read More: Best used cars for $25,000 and less
4. Fly Foreign Airlines
If an airline based in another country flies your route, there's likely to be a lot more available space onboard. Foreign carriers' flights were only 62 percent full last year, on average.
By flying with a foreign partner you'll not only increase your odds of landing a free flight upgrade but also probably also earn rewards for your flights, be able to use points to buy tickets, hang out in alliance members' airport lounges, and enjoy other perks.
If you're in a frequent flyer program with a particular airline, see if it belongs to an alliance that includes foreign carriers. For example, American Airlines belongs to the One World alliance, which includes British Airways, Air Berlin, Cathay Pacific, Iberia, and Quantas, among others.
United Airlines is part of the Star Alliance, which includes Air Canada, Air New Zealand, Lufthansa, Scandinavian Airlines (SAS), Swissair, and Singapore Airlines.
Read More: 7 best mattresses for couples
5. Be Helpful
Although it's not a good idea to interfere if a fellow passenger becomes enraged, solving a problem for the airline staff could pay off. Hobica was sitting next to an empty seat in business class waiting for a recent flight to take off when a man in the coach section started screaming at a flight attendant and a gate agent. His air rage was because he wasn't seated with his family. An 18-year-old passenger volunteered to switch seats to solve the problem. To thank him, the airline upgraded the 18-year-old to business class.
Consumer Reports has no relationship with any advertisers on this website. This article originally appeared on Consumer Reports.