Oregon Is Celebrating Marijuana Legalization With Free Weed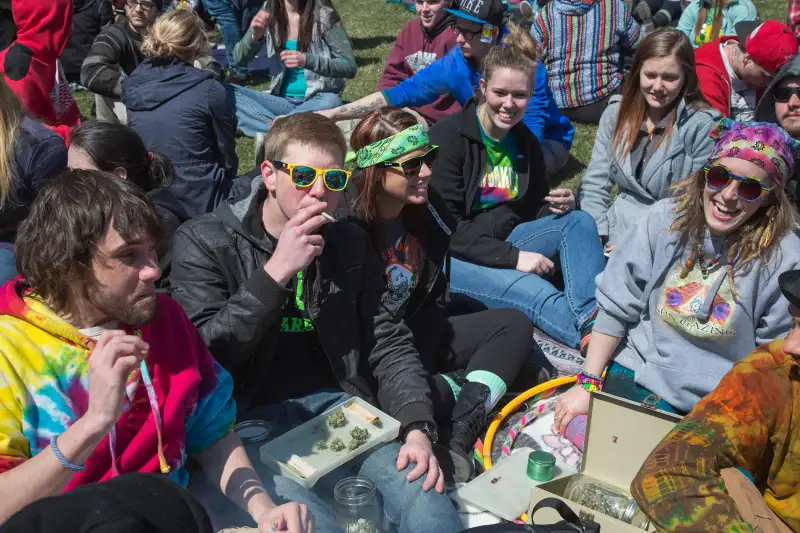 As of July 1, new Oregon laws go into effect making it legal for adults ages 21 and up to possess and use recreational marijuana. It's legal to grow marijuana in the state—up to four plants per residence, out of public view—and share it with other of-age adults too.
Applications for large-scale growers and retailers aren't being accepted until early 2016, and no Oregon stores are expected to have marijuana for sale until the fall of 2016. For the time being, then, while recreational marijuana use is legal, people aren't allowed to buy or sell it.
The odd situation—weed is legal, but there's nowhere to buy it—has caused marijuana proponents and entrepreneurs to take the very welcomed step of simply giving samples away. The Oregonian reports that the Portland chapter of NORML (National Organization for the Reform of Marijuana Laws) will celebrate the momentous event by gathering on the west side of the Burnside Bridge at 11:30 p.m. on Tuesday, June 30. At midnight (therefore July 1), all 21+ adults with ID will be given free marijuana and cannabis seeds, courtesy of medical marijuana providers and activists.
"While it becomes legal to possess and cultivate cannabis, there is no legal place in Oregon to buy marijuana itself or cannabis seeds and starts," a statement from the group explains. "Portland NORML will educate the public and our partners will give away thousands of seeds and hundreds of pounds of marijuana this year so Washington State and the black market do not benefit from our new marijuana legality."
Later in the week, on Friday, July 3, an event called Weed the People is being held at the MCF Craft Brewing Systems facility in North Portland. Admission to the event isn't free—advance tickets cost $40—but once visitors are inside, marijuana is indeed free to use on the premises or bring home for later enjoyment. Each attendee is welcomed to take as much as 7 grams, cultivated by a range of Oregon growers that have been producing the state's supply of medicinal marijuana.
"This is more than free weed," organizers say on the event site. "This is more than vendors, food and vapes. This is history in the making!"
Read next: What This 20-Year Study on Marijuana Use Means for the Pot Market