You Can Visit Thousands of Museums for Free This September on National Museum Day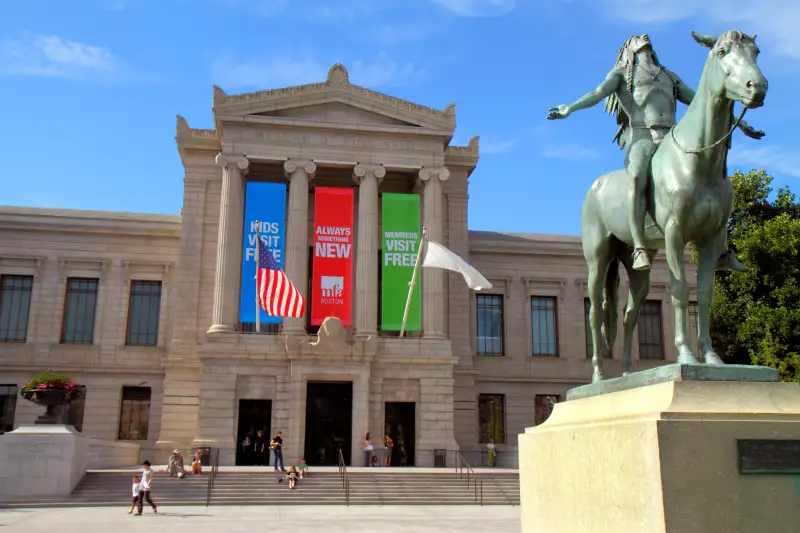 Jeff Greenberg—Universal Images Group via Getty
A museum visit can be interesting, enriching and exciting. It can also be expensive.
But on Saturday, Sept. 21, more than 1,500 museums in all 50 states will open their doors allowing people to enter for free as part of the 15th annual Museum Day, hosted each year by the Smithsonian magazine.
"There are so many great museums and cultural institutions throughout our country that you may not even know about, some of them right in your own backyard!" Amy Wilkins, the chief revenue officer at Smithsonian Media, told Travel + Leisure. "Smithsonian magazine's Museum Day draws attention to these hidden gems, showcases their programming, both year-round and Museum Day specific, and provides an impetus to visit without ticket costs posing a barrier."
Explore the space shuttle Enterprise and marvel at British Airways' Concorde (which crossed the Atlantic Ocean in only 2 hours, 52 minutes and 59 seconds in 1996) at the Intrepid Sea, Air & Space Museum in New York. Belt out your favorite tunes at The GRAMMY Museum in Los Angeles or learn about the pivotal history of the surprise attack on Pearl Harbor in Oahu.
In order to take advantage of the program, people have to select a museum and download a ticket from smithsonianmag.com. You can only download one ticket per email address, but each ticket is valid for two people.
Last year, more than 453,000 people downloaded a ticket, according to organizers.
"Smithsonian magazine began this cultural celebration fifteen years ago as a way to acknowledge its members who lived all around the country. It has since grown into something so much more than that," Wilkins said. "This event is important as it highlights the culture, history, science, art and nature that each state has to offer and represents a national commitment to access to these unique places."
Here are 10 of the many museums you can visit for free on Museum Day all across the country.
New York
Museum of Food and Drink
Trace 170 years of history of Chinese restaurants in American at the "Chow: Making the Chinese American Restaurant" exhibit at this interactive Brooklyn museum (and taste it, of course).
Find it: Museum of Food and Drink, 62 Bayard St., Brooklyn
The Museum at Bethel Woods
Go back in time to the groovy Summer of '69 at this upstate New York museum that celebrates the spot where Woodstock took place 50 years ago.
Find it: The Museum at Bethel Woods, 200 Hurd Rd., Bethel
California
The GRAMMY Museum
Journey through the history of the recording industry and explore the interactive features at this Los Angeles museum that brings you behind the scenes of how your favorite music is made.
Find it: The GRAMMY Museum, 800 W. Olympic Blvd., Los Angeles
Museum of Craft and Design
This museum, founded in 2004, works with artists and designers, as well as museums, universities and other collaborators to bring exhibitions like "Dead Nuts: the search for the ultimate machined object" to the public.
Find it: Museum of Craft and Design, 2569 Third St., San Francisco
Illinois
Adler Planetarium
Celebrate the 50th anniversary of the moon landing by exploring the stars and taking a look back at the ill-fated Apollo 13 mission through the eyes of Captain James (Jim) Lovell at the museum's "Mission Moon" exhibit.
Find it: Adler Planetarium, 1300 South Lake Shore Drive, Chicago
Massachusetts
Museum of Fine Arts, Boston
Explore just under 500,000 works of art from ancient Egypt to modern pieces at this Boston museum. While there, marvel at Jackson Pollock's nearly 20-foot-wide "Mural," the largest painting Pollock ever made, on exhibit until February 2020.
Find it: Museum of Fine Arts, Boston, 465 Huntington Ave., Boston
Susan B. Anthony Birthplace Museum
Learn about what shaped Susan B. Anthony's life and what led to her becoming a pioneer of the feminist movement and suffragist at this museum dedicated to preserving her birthplace about 140 miles west of Boston.
Find it: Susan B. Anthony Birthplace Museum, 67 East Rd., Adams
Washington
Museum of Pop Culture
Record a song with drums, guitars, keyboards and more, explore the history of artists like Prince and take in all things fantasy from "The Wizard of Oz" to "Harry Potter" at this Seattle museum dedicated to all things popular.
Find it: Museum of Pop Culture, 325 5th Ave. N, Seattle
The Museum of Flight
Board an Air Force One plane, walking from cockpit to tail, just one of the more than 175 aircraft and spacecraft on display at this museum just outside of Seattle. A bonus: you can explore the small red barn where industry giant Boeing first started making planes in 1916.
Find it: The Museum of Flight, 9404 E. Marginal Way South, Seattle
Hawaii
Pearl Harbor Aviation Museum
Explore this National Historic Landmark and learn about the history of the surprise Dec. 7, 1941 attack and America's decision to enter WWII. Note: tickets to see the USS Arizona Memorial are free, and can be booked on recreation.gov.
Find it: Pearl Harbor Aviation Museum, Historic Ford Island, 319 Lexington Boulevard, Honolulu