Gas Prices Spike More Than 20¢ Per Gallon Overnight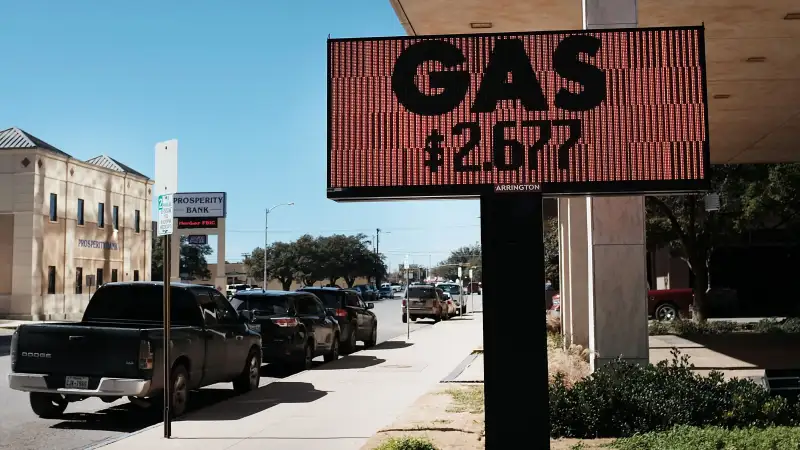 Spencer Platt—Getty Images
What was a slow rebound in gas prices at stations around the U.S. has picked up the pace significantly over the past few days. Last week, the national average bottomed out at $2.03 per gallon, before inching up to $2.05 on Monday, according to AAA. It then spiked up to $2.11 on Wednesday and $2.15 today.
Drivers in certain parts of the country have seen gas prices increase in alarmingly quick fashion, far outpacing the rise in the national average. In central Ohio, for instance, the average price for a gallon of regular was $2.26 on Wednesday, up from $2.04 the day before. As of Thursday, AAA reports that the statewide per-gallon average in Ohio is up to $2.27.
The gas-price tracking service GasBuddy reported that 26 metropolitan areas in the U.S. saw spikes of 15¢ or more per gallon from Tuesday to Wednesday of this week. Michigan has been hit especially hard: Eight out of the nation's top 15 highest price increases in occurred in the state, including the three largest spikes. Up until last week, Michigan had enjoyed five straight weeks of sub-$2 gas; at last check, the statewide average was $2.28.
Meanwhile, drivers in states where the average has been under $2 for weeks should reacclimate themselves with having to pay more at the pump: The averages in Alabama, Arizona, Colorado, Kansas, Louisiana, Missouri, New Jersey, New Mexico, Oklahoma, Texas, and Wyoming have all inched up back to within two or three pennies of the $2 threshold.
Even if prices continue to creep higher in the short term, however, drivers won't necessarily be subjected to ever-higher prices at the pump in the months ahead. On Wednesday, the Wall Street Journal noted, U.S. oil stockpiles rose unexpectedly to 6.3 million barrels—which is the highest it's been at this time of year in at least eight decades. When there's a surplus of oil, wholesale prices drop, and that generally translates to a subsequent drop in retail prices at gas stations.
No one knows for sure where gas prices are heading, but even after the recent spike, drivers in many parts of the country are still paying less than $2 per gallon—an absolute bargain compared to 2011, 2012, and 2013, when the year-long national averages were $3.49 or higher. And most signs indicate that prices won't be heading back to those kinds of levels anytime soon.