Gen Z Has a Huge Head Start on 401(k) Savings Compared to Older Workers. Here's Why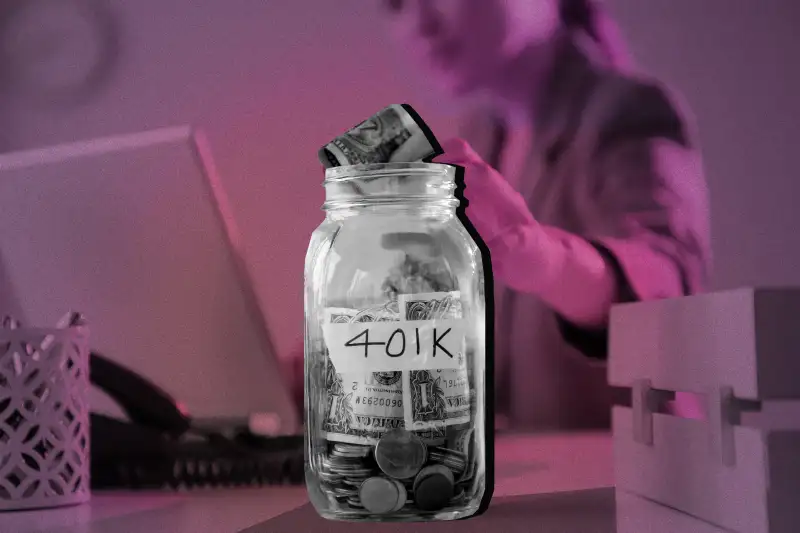 Eddie Lee / Money; Getty Images
Gen Z is getting a serious head start on retirement savings.
A new report from Vanguard finds that Gen Z's 401(k) participation rate in 2021 — 62% — was more than twice as high as the participation rate for similarly aged employees in 2006, which was 30%.
401(k) accounts are tax-advantaged retirement plans. Traditional 401(k)s allow workers to contribute pre-tax money that is then taxed upon withdrawal in retirement, while contributions to Roth 401(k)s are taxed up front and can be withdrawn tax-free in retirement.
Automatic 401(k) enrollment boosts retirement savings
Why are so many Gen Z workers embracing 401(k)s? Automatic enrollment. Many employers now enroll their new workers in 401(k) retirement plans as part of their onboarding process. A few decades ago, that practice was far less common. In 2006, just 11% percent of 401(k) plans offered automatic enrollment, according to Vanguard. By 2021, that number had ballooned to half of all plans.
The change had a huge impact on the number of workers participating in retirement plans, and not just for Gen Z. Over those 15 years, Vanguard found the 401(k) participation rate for employees overall rose from 62% to 82%. Among plans with automatic enrollment, participation shot up to 94%.
And it's not just that more people are opening 401(k) plans — they're contributing more to them, too. According to Vanguard's data, the average deferral rate (the amount of their paycheck a worker allocates to their 401(k) each pay period) for all workers rose from 7.2% in 2006 to 7.7% in 2021. For Gen Z workers that rate rose from 4.8% to 5.4%.
How to maximize retirement savings
"While these effects are most pronounced for the youngest workers," report authors Jeffrey Clark and Kevin Kukulkathe wrote, "greater use of automatic solutions will continue to improve allocations and savings outcomes for all generations."
Keep in mind Vanguard's report only includes data from its own 401(k) plans. Some employers offer 401(k)s from different providers, while others offer different types of tax-advantaged retirement accounts like 403(b)s and 457(b)s. Individual savers also have access to other types of retirement accounts, like IRAs and solo 401(k)s.
At the end of the day, however, the type of retirement account you use is less important than the habit of saving early and consistently.
More from Money:
Here's What the Average 401(k) Is Worth After Dropping 20% Last Year
7 Best Roth IRA Accounts of 2023
Your Next 401(k) Statement Will Show How Far Your Savings Will Actually Go in Retirement