10 Gifts For Home Cooks and Bakers — Save up to 60%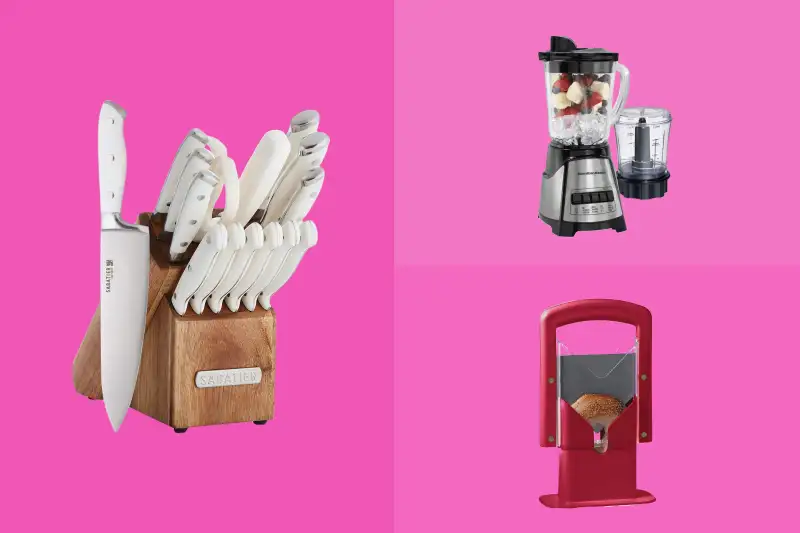 Whether you dropped the ball this Valentine's Day or are simply in the mood to show the baker or chef in your life some extra love, you'll want to check out these kitchen deals
From pre-seasoned cast iron skillets to powerful blenders, these great gifts will make any foodie in your life feel extra special. Shop now and make some serious savings on these amazing deals starting as low as $11!
Utopia Kitchen Pre-Seasoned Cast Iron Skillet Set: $22.94 (was $35.99)
Give your favorite baker or chef the perfect gift with this pre-seasoned cast iron skillet set. This 3-piece set includes 6-inch, 8-inch and 10-inch skillets, all ready to use right out of the box. The high-quality cast iron construction ensures even heat distribution and precise temperature control, resulting in perfect baking and cooking results.
KitchenAid Classic Mixing Bowls: $23.61 (was $32.99)
Show a foodie how much you care with this classic mixing bowl set from KitchenAid. The set includes three nesting bowls in a vibrant empire red. Each bowl is made from durable stainless steel and is designed with a wide flat base to prevent spills and splatters. Perfect for mixing, stirring, and pouring ingredients for delicious results.
Sabatier 15-Piece Forged Knife Block Set: $59.67 (was $79.65)
Make sure your loved one has the best kitchen tools this with this 15-piece knife block set from Sabatier. Crafted from high-carbon stainless steel and triple-riveted for maximum durability, this set includes essential kitchen knives along with a stylish acacia wood knife block. Plus, the white handles add a stylish touch to any kitchen.
Hoan The Original Bagel Guillotine Universal Slicer: $22.53 (was $25.99)
Make slicing bagels a breeze with the Hoan Original Bagel Guillotine Universal Slicer. This 9.25-inch slicer is made from high-grade stainless steel with a non-slip handle. It features an ergonomic design for effortless slicing and a safety guard for your fingers. This handy tool is sure to delight bagel lovers again and again.
T-fal Ultimate Hard Anodized Dishwasher-Safe Nonstick Cookware Set: $105.03 (was $131.99)
Give the baker or chef in your life a gift they can use for years to come with this 12-piece cookware set from T-fal. The durable hard anodized construction ensures even heat distribution and lasting nonstick performance. The quality set includes essential pieces like saucepans, skillets, and a Dutch oven, all with a tasteful red accent color.
Hamilton Beach Power Elite Blender: $41.99 (was $52.99)
Make quick work of any blending task with the Hamilton Beach Power Elite blender. This powerful tool features 12 speeds and functions that make it perfect for pureeing, crushing ice, making smoothies, and more. The 40-ounce glass jar is large enough to make multiple servings, and the 3-cup vegetable chopper is great for chopping and shredding ingredients.
Audecook Electric Hot Pot, Portable Travel Cooker for Ramen/Steak/Fried Rice/Oatmeal/Soup: $32.39 (was $35.99)
Give someone who loves cooking the perfect gift with this lightweight and portable electric hot pot from Audecook. This 2-liter pot is made from ceramic glazed aluminum with a non-stick coating, and it comes with an 8-inch frying pan and dual power control for precise heating, steaming, and cooking. Plus, the included silicone spatula is perfect for stirring and serving.
Instant Vortex Plus 6-in-1, Air Fryer Oven, From the Makers of Instant Pot, Stainless Steel: $89.95 (was $129.99)
This 4-quart air fryer can bake, roast, broil, reheat, and more with customizable smart cooking programs. The nonstick and dishwasher-safe basket is easy to clean, and the included app has over 100 recipes to choose from — making it the ultimate gift for the amateur chef in your life.
Kootek 12 Inch Cake Turntable and Cake Decorating Supply Kit: $33.99 (was $38.99)
Make decorating cakes a breeze with the Kootek cake turntable and decorating supply kit. This 12-inch aluminum alloy turntable is designed with a revolving stand, as well as a non-slip base to keep cakes in place. The included 7-piece kit also has all the essentials to accompany the revolving stand: 3 icing smoothers, an icing spatula, a silicone spatula, and a cake cutter.
Air Fryer Silicone Pot Liners Nonstick Basket Accessories: $11.04 (was $13.99)
Give your loved one the easiest way to clean their air fryer with these air fryer silicone liners. The set includes two non-stick silicone liners that are perfect for replacing flammable parchment paper liners. The liners are designed to fit air fryers between 3 and 5 quarts and are dishwasher-safe for easy cleaning.