14 Secrets for Saving on Eyewear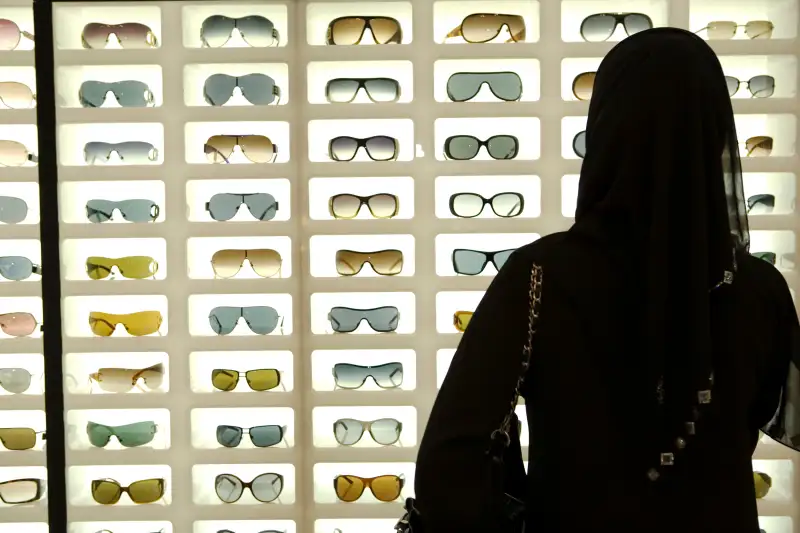 Celia Peterson—Getty Images
Eyeglasses and contact lenses are a necessity for more than 150 million Americans. Unfortunately, eyewear is not a cheap purchase — so we've compiled some tips to help save you money on the cost of glasses and contacts.
1. Purchase Your Glasses Online
Along with enjoying huge savings on your new set of glasses, you can also take advantage of online services to ensure that the glasses look right with your style. This will allow you to casually try the glasses on at home so you can take your time choosing the right ones. Once you find the right pair, they will likely be shipped in no time (even faster than you would get them at the optician's office.)
If you have issues like astigmatism, you may not be able to shop online and it might more prudent to have your doctor custom fit you for the right pair of glasses. You may also want to have a professional help you at an optical store and once you find the glasses you like, you can search for the frames online for the best deal.
2. Purchase Your Contact Lenses Online
Websites like 1-800 Contacts can save you money on your contacts, compared to what you would pay at your optician's office. You can also often get discounts if you purchase more than one box of contacts at a time. Buying in bulk will also save you money on shipping and allow you to lock in today's rate.
3. Find Trial Offers
Certain contact lens providers, like Acuvue and Dailies, will offer free trial lenses, so you can try them before you buy them. This will help ensure that the contacts fit comfortably, so you know you'll get your money's worth.
4. Look for Online Deals
Take advantage of online coupons and deals from services like Groupon. This can save you quite a bit of money on glasses, contacts, and even your eye exam. Just make sure to read the details thoroughly as some coupons only cover the cost of the frames, and you will have to pay for the lenses out-of-pocket.
Read More: 30+ Cash Back Sites to Earn You Thousands Per Year
5. Ask for a Price Match
Many optical shops will offer a price match, if you ask. Some shops will even offer a price match and a rebate, so you'll actually spend less than you would online.
6. Keep the Same Lenses or Frames
If your lenses are still in good shape and you still have the same prescription, consider reusing them in a new frame. Many optical shops will help you find a similar style frame and can apply your old lenses so it looks like a new pair of glasses.
The same rule holds for your frames. If you like your frames, but your prescription has changed, take advantage of a prescription eyeglass lens replacement service that will replace the lenses in your existing frames.
7. Opt for Cheaper Glasses
If you tend to wear contacts and only reach for your glasses when you're home, then you don't need to spend a lot on designer glasses. Instead, opt for the cheaper glasses since no one will see them anyway.
8. Don't Replace Your Glasses Every Year
If you don't need to replace your glasses, then it's best to just keep the same pair for as long as you can. After all, it can take a lot of time and energy to find the perfect glasses, so why replace them after only a year?
Read More: The 10 Best Couponing Apps
9. Skip the Add-Ons
Unless your prescription is above +/- 3.00, professionals recommend skipping the add-ons like antireflective coating, light adjusting lenses, or high index or ultrahigh index lenses. Skipping these add-ons can save you quite a bit of money and won't really make a difference in the long run.
10. Shop at Costco
According to Consumer Reports, Costco received the highest overall satisfaction rating of any eyeglass retailer. Not only do they offer better service, but you can also save money on your favorite pair of glasses.
11. Take Advantage of Free Repairs and Adjustments
If you choose to purchase your glasses in-office, then take advantage of free adjustments to ensure your glasses fit perfectly. Inquire with your optician's office about whether they offer any free replacements or repairs.
Read More: 16 Amazon Deal Hacks You May Not Already Know
12. Take Advantage of Insurance
Before you get started, it's important to find out if you're covered by insurance. Even if you don't have a separate vision insurance plan, you may be covered under your regular medical insurance plan. Many insurance plans include a basic eye or dental care plan, so you may be covered without even realizing it.
Before visiting your eyeglass store, first find out if they accept your vision insurance. If they accept it, find out what your insurance covers. Take advantage of whatever you can so that you get your money's worth every year. If they do not accept your insurance plan, inquire from your plan's administrator about whether they will offer reimbursement if you decide to pay out-of-pocket.
13. Use FSA Funds
If you have an FSA (or flexible spending account), take advantage of this pretax money to pay for eligible medical expenses such as prescription glasses and contact lenses. Keep in mind that FSA funds might not pay for extras like extended warranties. The goal is to use up all of your FSA funds before the end of the year, but it's important that you don't wait until the last minute to use it or you may rush to pick your new glasses, even if they aren't the most flattering option or don't offer the best deal.
14. Do Your Research
Before scheduling your eye test, research the options available to you so you can determine where you'll get the best deal for your money. Call your eyeglass store of choice to inquire about whether they currently have any coupons or deals to cut the cost of your new glasses. If you know the glasses that you want, you can search online for the brand and model number to compare prices.