Gold Prices Are Climbing. Should You Invest?
Money is not a client of any investment adviser featured on this page. The information provided on this page is for educational purposes only and is not intended as investment advice. Money does not offer advisory services.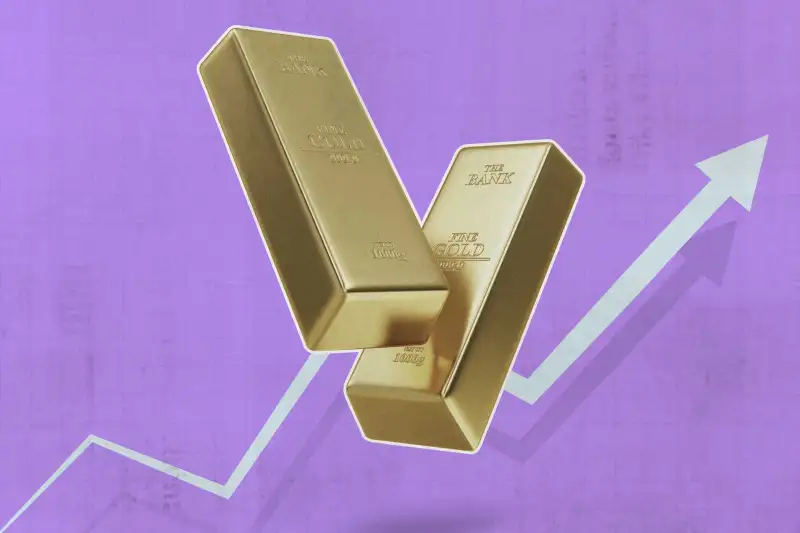 Stocks may still be struggling, but gold prices are steadily rising.
The price of gold recently surpassed $2,000 per ounce to hit its highest level since 2020. As of Thursday, prices were $2,015 per ounce, up 9% since the beginning of the year.
This recent rise can be attributed to the perceived end of the Federal Reserve's interest rate hikes and concerns about instability in the banking sector, OANDA senior market analyst Edward Moya tells Money.
Financial experts consider gold to be a "safe haven" asset because — unlike stocks, bonds and other financial assets — it tends to retain (or even increase) its value during economic downturns. When the stock market falls, the price of gold tends to rise as investors look for what they see as safer alternatives.
Right now, anticipated changes in interest rates and jitters related to recent bank collapses appear to be driving prices up as the risk of a "hard landing" — an economic slowdown that leads to a recession following a period of growth — rises, according to Moya.
Where are gold prices headed?
There's a decent chance those gains could continue.
"Demand for safe-havens should remain elevated going into the second half of the year and that should be good news for gold investors," Moya says. He points to a few other factors on the horizon — like the risk of declining corporate earnings and the prospect of a standoff over the debt ceiling in Washington, D.C. — that could push prices higher in the months ahead.
In a note to clients published Thursday, UBS Global Wealth Management chief investment officer Mark Haefele recommended investing in gold as a"portfolio hedge in the current uncertain times" (more on that below). Haefele predicts gold prices could rise to $2,200 per ounce by March 2024.
But as always, it's impossible to predict market movements and there's always a chance that prices could swing the other way. An April survey of investment fund managers from Bank of America found that a net 6% of respondents believe gold is overvalued at the moment — that's the first time since August 2021 that most participants said gold was overpriced rather than underpriced.
Should you invest in gold?
Whether or not you should invest in gold will come down to your goals, risk tolerance and timeline.
There are lots of reasons to include gold in your investment portfolio, whether you buy gold bars directly or invest in a gold-backed security like a stock, mutual fund or exchange-traded fund (ETF). In addition to gold's benefits as a safe haven asset, it also has value as a portfolio diversifier — something that's especially important when markets are volatile. That's not to mention the fact that gold tends to act as a hedge against inflation and currency fluctuations.
But gold has plenty of drawbacks, too. It doesn't earn income like many stocks and bonds do, and there's never a guarantee that prices will keep rising like they are now. Much like the stock market, gold prices can also be volatile in the short term, so advisors tend to say you should view them as a long-term investment if you do decide to buy.
More from Money: