Having a Good Credit Score Is Especially Important Right Now — Here's Why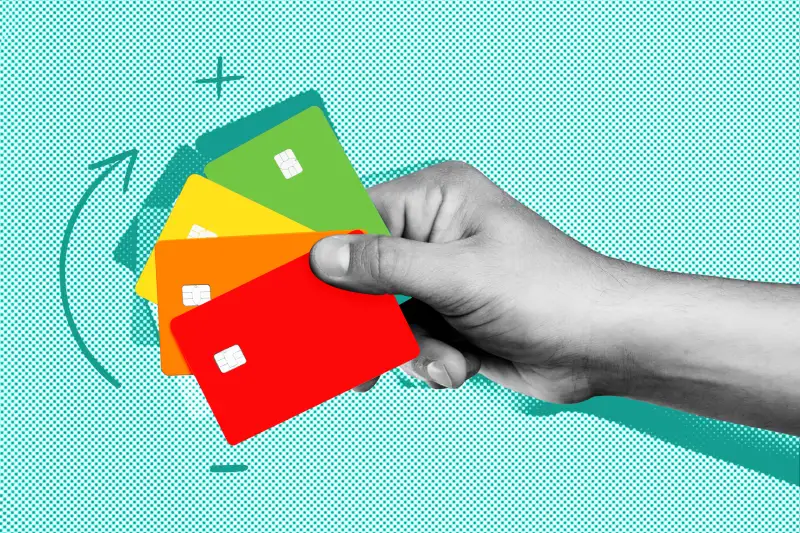 Having a good credit score is arguably more important right now than at any point during the past few years.
That's because recent data shows it's been getting a lot harder for everyday Americans to take out a loan or get approved for a credit card as banks and other financial firms have quickly tightened their lending standards. Tighter lending standards could include outright rejecting applicants, raising minimum credit score requirements, charging more interest and lowering credit limits.
Back in the spring, just after the collapse of several major banks, several financial experts sounded the alarm over a so-called "credit crunch," a term used to describe the economy when consumers (and businesses) can't get access to the loans they need — potentially leading to a recession. Now that the broader economy has seemingly stabilized, attention on how the credit crunch is affecting everyday people has waned.
"It's less in the news because there haven't been as many bank failures," says Randall Watsek, a financial advisor at Raymond James. But while full-blown bank failures have been contained since the spring, the underlying banking system still isn't doing well — and it has quietly gotten harder for consumers to borrow money since then.
In other words, the pickier lenders get, the more important a good credit score becomes. And right now, lenders are being especially picky.
Why getting a loan is getting harder
The data backs Watsek up. Each quarter, the Federal Reserve publishes a survey of senior loan officers, asking them (among other questions) about their willingness to lend money to consumers. When the "credit crunch" alarm bells reached their zenith in the spring, many experts were pointing toward the first-quarter results from the Fed's survey as evidence. Then, an increasing share of lenders said they were getting stricter with borrowers.
They've only grown more discerning.
"Over the second quarter, significant net shares of banks reported having tightened standards for credit card loans and other consumer loans," the Fed report reads.
Numbers from the New York Federal Reserve demonstrate the trend from a different angle. By the end of June, the rejection rate for all types of loans (including credit cards, mortgages and auto) had ticked up to nearly 22%: the highest rate in five years and one of the highest readings since the survey started in 2013.
When lenders tighten their standards — in addition to denying more applicants and jacking up the credit score requirements — Watsek says the application process itself can become more onerous. For example, banks may start asking you to verify more financial information than they normally would have, especially related to income. That could make it particularly difficult for gig workers and small business owners to get loans, as their earnings come from self-employment.
"It's one of the paradoxes of life," Watsek says. "The people who need money the most won't get it, and the people who don't need the money — that's who the banks want to give it to."
Importance of a good credit score right now
Because of inflation-busting interest rate hikes and mismanagement in the banking system, the industry has less money to dole out.
"When you have less money, you focus on the highest-quality people you can find with the limited amount of resources you have," Watsek says.
He's referring to those with the best credit histories. According to credit-scoring firm FICO, a FICO score between 670-739 is considered good. A very good credit score is between 740-799, and an exceptional score is above 800.
Right now, lenders are less likely to do business with people who have scores under 670. But even if you reach the minimum requirement, you're not in the clear.
The interest rate you receive can still vary drastically depending on your score. According to an analysis from Ying Lei Toh, a researcher at the Kansas City Fed, the typical interest rate on a used auto loan for someone with a credit score of 630 was 10.33%, whereas the rate for someone with a credit score above 720 was drastically lower — 3.68%. Given that the data was from before the so-called "credit crunch," it's likely that the chasm is much wider (if the person with the score in 600s gets approved at all).
At first blush, perhaps a 6.65 percentage-point difference in interest rate might not seem major, but it amounts to thousands of dollars over the life of the loan. For the average used car — which costs more than $29,000 — the monthly payment could vary by $90 or more, and over a five-year loan, the difference in interest would balloon to about $5,500.
That's all due to a modest difference in credit score, which is exactly why Watsek says it's especially important now to maintain a good one by consistently making on-time payments, paying down high-interest debt and ensuring your credit report is accurate, among other healthy credit habits.

When lending standards were looser, you may have had the options to refinance higher interest loans or perhaps open another credit card to do a balance transfer and minimize your monthly payments.
"But when those options shut off, then you have to just try to maintain as high a credit score as you can," he says. "You have less flexibility now than you would have, say, two years ago."
More from Money:
An Opaque Web of Credit Reports Is Tracking Everything You Do
Auto Loan Rejection Rates Are at a Record High — Here's How to Improve Your Odds of Approval
The Best (and Worst) Ways to Start Building Credit, According to an Expert