Money is not a client of any investment adviser featured on this page. The information provided on this page is for educational purposes only and is not intended as investment advice. Money does not offer advisory services.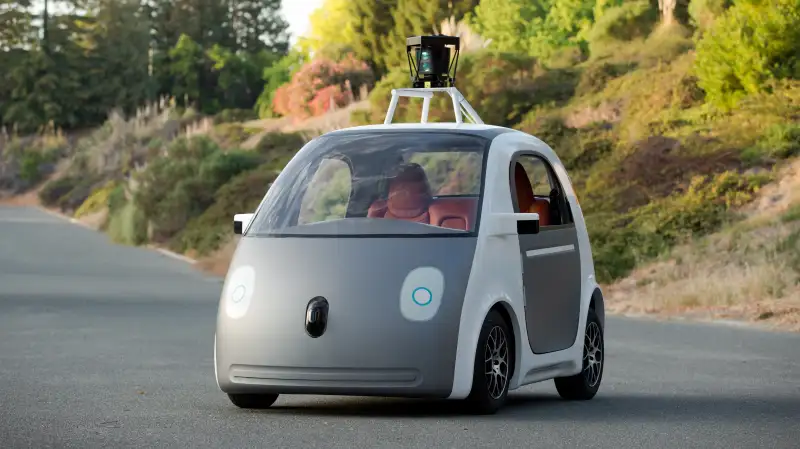 Google's thriving search business and Android mobile operating system are throwing off tons of cash. And with $60 billion to play with, the company is looking for the next new technologies to champion.
And it's thinking big.
Co-founder Larry Page has frequently talked about putting new technologies to the "toothbrush test." In other words, will we use it once or twice a day like our toothbrush…or for that matter, like Google?
He makes it sounds so easy. Perhaps too easy. Maybe it's the inevitable overconfidence of someone whose youthful work turned out so spectacularly successful. (It doesn't help to see this picture of him with a goofy oversized toothbrush.)
Can Google really create a third (or fourth) product that becomes so deeply enmeshed in our lives that it literally changes the way we live? If it fails, it won't be for lack of ambition.
Here are four of the company's biggest dreams.
1) Fuse man and machine.
You probably already carry a smartphone (maybe even one that runs on Google's Android operating system.) Google wants to bring that convenience even closer to you, with projects like Google Glass, its new eyewear; Android Wear, a version of its mobile operating system that pairs with a watch; and a contact lens designed to help diabetics measure their blood sugar.
"Someday we'll all be amazed that computing involved fishing around in pockets and purses," Page said, discussing Google Glass on a recent conference call.
Unlike some of Google's most outlandish schemes, "smart" eyewear and watches are already here, at least for the early adopters. The glasses are for sale for $1,500. At least two companies, Samsung and LG, make watches to pair with Android Wear, although reviewers have warned most consumers may want to wait for the technology to improve.
Of course, not everyone is excited about these new products. In July, the New York Post reported on what it called "The revolt against Glassholes."
"I don't see why anyone feels the need to wear them," the Post quoted one 30-year-old, who found it disconcerting to encounter a subway rider sporting a pair. "Was he reading his emails, watching an old episode of 'Game of Thrones' or recording everyone?" the man asked. "Just reach into your pocket and get your phone!"
2) Drive Your Cars.
Driverless cars have been a dream of techies for a long time. In fact, at the 1939 World's fair, the famous "Futurama" exhibit predicted their arrival by 1960.
Things haven't evolved quite so quickly. But Google's efforts seem to be on the cusp. Modified Toyotas and Lexuses have already logged hundreds of thousands of miles, including on public highways. The company has said it plans to build a prototype that will operate without steering wheel or brakes next year.
It's not just a matter of convenience. While most of us will certainly be nervous when we take our first ride, the cars could actually make roads safer by eliminating the all-too-human habits – from texting to falling asleep at the wheel – of today's drivers.
Then again, solving old problems could create some new ones too…like the driverless car chase.
3) Bring the Internet to everyone, everywhere.
Google puts information at your fingertips. But that's only if you have access to the Internet in the first place. That's not something everyone can take for granted.
"Many of us think of the Internet as a global community. But two-thirds of the world's population does not yet have Internet access," says the Web site of Project Loon, "a network of balloons traveling on the edge of space, designed to connect people in rural and remote areas, help fill coverage gaps, and bring people back online after disasters."
Come again? While most of us hook into the Web through our cable or phone lines, there are many people and places those still don't reach. The idea, as described by Wired, is for a network of high-altitude balloons, each able to beam high-speed Internet to one another, as well as a serve as a hub for access for an area of about 25 miles below.
Last year, Google floated 30 test balloons over New Zealand, allowing "a small group of pilot testers" to connect online. The company hopes to expand the pilot program, soon circling the Earth along the 40th Southern Parallel, which rings Australia and parts of South America.
Apart from technical and political hurdles, some have questioned whether connecting the world to the Internet is really a top priority.
Said Microsoft founder Bill Gates in a recent BusinessWeek interview:
4) "Solve Death."
"Can Google Solve Death?" asked TIME last year. The occasion was an interview with Page about a new Google-founded company, Calico LLC.
Page explained the job of the new venture would be to use data and statistics to look at age-related health problems in new ways because current goals, like trying to cure cancer, weren't ambitious enough.
"One of the things I thought was amazing is that if you solve cancer, you'd add about three years to people's average life expectancy," he told Time. "We think of solving cancer as this huge thing that'll totally change the world. But when you really take a step back and look at it, yeah, there are many, many tragic cases of cancer, and it's very, very sad, but in the aggregate, it's not as big an advance as you might think."
How exactly does Google plan to pull this off? Apart from announcing some high profile hires, Google hasn't shared much about its vision. CNN was reduced to speculating about cryogenics.
Can Google really find the Fountain of Youth? Maybe. But they also may end up looking as if spectacular and unexpected success made them arrogant and gullible, not unlike those Conquistadors we learned about in grammar school.
Related:
10 Ways Google Has Changed the World
The 8 Wrongest Things Ever Said About Google