Turning Your Puppy Into a Foodie Is Pricey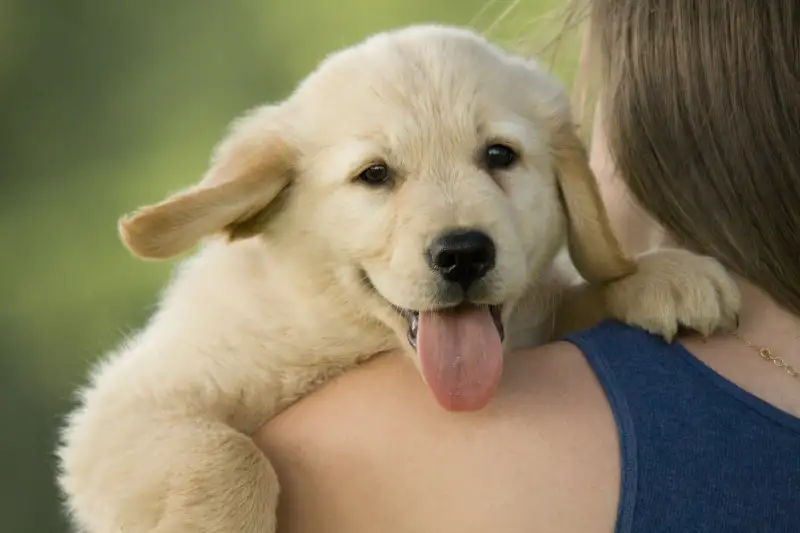 Linda Freshwaters Arndt—Getty Images
Bay-Li, Car-Li and Hay-Li have had a rough day. After a workout on the treadmill, a dip in the pool and some personal grooming, they finish off the day with a gourmet dish of chicken thighs, sweet potatoes, Red Delicious apples and blueberries.
They are Shih Tzus, a dog breed whose name comes from the Chinese word for "lion dog."
"Absolutely, they know they are spoiled," says owner Stephanie Patterson of Wooster, Ohio, who feeds her little canine friends Merrick-brand culinary creations. "They are like my children, and I don't want them eating anything I can't identify."
Patterson's Shih Tzus are not alone in eating like kings and queens. The gourmet pet food on the shelves these days is hardly the tasteless kibble of yore. Instead, pets are downing delicacies that would not seem out of place on a multi-course tasting menu in Paris.
The brand Tiki Dog, for instance, offers wild-caught ahi tuna with sweet potato, crab, egg, garlic and kale. Merrick's "French Country Cafe" recipe features a blend of duck, carrots, Yukon Gold potatoes and garden peas. Its "Cowboy Cookout" meal is a mélange of beef, green beans and Granny Smith apples, and a case of 12 cans retails for $35.88 at Petco.com, compared with $17.88 for a case of Purina ProPlan.
Weruva brand - advertised as "People Food for Pets" - serves up concoctions like Marbella Paella with mackerel ("Bring Spain to your dog!"), as well as Steak Frites with pumpkin and sweet potatoes ($50.64 for 12 cans at Chewy.com).
Devoted pet owners, it seems, are lapping it up. Premium dog and cat foods are slated to gobble up 51% of the market in 2015, or more than medium- and bargain-priced brands combined, according to market-research firm Euromonitor.
The total food bill for America's dogs and cats amounted to $27.1 billion in 2014, with high-end fare accounting for $13.7 billion of that.
It adds up to $263 per dog, per year, and $108 per cat, just for food, according to Euromonitor.
That figure is no surprise to Jared Koerten, Euromonitor senior analyst. He owns a Shih Tzu-Maltese mix, Lilly, who is partial to freeze-dried delicacies.
"The trend is called 'pet humanization,' or treating them like your own children," says Koerten. "People don't want to give their pets anything they wouldn't eat themselves."
Indeed, the trend is especially potent with Millennials, who are 18 to 35. They are "coming into the market in a big way," Koerten says - and while they may not be having kids as early as their parents did, they are definitely "spoiling their little furbabies."
Gone to The Dogs?
Is all this gourmet pet food - led by popular brands such as Blue Buffalo Pet Products, which just started trading publicly - really necessary? After all, dogs have survived for millennia without Iron Chef-worthy fare.
Pet owners have convinced themselves to hold to a higher standard, says Alexandra Horowitz, who teaches psychology at Barnard College and is author of the book "Inside of a Dog."
It's the "perfect convergence," she says: Anxious owners wanting to give their pets the very best, and manufacturers more than willing to give it to them (and charge them handsomely for it).
In that sense, owners may be overthinking their pets' dining requirements. Just like fancy pet hotels - with flat screen TVs, four-poster beds and Skype services - heightened expectations likely say more about us than they do about our dogs.
"Prepared dog food itself is a bit unnecessary," admits Horowitz. "Dogs developed precisely through eating the remains of what their humans were eating."
Yet owners like Stephanie Patterson are only too happy to pay up for gourmet treats. Her previous dog had numerous health issues and high vet bills, which she suspects was due to cheap dog food. There are options for dog pet insurance that may help save money on some unexpected vet bills.
From her current four-legged diners, she certainly hasn't had any complaints about the five-star fare: "They love it."