'Better Than the $300 Pans': Home Cooks Can't Believe This Non-Stick Granite Cookware Is So Affordable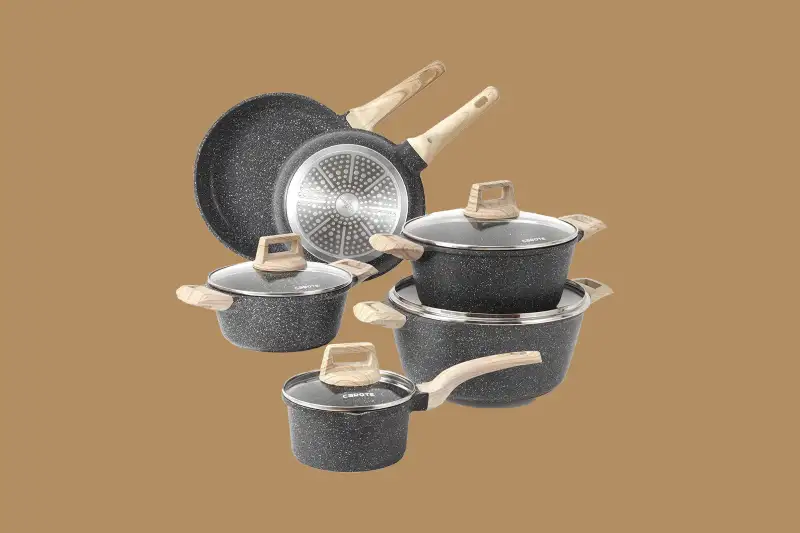 The kitchen is probably the most essential space in your home, so it's understandable that you want to go the extra mile when it comes to appliances and cookware. While it's tempting to splurge on brand-name cookware, not everyone can afford to spend hundreds of dollars on these items. If you prefer a more practical or budget-friendly approach to your kitchen, Carote offers a range of affordable cookware options starting at $16.
Tired of your current cookware and ready for something new? Carote's granite cookware deals are some of the most popular options on Amazon right now. Not only are they durable and easy to use, but they are also super affordable, and some customers even claim that "these pans are better than the $300 pans." Explore some of Carote's best deals on cookware below and find the best option for your needs and budget.
Carote Classic Granite Nonstick Cookware Set: $109.99 (was $149.99)
Carote White Granite Nonstick Cookware Set: $89.99 (was $119.99)
Carote Brown Granite Nonstick Cookware Set: $109.99 (was $169.99)
Carote Classic Granite Nonstick Frying Pan Skillet: $16.49 (was $19.99)
Carote White Granite Nonstick Sauté Pan With Lid: $25.99 (was $37.99)
Carote Beige Granite Nonstick Egg Cooker Pan: $19.99 (was $29.99)