How One Woman Found Her True Passion By Thinking Outside the (Jewelry) Box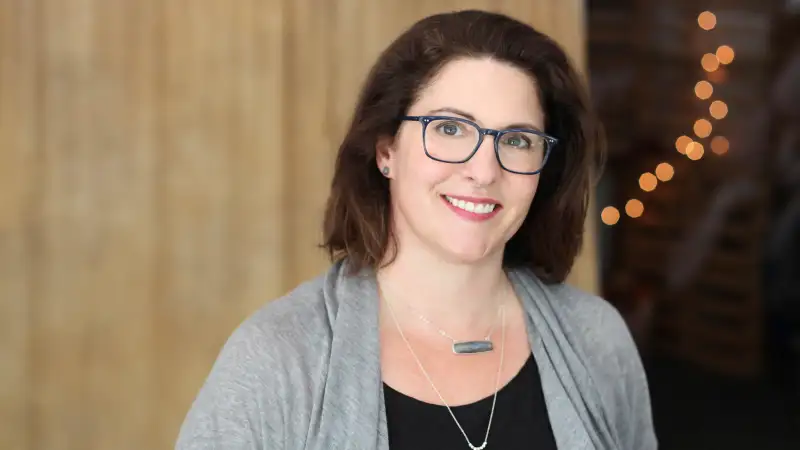 Laura Tanner Swinand enjoys designing delicate, distinctive jewelry. But she also has to sell it. And that means the sweaty work of schlepping boxes and display materials through showroom floors.
"I do whatever it takes to get things done," says Swinand, the founder and designer of Laura Tanner Jewelry, which she launched in 2006, based in Evanston, Ill. "I wear a lot of hats."
An integral part of her sales platform is attending large trade expos, such as the Chicago Merchandise Mart's Stylemax, a leading women's apparel and accessory trade show.
With thousands of retail buyers present—particularly those representing small boutiques, galleries, and museum stores—it's critical that she be a visible presence. And her booth must stand out as a showcase for her handcrafted necklaces, earrings, bracelets, and rings.
Reaching out to individual stores and cold calling isn't Swinand's forte. "It's hard to sell your own work," she says. But stepping out of her workshop into the whirl of a national trade show, such as the American Made Show, has steadily gained her recognition and clients. "I love the times I spend with customers I meet at these events. Nothing compares to meeting in person and for buyers to see and touch the quality of my designs."
She currently has 50 boutiques across the country on her account roster, up from six stores just five years ago. Customers include Notice in Evanston and Barrington, Ill., The Real Mother Goose in Portland, Ore., Myxn Scents in Naples, Fla., and the number is growing, along with sales.
Overall sales doubled between 2013 and 2015, and this year Swinand projects revenues, which are split evenly between online retail sales and wholesale accounts, to reach $250,000. Meantime, she expects to turn a profit for the third year in a row.
Retail prices for her designs, which incorporate gemstones such as druzy, labradorite, and moonstone, range from a pair of silver drop earrings for $28 up to $400 for an intricate statement necklace made with precious metals. Most items are in the $50-to-$100 range.
Craftwork has been an integral part of her life since childhood. "As far back as I can remember, I've loved creating tiny things by hand, whether little furniture for my dollhouse, intricate clothes for my paper dolls, or jewelry," says Swinand, 48. "I started making jewelry as a teenager, at first because I needed to customize my own earrings with clip-on backs before my parents allowed me to get my ears pierced."
That led to her designing her own beaded earrings and taking classes to learn metal smithing and enameling in high school. In an early taste of entrepreneurship, she even sold some of those teenage offbeat creations via local stores in her hometown of Santa Barbara, Calif.
Art appreciation was rooted in her. "I was always doing art projects and going to gallery openings and museum exhibitions with my mom, who's an artist," she says. After earning degrees in art history—a bachelor's from the University of Pennsylvania and a master's at the University of Southern California—Swinand worked for museums writing educational materials and developing programs for children.
She put the jewelry making on hiatus after she married and began raising children. But when her twins, now 17, started elementary school, she began tinkering again. "I realized that it was what I really enjoyed doing," she says.
In 2005, Swinand discovered she had a plausible business when she teamed up with a few friends, who also made handmade crafts, to host a holiday trunk show. "I was blown away by the response from customers," she says. The success of that first show inspired her to start her company.
Turning a hobby into a business, as Swinand has done, can pay off, but it's not unusual for this to take a while. That's the finding of a recent study that looks at entrepreneurs who start a business based on a personal pursuit. In the study, published in the Journal of Business Venturing, these entrepreneurs lagged behind other founders in the first few years. But in the end, the hobby-to-business founders were more likely than others to produce revenue and a profit.
Her startup capital was a $25,000 small business loan, with a third going to building a website, another third toward raw materials, like gemstones and metals, and the rest for marketing and packaging supplies.
At the outset, Swinand worked out of her attic, keyed to holiday sales–and on a part-time basis. But she saw she couldn't keep up with customer demand and meet her own growth goals. "I realized I either had to commit to doing this full time and hire more help," she says, "or accept that it was a hobby."
The timing was good, as her children were demanding a little less of her. She hired two assistants, and in 2012 rented a workshop down the street from her home. Having two employees allowed her to stick to a schedule and to reach out consistently to both retail and wholesale customers.
One mistake was to produce too many different products, featuring a broad range of gemstones and metals, in a bid to please as many customers as possible. "I wanted to offer everything and every color, so everybody could find something that they liked," she recalls. "As a result, I was over-purchasing. I was all over the place." In the last two years, she narrowed her offerings to five different stones and colors from 20.
And even though it adds incrementally to her cost of doing business, she has also embedded a green sensibility into her operations. All metal scraps are saved and sent to their supplier to be recycled. Her gift boxes and bags are made from recycled content, and she tries to use local or U.S.-based suppliers as much as possible to reduce her carbon footprint. She is also committed to keeping her production team in-house instead of outsourcing manufacturing overseas to reduce labor costs.
"What I make is not revolutionary," says Swinand. "There's tons of jewelry out there that has similarities to mine. I'm using traditional material, but my mission is provide personalized service and to make the highest quality jewelry at an affordable price, so a woman can put it on, wear it every day, and even share it with her daughter."