The New Hatchimals Can Be Pre-Ordered Right Now — Here's How to Get One Before They Sell Out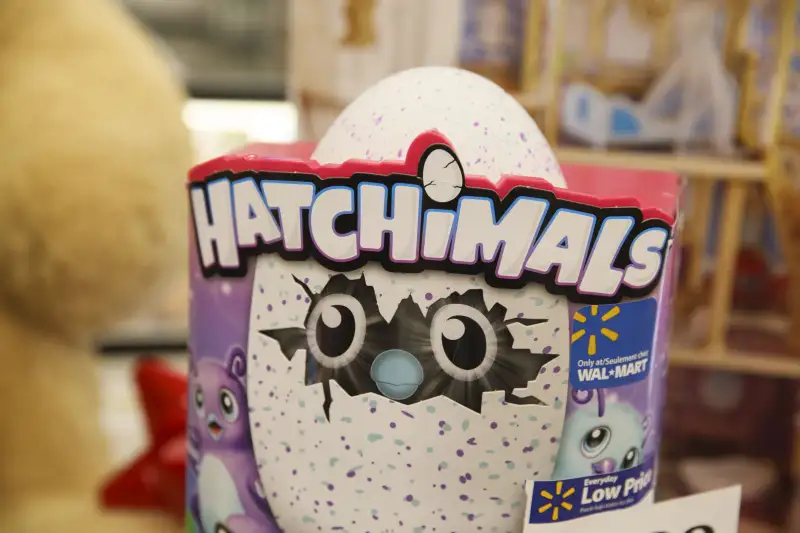 Bloomberg—Bloomberg via Getty Images
Hatchimals, the hottest, most-impossible-to-find "it" toy of the 2016 holidays, are back. And toymaker Spin Master is hoping that the wildly popular animatronic critters have a second act in them.
Starting this week, you can pre-order the new creatures, which are intriguingly named "Hatchimals Surprise."
Pre-ordering a Hatchimals Surprise should guarantee that you can get your hands on what will likely be a high-demand holiday toy. But you'll have to take a leap of faith and be willing to be, well, surprised.
The details are still under wraps — literally and figuratively — as to exactly what these new toys are. In an earlier announcement, Spin Master said the surprise varieties will have "new eggs, a new hatching process, [and] a new species." Last year, these interactive pets, which "hatch" from the eggs they come housed in, spurred an all-out craze, with parents scrambling and third-party sellers on sites like eBay selling the toys for huge markups after they sold out pretty much around the world by November. (The toys were a monster success even though some parents thought that their Hatchimals were swearing, and some even sued because their Hatchimals reportedly didn't hatch.)
There's every indication Hatchimals Surprise will be as big a deal this year as the hatching toys were in 2016. "Just based on past success, I feel like it has legs," Juli Lennett, toy industry analyst at market research firm The NPD Group, told Money.
Toy experts say the new Hatchimals tap into a couple of popular trends: Toys with a mystery or surprise element are a hit with kids. Hatchimals Surprise also feed into the "unboxing" trend. (Yes, this is an actual thing; it refers to filming a while a kid opens up their toy and documenting their reaction, then posting said video on YouTube or social media.) Unboxing is one of those phenomenon that feeds on itself and can further drive a toy's popularity, according to Gerrick Johnson, an equity research analyst at BMO Capital Markets who studies toys.
The original Hatchimals and brand extensions, like the smaller CollEGGtibles sets, prove the toy's staying power — for this season, at least. "They were very smart about it," Johnson says of how Spin Master has kept the brand buzz going.
All of which is to say: These things are probably going to sell out. And probably fast. While "Hatchimals Surprise Pink Egg" and "Hatchimals Surprise Purple Egg" are available for pre-order at Target.com for $69.99, the magenta-speckled "Hatchimals Surprise Ligull Egg" is already sold out on pre-orders. You can also preorder Hatchimals Surprise toys named Giraven, Peacat and Zuffin ($69.97) on Walmart.com (psst — Zuffin is a Walmart-exclusive character). Kmart.com has Giraven and Peacat for $79.99 each; Puppaddee, Peacat, and Giraven are also on toysrus.com for $69.99 each.
At this point, as you'd guess, no retailers are offering any discounts or coupons for pre-orders the new Hatchimals. However, most retailers offer free shipping possibilities. For example, Toys R Us, which actually filed for bankruptcy this week but remains fully operational, has free standard shipping for all orders of $29 or more.
If you pre-order a Hatchimals Surprise, you won't have to wait until Christmas to see what's in the box... er, egg. Spin Master is having an official Hatchimals Day on Friday, October 6, when it plans to officially introduce the new members of the Hatchimals Surprise family and make them available for sale.
If last year's Hatchimals craze is any indication, the real surprise will be if there are any of the new Hatchimals available on store shelves by that date.
We've included affiliate links into this article. Click here to learn what those are.