6 Surprising Reasons Eating Right Pays Off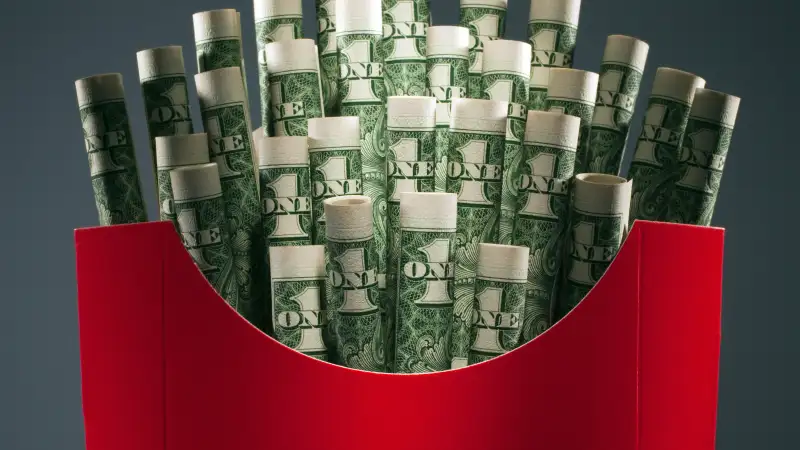 Eating healthy can make you look and feel better, but it can also be great for your wallet. Whether by reducing medical costs or helping you earn more, a healthy diet has benefits beyond a slimmer waistline. Consider these ways your diet can improve your finances:
1. You'll Lower the Likelihood of Needing to Take a Sick Day
Fruits and vegetables contain vitamins and minerals that help boost your immune system so it can better fight off viruses and bacterial infections. Staying healthy during flu season means you can go to work and get that paycheck (or promotion), and you won't have to spend money on meds and extra doctor's visits.
Not only does consuming a lot of produce increase your immunity in the short term, but it also helps prevent disease in the long run. Notably, eating more vegetables reduces the risk of heart disease, which afflicts about a third of all adults and costs about $444 billion a year to treat in the U.S., according to the Centers for Disease Control and Prevention.
2. You Can Stay More Productive
Not much is better for your finances than making more money, and one way to do that is to work harder. According to 2012 research conducted at Brigham Young University, eating healthy can help you do that. The researchers evaluated 19,800 employees at three large companies and found that eating well every day may lower your risk of productivity loss by 66%. They also found that exercise lowered the risk of lost productivity by 50%, and getting five fruit and vegetable servings lowered the risk by 39%. (Other research has found that frequent exercise is connected to higher pay.)
3. You Can Take Fewer Pills
Disease costs a lot of money in terms of doctor's visits, procedures, surgeries, and medical devices, but a large chunk of medical spending goes toward prescriptions that could be discontinued. In fact, three of the top five most commonly prescribed medications in the U.S. are for preventable heart conditions, adding up to more than 160 million scripts per year. Keeping your heart healthy and your weight down through diet will help reduce the need for these medications and the monthly expense that goes along with them.
4. You'll Steer Clear of Complications
When you're unhealthy or obese, you're more likely to have complications with an existing condition. For example, obesity decreases lung performance and is thought to exacerbate asthma symptoms. But foods rich in antioxidants and omega-3 fatty acids can increase lung performance. In addition, high blood pressure and diabetes can complicate your pregnancy, according to the CDC, and those costs can add up. Eating a healthy diet and keeping a normal body weight can help you avoid these problems.
5. You'll Age Better
When most people think of retirement planning, they think of 401(k)s and IRAs. That's a great start, but if there's anything that can deplete your retirement funds, it's unplanned medical costs. Studies conducted over the past 20 years show that plant-based and Mediterranean diets increase longevity and health, helping you work longer (if you want), save more toward retirement, and hopefully spend less on health care later.
More recently, researchers in Rome and the Washington University School of Medicine jointly published a paper that concluded that calorie restriction may be the best way to prevent disease and lengthen lifespan—even for people at a normal weight. The paper, published in 2011, took into account studies on rodents and humans. More human studies are needed, but the paper provided a basis for in-depth trials to come.
6. Your Insurer May Reward You
Employers and insurers are doing what they can to get you to eat right and work out (and need less high-cost medical care). That can mean discounts on the food you should be eating. The health-care network Harvard Pilgrim rewards workers for buying healthy food (up to $20 a month) and recently announced that it would roll out the program to other employers. Blue Cross Blue Shield offers Jenny Craig discounts, and Humana gives members a 10% discount on healthy groceries purchased at Wal-Mart.
Read more from NerdWallet Health, a website that empowers consumers to find high quality, affordable health care, and insurance.