This New Candy Raised Hershey's Sales by Nearly 10%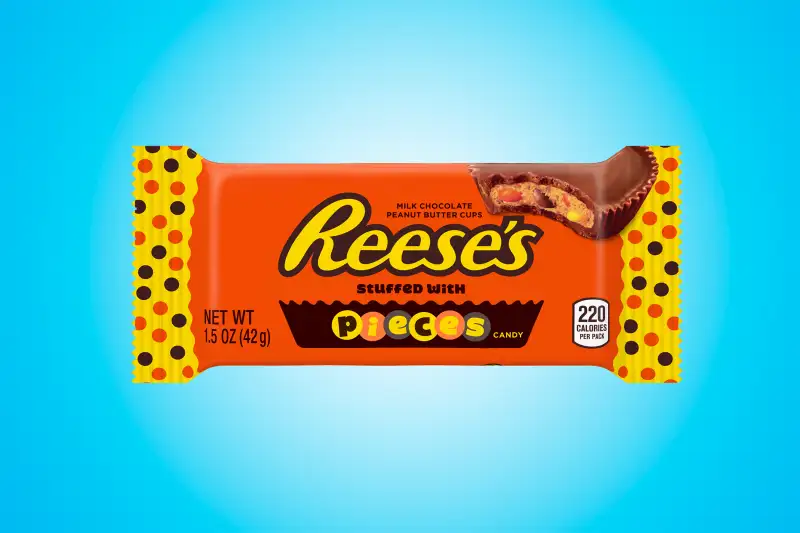 Hershey, the maker of Hershey's Kisses and Reese's Peanut Butter Cups, posted a higher-than-expected quarterly profit as demand strengthened in the United States and the company spent less on advertising and marketing.
Hershey's shares rose almost 7 percent to $101.91 on Friday morning, their biggest intraday percentage gain since June, when Mondelez's offer to buy the company became public.
Hershey's North America sales, which account for about 85 percent of total sales, rose 1.8 percent to $1.76 billion in the third quarter ended Oct. 2.
Consumers are visiting stores more frequently and are "beginning to spend a little bit more confidently than before," Chief Executive John Bilbrey said on a conference call.
Hershey is introducing new products to overcome weak demand in North America due to changing consumer tastes and growing competition.
The launch of Reese's Pieces Cups, which combine the Peanut Butter Cups with Reese's Pieces, increased sales of the brand by about 8 percent in the quarter, Bilbrey said.
Hershey also plans to launch Cookie Layer Crunch, a chocolate bar with layers of cookie bits, during the holidays and said it has "good visibility" into product's holiday sales.
"While sales growth has been weak for the business, any improvement in category growth rates in the U.S. in particular, but also in China, could move shares higher," Stifel analyst Christopher Growe wrote in a note, referring to his $94 price target.
Hershey, since rejecting the $23 billion offer from Mondelez International Inc, is working to cut costs by consolidating its supply chain and some factories in China and North America, and spending less on advertising.
The company said it expects 2016 capital expenditure at the lower end of its reduced range of $265 million-$275 million.
Hershey is set to undergo a management overhaul, with Bilbrey retiring next year. The charitable trust which controls the company reached a major reform agreement with its overseer, the Pennsylvania attorney general's office, following a months-long investigation.
The company's net income rose 47 percent to $227.4 million, or $1.06 per share, in the quarter, helped by lower costs.
Excluding items, Hershey earned $1.29 per share, beating the average analyst estimate of $1.18 per share, according to Thomson Reuters I/B/E/S.
Net sales rose 2.2 percent to $2 billion, in line with analysts' average estimate.
Hershey raised its 2016 adjusted earnings forecast to $4.28-$4.32 per share from $4.24-$4.28, citing cost savings and a slightly more favorable tax rate than expected.