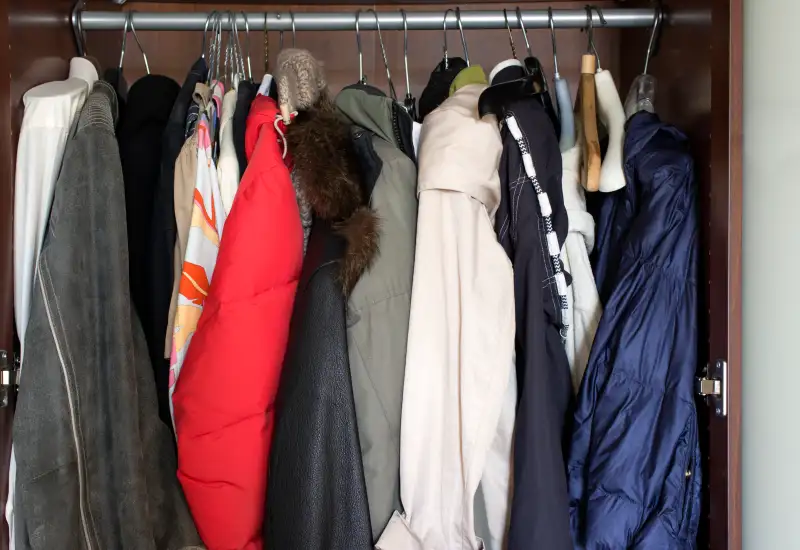 Your home is likely full of items you're no longer using, and some of them could be worth hundreds or even thousands of dollars.
"Whether it's personal items or family heirlooms that have been passed down for generations, many people underestimate the value of the possessions collecting dust in storage," said Jacquie Denny, founder of Everything But The House (EBTH), an online estate sale service.
In particular, buyers are willing to pay top dollar for anything rare or in limited supply, Denny said. However, even everyday items can bring in extra cash. As the saying goes: "One man's trash is another man's treasure."
If you need extra money, check out these 20 sources of hidden income that could be lying around your house.
1. Clothing
Chances are that you and your loved ones have clothing that's collecting dust in a closet. If these items are gently worn, you might be able to cash in by selling them. One of the easiest ways to unload your used clothing for cash is to sell items on consignment.
I've been selling clothes through a local consignment store for years and regularly receive 50 percent of the selling price for items I unload. To earn top dollar, look for upscale consignment stores that enjoy a lot of foot traffic. Additionally, you should find out what brands and items the store accepts and make sure your clothing meets the store's standards. You can also sell to an online reseller such as Thredup.com, which will send you a pre-paid package to ship your items. Thredup sellers can earn up to 80 percent of the marked price of their items.
2. Designer Shoes and Handbags
If you paid big bucks for designer shoes or a handbag that you now rarely use, you can reclaim some of your money by selling these items online. Frugal living expert Lauren Greutman, who blogs at IAmThatLady.com, said she has sold shoes through Poshmark for up to 50 percent of the retail price.
You can snap a picture of the items you want to sell using the Poshmark app and list them instantly. Poshmark will send a pre-paid box to ship items that sell and take a $2.95 commission for sales less than $15 and a 20 percent commission for sales above $15.
3. Jewelry
If you have an inherited necklace that isn't your style, or an engagement ring you no longer wear because you're divorced, you might want to consider selling these pieces for cash. Said Denny, fine jewelry can be worth a lot.
To make sure you get the full value of your jewelry, consider having items appraised beforehand. You can find an appraiser near you through the American Society of Appraisers' site, Appraisers.org, or sell online through an auction site such as eBay.com. While you can also opt to sell to a jeweler or pawn shop, it's important to seek out quotes from several stores before doing so.
4. Computers
Many households have $400 to $800 worth of cash in the form of unused laptop computers, said Michele Perry, a consumer tech expert at electronics resale site Gazelle.com. Fortunately, sites such as Gazelle and NextWorth.com make it easy to unload these unwanted laptops for cash.
With Gazelle.com, sellers can request quotes for their devices. They are then sent pre-paid shipping boxes.
"You just send it back with your device, and we'll send you cash," Perry said. She went on to remind sellers to erase the data on their computers prior to sending them.
5. Cell Phones
Used cell phones are another tech item for which you can earn cash — even if they're damaged.
"Most devices still have value even if they are broken or damaged, as long as they are fully functional and just have a broken screen or need to replace a battery or button," Perry said. In fact, sellers can net $125 for a broken iPhone 6S on Gazelle.com. Moreover, they can earn $360 if the item is in good condition with normal wear and tear.
Sellers can also unload old cell phones on sites like Kiiboo.com and NextWorth.com or drop their phones into one of the nearly 1,900 ecoATM kiosks located in shopping malls across the nation.
Read More: 8 Worst Ways to Make Money Online
6. Gift Cards
$973 million worth of gift cards went unused in 2015, according to the professional services firm, CEB. If you have gift cards you're not planning to use, consider selling them on sites such as CardCash.com, Cardpool.com, GiftCardZen.com and Raise.com.
The above sites purchase gift cards for less than face value and then resell them at a discount. For example, you can get back up to 92 percent of a card's value at Cardpool.com. You also can exchange gift cards for cash at Coinstar Exchange kiosks in grocery stores.
7. Books
If you have books you know you'll never read again — or at all — you can easily turn them into cash by selling online. Greutman recommends selling unwanted books on Amazon by scanning them with the free Amazon Seller app, which tells users the current value. You can list your books with the app and price them based on Amazon's pricing suggestions, she said. It's important to note that Amazon charges 99 cents per item sold.
Additionally, sellers can unload unwanted books through Half.com, which doesn't charge a listing fee. Start by visiting sites like AbeBooks.com and Biblio.com to see what your books might be worth. AbeBooks also brokers sales.
Check to see if you have any first edition books and books autographed by authors to start, said Denny of EBTH, as these items could be good sources of hidden cash.
8. Children's Toys
It's no secret that children outgrow their toys quickly. Luckily, you can make money selling your kids' unwanted toys — especially larger items such as kitchen playsets. I made about $50 on a wooden train set for which I originally paid $75 by selling it through a consignment store.
If you have several smaller toys to sell, Greutman advises requesting a box from Swap.com. You can fill it with items and then ship it back to the company for free. According to Greutman, earning $25 to $50 per box is not uncommon.
Read More: How to Turn Your Worst Christmas Presents Into Cash
9. Collectible Dolls
If you inherited a collection of porcelain dolls from your grandmother, it might be time to dig them out of storage. In fact, according to Denny, people are willing to pay top dollar for collectible dolls.
Additionally, individuals whose children have old American Girl dolls might be sitting on cash cows. According to Greutman, these toys fetch top dollar on eBay.com. For example, a 2014 American Girl Doll of the Year recently had a list price of $170.99 on eBay. This listing is $50 higher than that of the current Doll of the Year sold by American Girl.
10. Furniture
Make some extra cash by selling unwanted furniture that's occupying space in your garage, attic or storage unit. Along with selling items in consignment stores, which offer owners a percentage of the final price, individuals can opt to advertise locally on Facebook, Craigslist.org or OfferUp.
BudgetsAreSexy.com blogger J. Money has made more than $1,000 selling items on Craigslist, including furniture. When listing an item on the site, he recommends posting several pictures, providing all of the dimensions, using keywords such as brand names in your description and researching prices of similar items. Additionally, you should make yourself available by phone or email to respond to interested buyers.
11. Musical Instruments
That guitar or drum set you bought years ago, because you thought you were going to start a band, can be turned into cash if your dreams of rockstardom never materialized. In fact, J. Money reported selling an electric guitar, amps and accessories on Craigslist for $225. You also can sell musical instruments online through sites such as Reverb.com, which charges a 3.5 percent fee on sales, or at a physical retailer such as Guitar Center.
12. Sporting Goods
Denny said that outdoor sporting goods, such as bicycles, canoes and fishing gear, tend to sell well on EBTH. If you have sporting goods you bought for yourself or your kids, you can sell them on your own through Craigslist or OfferUp.com. Additionally, you can take sports gear — such as skis, golf clubs, baseball bats, gloves and football cleats and helmets — to a Play It Again Sports store and receive 30 percent to 50 percent of the selling price.
13. Sports Memorabilia
If you collected baseball cards or sports jerseys as a child, you might be able to exchange these items for much-needed cash. Signed sports memorabilia, in particular, can be a big source of income.
"The more famous the player, the higher the prices demanded," Denny said.
For best results, consider having your items appraised to determine how valuable they are. You can find an appraiser through Appraisers.org or have trading cards professionally authenticated through the Professional Sports Authentication at PSACard.com. One of the best places to sell sports memorabilia is eBay.com, which many sports enthusiasts use to find collectibles.
Read More: 7 Best Ways Retirees Can Boost Their Income
14. Antiques
If you have antiques with which you're willing to part, their value will hinge largely on their conditions and whether they are rare or have historical significance, Denny said.
"With antiques, small scratches and evidence of light wear and tear can actually increase the value slightly, but structural damage and other repairs can be costly and dissuade sellers," she said. "All these complicating factors are part of why it's important to work with a reputable appraiser."
The best way to secure top dollar for antiques is to sell them through an auction house, according to Consumer Reports. You can also sell to antique dealers, but be sure to get quotes from a few services before doing so. Additionally, you can sell antiques at EBTH.com, which offers appraisers who will value individual items or an entire estate.
15. Artwork
Whether you have inherited artwork that isn't your taste, or pieces you purchased that are collecting dust in the attic, you can opt to sell these items for cash. In fact, I've sold numerous pieces of art at consignment stores.
For fine art, consider having items appraised before selling. According to Denny, regional artwork sells particularly well in EBTH sales. You can also sell your fine art through auction houses.
16. China Sets
If formal dining isn't your style, you can unload that china set you inherited or received as a wedding gift at a local consignment store. Denny said china is a popular item sold on EBTH.com — especially sets made by Spode, Lenox and modern designers, such as Ralph Lauren.
Additionally, sellers can list china sets on Craigslist.org.
17. Silver
If you inherited some sterling silver trays, serving spoons or other items you don't use, you might be able to earn cash selling them 'as is' or for scrap.
"If the silver holds any sort of historical significance, or has any brand association, it will offer a much greater return than if you were to sell it to scrap," Denny said. However, she acknowledges that the current market for silver is a difficult one.
At the present time, buyers might get more money selling silver pieces for scrap than at a consignment store or through an auction house. For best results, secure quotes from several metals dealers — both online and storefront.
18. Savings Bonds
You might have received — or even purchased — savings bonds decades ago only to forget about them completely. In fact, billions of dollars' worth of matured savings bonds have never been cashed in, according to the U.S. Department of the Treasury.
You can use the Treasury Hunt tool at Treasuryhunt.gov to discover whether you have Series E bonds issued after 1974 that are no longer earning interest and can be cashed in. The tool can also help you identify bonds you might have lost and claim them.
19. Appliance Parts
Small appliances that are old or broken can still have value, Greutman said. That's because you can sell their parts on eBay. For example, a used Keurig K-cup holder recently had a list price of $29.95 on eBay.
20. Video Games
You can cash in on those video games you or your kids no longer play by selling them online or at various brick-and-mortar retailers. Sites such as uSell.com and NextWorth purchase used video games and offer free shipping. Additionally, you can sell used video games at retailers such as GameStop, which will pay cash or give you store credit to buy more hours of fun.
This article originally appeared on GoBankingRates.