10 Reasons to Start Holiday Shopping Now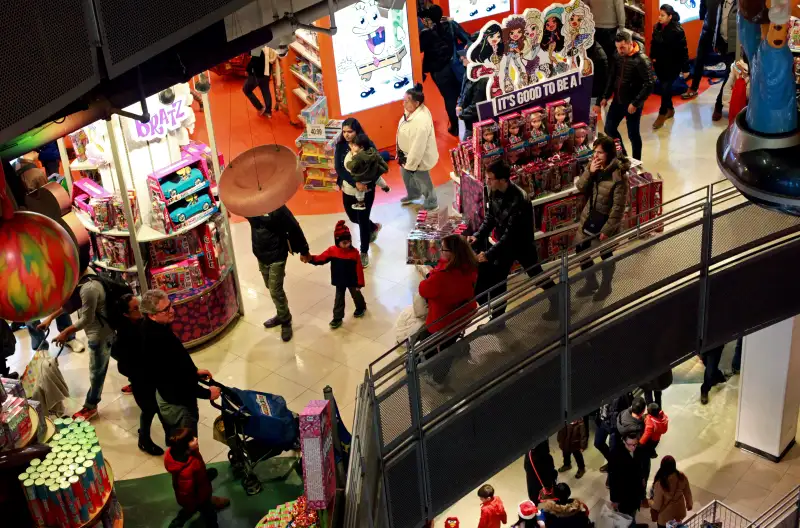 Yana Paskova—Getty Images
It's hard to believe that the holidays are fast approaching. But ask anyone if they have started shopping for the holidays yet, and you'll most likely get a quizzical look in return. "Holidays? I haven't even shopped for Thanksgiving yet!" However, there are many reasons to start shopping for the big event right now, rather than waiting for another month. And by starting now, you will save money — in some cases a lot of money — and have a less stressful festive season.
1. Better Deals May Take a Long Time to Ship
Right now, time is on your side, and you should take full advantage of it. With eBay, and hundreds of other sites offering great gifts from all around the world, it can be expensive to ship things quickly. And in some cases, that may not even be an option. You could have to wait 6-8 weeks for that special delivery, and if you start shopping in early December, you just won't have enough time to get it before the big day. What's more, some items offered abroad are significantly cheaper than the same items being sold from U.S. merchants. Start your shopping online now, and you could save a lot of money getting cool and authentic goods from every corner of the globe.
2. It's Not Crazy Shopping Season Yet
You know what the malls are like when December rolls around. And in the last few weeks, it's all out war in some stores. Finding a parking spot can take half an hour, and even then, it's a long walk to the entrance. Lines to the registers are stretching to the back of the store, everyone is in a bad mood, and chaos reigns. Skip it. Do it now, while the vast majority of people are still thinking about the Thanksgiving menu. You may be waiting to start because you believe the best deals will come on Black Friday — the ultimate battle for a better deal — but that's not necessarily true. Many doorbuster deals go in minutes, and are in limited supply. The rest of the low prices offered are usually very close to the prices being charged online anyway. In some cases, those items were cheaper on other sale days throughout the year. Don't believe the Black Friday hype. Smart, frugal shoppers armed with discount codes and coupons will always find good deals.
3. The Price Hikes Haven't Happened Yet
They're known as "seasonal markups." You could call it taking advantage of the holidays, or even price gouging, but it is what it is, and we all know it. However, those seasonal markups are not going to happen for a few more weeks at least, so get in there before the "late shopping tax" is added onto everything from toys and clothing, to perfume and jewelry.
4. You Could Miss Out on the Things You Really Want
As we get closer to the holidays, supplies of popular items start getting depleted. This, in particular, applies to the hot toy of the moment. Every year, a certain toy becomes a must-have, and if you wait too long, you risk disappointing the kid who's been waiting for it all year. But it's not just toys. You will find that popular clothing sizes sell out fast, and all you can get hold of is an XS or a XXXL. Certain colors or styles will go more quickly than others. And all of this can be avoided by getting to the stores now while everything is plentiful.
Read More: Start Now: You Can Make These 23 DIY Gifts
5. You Have Enough Time to Make Something
They say the best gifts are the ones made just for you, and that really does ring true. Knowing that someone has spent their own time and creativity making you something feels great. If you posses a certain set of skills, whether it's crocheting, cooking, woodworking, painting, or sculpture, you have the time to put those skills to good use. You can make some awesome gifts that will really make the recipient feel special, and you'll save a lot of money in the process. Leaving this kind of gift until the last minute only adds extra stress to your life.
6. You Can Get Gifts to Loved Ones on Time
The postal system comes under heavy strain in the weeks before a major holiday. We all see it firsthand when we pop to the post office and see a line stretching to Canada. If you want to make sure your packages arrive on time, without having to pay expensive priority fees, or use couriers, then start your shopping right now. You can use some of the free shipping options on sites like Amazon and eBay and still get gifts to people in plenty of time. Otherwise you'll be risking delayed packages while paying a lot for the service.
7. Bad Weather Can Upset Your Plans
In many parts of the country, the holiday season comes with heavy snow and horrible weather. That can have a huge impact on the shopping season. Bad snow can leave the roads in chaos, and you may not even be able to leave the house. Even if you do get out there, you could be spending hours in traffic, risk getting into serious accidents, and will be dealing with people who are stressed beyond belief. Get out there now, before mother nature decides to dump a nasty surprise on you… right on the day you planned to get all your shopping done.
Read More: Flashback Friday: 44 Sneaky Shopping Traps to Avoid
8. You Can Spread Out the Financial Burden
We all know that the holiday season is the most expensive time of the year for most families. Aside from all the gifts, there is the food, the drinks, the parties, and the travel. It can really eat into your weekly budget. But when you leave everything until the last minute, that can put your bank accounts under more strain than usual. Instead, spread out those expenses into more manageable chunks, and start early. Get a few gifts now, a few next week, and so on. Stock up on non-perishables over the next few months. By doing it in smaller bursts, you won't feel so financially crippled.
9. You Can Set Price Alerts for Online Shopping
If you leave shopping until the last minute, or the last few weeks of the holiday season, you will have to accept the price on offer, or risk not getting that item at all. Start shopping online right now, and set up price alerts for the things on your lists. You can receive an email alert that tells you when something you really want has dropped below a price you feel is a deal. If it doesn't happen by the time the holidays are closing in, well, you bite the bullet. But this way, you have a much better chance of getting great deals on the things you really want.
Read More: 10 Classic Impulse Buys We Need to Stop Falling For
10. It's Better for Your Health (and Sanity)
Most of us experience stress around the holiday season, and with good reason. There's an awful lot to coordinate, and we're spending money like it's going out of style. We all want to make sure everyone is happy, the gifts are bought and wrapped, and the food is prepped. One way to alleviate some of that stress is to give yourself plenty of breathing room. By starting your shopping now, you're giving yourself that most precious gift: time. You have the time to sit down, plan ahead, and get things organized. You have time to get things shipped. You have time to take things back to the stores, if they aren't what you were expecting. You have time to wrap gifts at your own pace, instead if doing that marathon session the night before. It all adds up to a much easier festive season, meaning less stress and strain on your body and your mind.