These 15 Holiday Travel Tricks Could Save You Hundreds on Your Next Trip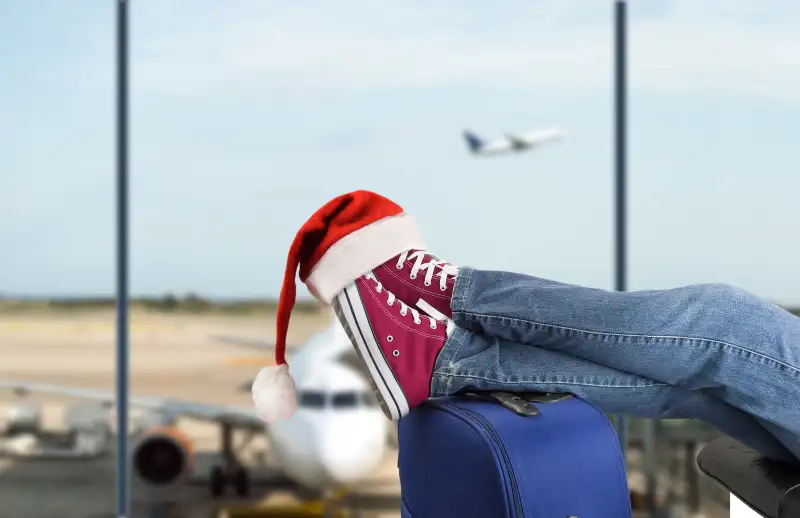 Manuel Faba Ortega—Getty Images/iStockphoto
Whether they're driving to visit family or flying to a tropical island to escape winter weather, millions of Americans will travel over the holidays. In 2017, AAA estimated a record 107.3 million Americans would travel during the year-end holiday period from Dec. 23 through Jan. 1. This was a 3.1 percent increase in travel volume from the previous year, and the ninth consecutive year that travel volume had risen. If recent trends continue, even more Americans will travel in November and December this year.
Although airfares and room rates can inflate during the peak travel season, it's still possible to keep holiday travel costs low without channeling your inner Scrooge. This season, learn to avoid these costly travel mistakes.
1. Booking Too Late
Booking travel can be a delicate balancing act between holding out for deals and paying a premium for the single seat left on the plane or the last room at the inn. But travelers hoping to land last-minute deals on airfares for the holidays are likely to get stuck with long layovers, multiple stops and inconvenient flight times, said Jeff Klee, CEO of CheapAir and AmTrav.
"The longer a customer waits to purchase tickets, not only is he or she less likely to get a good price, but the inventory of itineraries available becomes more and more limited," he said. "This creates a scenario in which you're not only going to pay more for your ticket, [but] the flights themselves will have a higher likelihood of being less desirable."
According to CheapAir.com's annual Holiday Cheap Flights Report, procrastination is a holiday travel mistake that will cost customers dearly. The average airfare price for the most popular markets in November was $49 more expensive than October, and December is expected to bring an additional $64 increase. It goes to show that you can really save big by getting a head start on holiday travel deals.
2. Booking Too Early
The same isn't always true for hotels, since operators would rather rent rooms at reduced rates than have them go empty and earn nothing. Greta Brinkley, a lifestyle expert who worked in the hospitality industry for over a decade, shared her insider knowledge.
"Unless you're traveling to a resort area or major destination, most hotels will be empty on the holidays," Brinkley said. "Yes, that's right; holidays — especially family-related holidays like Thanksgiving, Christmas and Easter — are dead for hotels. I remember a time that at one of the largest hotels in our area, they only had one guest reserved for Christmas Eve and Christmas Day. They chose to close and instead paid for that guest to stay at another hotel (upgraded, of course)."
But how can you use this to your advantage?
Want to win a $1,000 holiday shopping spree? Head over to GOBankingRates and enter for a chance to win!
"The key is to call the hotel directly and negotiate with the front desk manager or general manager," Brinkley said. "At one property I oversaw, we hosted a family that planned their reunion over Thanksgiving. After paying less than half of our going rate for the 10 rooms they rented, they also received a free meeting room for the duration of their stay. At the very least, you should be able to score major room upgrades."
So, not only can you book last-minute, but you might also get major savings while you're at it. It's worth trying apps like Hotel Tonight that help customers look for deep discounts on same-day accommodations.
Don't Miss: The Best Time to Book Your Travel Plans
3. Being Inflexible
Inflexibility on travel dates might leave travelers with the more expensive options. "With most vacations, you can schedule them a week earlier or later without making much of a difference, but there's less flexibility when it comes to the holidays," said Sarah Schlichter, senior editor at the expert travel site Smarter Travel. "For example, Thanksgiving Day is a very cheap day to fly, but if the whole reason you're traveling is to get home for dinner at Grandma's that evening, then flying on the day probably won't work for you."
If traveling on Thanksgiving Day seems too extreme, even small scheduling concessions can cut costs, said Klee. "You can shave dollars off your holiday travel here and there by being willing to take connecting flights, having some flexibility with your dates of travel, flying from alternate airports, [and] mixing and matching airlines on your outbound and return flights," he said.
"Even being open to a range of flight times can help. Basically, the more restrictions you have with your itinerary, the less likely you are to snag a great deal," Klee added. Flexibility is a secret to saving big on last-minute travel, too.
4. Wasting Time Chasing the Impossible Dream Deal
Everyone has seen those deals for fares under $50 or offers that advertise a one-way flight to anywhere in the country for under $100. Don't be fooled by these fares, which can be impossible to find — if they exist at all.
"Because you have to search for each date and destination you might be interested in, people shop around for hours looking for the perfect flight, wait too long to book, then end up paying through the nose," said Gillian Morris, founder and CEO of Hitlist, a vacation planning and travel savings app. "This is because many airfare deal sites make their money on driving traffic, regardless of whether the people they deliver to the airline actually book. Most deal sites are actually incentivized to make you click, not make you buy, so they'll advertise fares that are hard — if not impossible — to find to lure you in."
5. Not Using Your Shopping Grace Period
You can use a site like Kayak, Skyscanner or Google Flights to compare prices from several airlines. Although many will find fares in the same ballpark, these sites can help you avoid inflated fares coming out of left field.
If you discover a deal, Klee advised checking the fine print on the booking site. Many offer a full refund if you cancel within 24 hours. "If you find something that meets your requirements, grab it now," he said. "Don't assume it will still be there later."
He added, "In general, you can cancel flights booked online within 24 hours for a full refund, so it's more sensible to lock it in." And, you can always use that 24-hour grace period to shop around.
6. Accidental Overspending
The holidays offer more free time and less structure for most travelers. That break in routine can break the bank if vacationers lose track of discretionary spending, said Brad Klontz, a financial psychologist, professor, author and editor.
"Anytime we are out of our normal environment, away from our homes [and] work with more free time than usual, we are vulnerable to overspending," said Klontz. "Our normal schedule typically does not allow as much time for shopping, going out to eat, etc. Our usual inhibitions are often relaxed, and we can overspend unconsciously."
Create a travel budget and prep your finances before going out of town during the holidays. Otherwise, you might find yourself deep in debt once you return home.
7. Vacationing on Credit
When possible, use cash instead of credit while on vacation. "It is common to vacation on credit," said Klontz. "Having not saved enough money to pay cash for the entire vacation, many of us float the expenses on credit cards. While we might have the goal of paying the vacation off right away, often we are surprised by how much we spend and may carry a balance for months afterward."
For instance, if you charge $2,195 for a weeklong vacation on a credit card with a 15% APR and pay $30 each month toward that debt, it will take you over 16.5 years and about $3,750 in interest to pay off your original trip, according to Consumer Credit's Cost of Credit Calculator. Save yourself the interest charges and pay with cash when you can.
8. Data Roaming
If you're traveling abroad, surprise cellphone costs can add up faster than holiday weight gain. For example, Sprint Global Roaming fees weigh in at 20 cents a minute for calls made from many areas. Horror stories of $5,000 cellphone bills will have any traveler looking at their phone with trepidation.
Instead, make sure to get an international plan before traveling overseas. Many major U.S. carriers, including Sprint, AT&T and Verizon, offer service plans that cut costs dramatically for an additional fixed fee. There are also a number of apps and programs that allow you to stay connected at little to no cost.
9. Overpacking
Try to travel with only a carry-on bag if possible. That way, you can check a bag or box of gifts without being saddled with too many extra bag fees. Some airlines, including American Airlines and Delta, charge passengers $30 for one checked bag. Fortunately, there are clever ways to save on airline baggage fees.
Overpacking can cost you if you're driving, too. The money you stand to save varies according to the make and model of your car, but a heavier car can mean lower average miles per gallon.
10. Under-Budgeting
Airfare, car rental and hotel costs are the obvious travel expenses, but Schlichter and other experts say vacationers must consider smaller expenses that include everything from ATM surcharges to airline baggage fees to set an accurate holiday travel budget. There are lots of hidden travel fees you need to learn to avoid.
"Before you leave, mentally walk yourself through every step of your trip and make a note of where you might spend a few bucks. What will you pay to get to the airport — $15 for an Uber ride, or $10 a day for airport parking? Will you need to buy a sandwich to bring on the plane? You get the idea. We recommend building in a 'miscellaneous' budget as well; this will give you a little wiggle room in case you make any unexpected purchases," said Schlichter.
11. Pre-Wrapping Presents
Although the TSA says wrapped gifts aren't strictly off-limits, wrapping presents can cost travelers time and money as well as delays, headaches and hassles in the airport security screening line, Schlichter said.
"If the TSA selects your bag for screening, the agent won't give a second thought to ruining your pristine wrapping job," she said. "Either wait to wrap your gifts once you arrive or put them in gift bags so you can rewrap the items without having to shell out for another roll of wrapping paper."
See: Biggest Airport Myths You Shouldn't Believe
12. Getting Hit With Rental Car Add-Ons
Travelers flying in to see friends and family might want to rent a ride for road trips or to visit favorite haunts between holiday get-togethers. But failing to read the fine print on car rental agreements can add fees that put a dent in your stocking-stuffer budget, said Mark Mannell, CEO of Car Rental Savers.
"Most drivers in the U.S. are covered by either their existing auto policy and/or their credit cards," Mannell said. "We recommend contacting both companies to verify coverage before buying expensive insurance waivers at the counter."
And, make sure to give yourself time to get gas on the way back to return the rental, he said.
"Returning the car below the fuel level you received it at or purchasing fuel from the rental agency can be expensive. Taxes and fees are not included in any price quoted," Mannell said. "Use an app like GasBuddy to find a gas station near your drop-off location."
13. Letting Outdoor Activities Drive Your Budget Downhill
The winter holidays are prime time for outdoor sports and activities. But Elizabeth Avery, founder of the travel site Solo Trekker 4 U, recommended hitting the phone before hitting the slopes. Call your health insurer to see exactly what your policy covers in terms of potential medical expenses while on the road — or mountain. And check to see if you can rent bulky equipment affordably at your destination rather than traveling with it in tow.
"Lugging oversized equipment is costly, annoying to carry and may be cheaper to rent at the destination," she said. "Some ski resorts have complete packages that include equipment, lift tickets and lessons."
14. Not Planning for Parking
Economy parking lots near major airports can sell out during the busy holiday travel season, leaving some scrambling for a spot that is often priced at a premium. But spots can be booked months in advance at sites such as CheapAirportParking and ParkON, which also allow users to search by lot location and other criteria.
If you live close enough to the airport, you might first want to compare the cost of using a ride-hailing service such as Uber or Lyft to get to and from the airport versus paying to park your vehicle during your trip. By going the ride-hailing route, you might save yourself not only money but also the energy of navigating airport parking lot traffic.
15. Sticking With a Holiday Schedule
If a trip isn't directly tied to a holiday celebration, Greg Geronemus, co-CEO of the guided tour company smarTours, recommended waiting until the calendar flips to 2019.
"If you have the flexibility in your schedule, traveling in January as opposed to during the November and December holidays is a no-brainer. The prices will be far better, there will be less hassle and chaos at the airports and train stations, and certainly less stress," he said. "Not only can you save 15 to 20 percent on the total cost of your trip, largely driven by lower airfare, but you can enjoy significantly less crowded destinations."
Thanksgiving and Christmas travel deals do exist, Geronemus said — they're just harder to find. "Odds are that you will spend less and have more fun if you're able to push back your trip a few weeks," he said.
Click through to read about the most and least affordable places to spend your holiday vacation.
More on Saving Money on Travel
Erica Corbin contributed to the reporting for this article.
This article originally appeared in GoBankingRates.com.