Why You Should Care About the Hollywood Wage Gap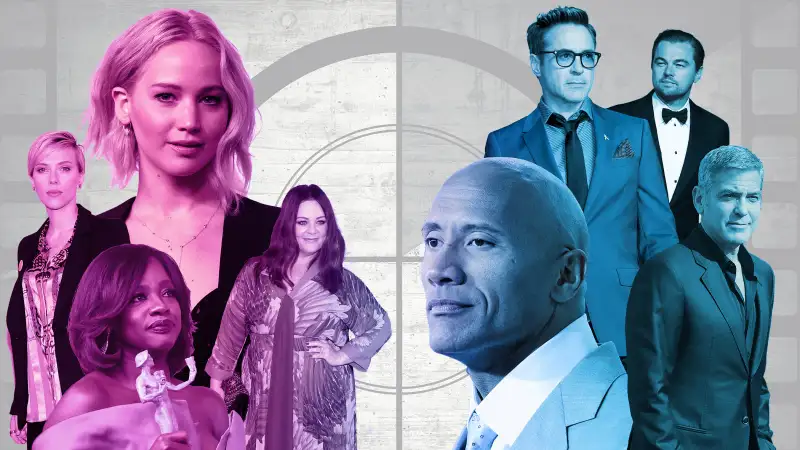 Photo illustration by Sarina Finkelstein for Money; Getty Images (6); AP (1); Reuters (1); Newscom (1)
Back in October, Jennifer Lawrence gave voice to underpaid women everywhere when she penned an open letter asking why her male costars earned more than she and Amy Adams did in the David O. Russell film American Hustle.
At the time critics lashed out, suggesting that someone making millions of dollars had no right to complain about being shortchanged a few million more. Even other actresses were circumspect. "To me it's frustrating, but at the same time, I'm just grateful to be getting paid at all for what I do," fellow Oscar nominee Rooney Mara told The Guardian.
"I don't like talking about money," Kate Winslet said to the BBC. "It's a bit vulgar isn't it?"
Perhaps—but there's a reason why anyone who cares about the wage gap quickly adopted Lawrence as a symbol. If one of the biggest celebrities of the moment, of either sex, can't pull down as much as her male costars for the same job, what does it say about how we value any woman's work?
Lawrence is just the most visible example of the dismal state of pay equality in Tinseltown. A 2014 study published in the Journal of Management Inquiry entitled Age, Gender, and Compensation: A Study of Hollywood Movie Stars concluded that pay for female movie stars increases until they reach 34, then rapidly decreases (as does the number of roles for women of a certain age). For men, the peak earning year is 51, and there is no noticeable decline in wages after that. As Helaine Olen noted in Slate, that means "25-year-old Lawrence has nine years to go, while 40-year-old [Bradley] Cooper has 11."
A similar thing happens to the salaries of non-celebrity workers as well. Studies have shown that earnings peak for women between the ages of 34 and 39, while wages continue to rise steadily for men until around age 50.
It's worth pausing here to note that many of the traditional justifications for the wage gap just don't hold up in Tinseltown. Actors and actresses fulfill the same job in the same time frame, using the same set of tools. You can't attribute the gap to differences in productivity, strength, or women being less skilled as performers (sorry, Aaron Sorkin).
And what of the other oft-cited reason for the disparity—that women take time out of the workforce to have and care for children? Gaps in one's resume don't matter much in Hollywood, where hours put in "at the office" mean virtually nothing. "You're only as big as your last hit," says Paul Dergarabedian, senior media analyst at ComScore.
Most compelling, though, is the economic argument: Male-led movies do not make more money than female-led films, despite the constant refrain that they do. In fact, research shows that hit movies starring women make more money than those starring dudes. News and culture website Mic compared the box-office grosses of the top 25 highest-earning films from 2006 to mid-October 2015 and found that:
In 2015 alone, the female-helmed Spy and Pitch Perfect 2 smashed box office projections, bringing in $235 million and almost $300 million, respectively, on budgets of $65 million and $29 million. Amy Schumer's Trainwreck brought in $138 million. Not exactly chump change.
What's more, Lawrence is by far the most profitable star out there, by our calculations bringing in $50 for every $1 in salary from her last three major motion pictures.
But you wouldn't know it based on her take-home pay relative to that of the highest-earning men. Consider the example of the top-paid actor, Robert Downey Jr. Both he and Lawrence are in their "peak earning years," according to the study cited above, and both have starred in flops and massive box office successes in the past year.
Downey was reportedly paid $40 million for the latest installment of The Avengers, while Lawrence brought home $15 million total for the third and fourth installments of The Hunger Games, or about $7.5 million a pop. So far both franchises have earned more than $2.9 billion worldwide. And Lawrence is the undisputed star of her films, whereas Downey shares the screen with five other leads. (A representative from Creative Artists Agency, which represents Lawrence and many other top stars, would not comment on pay or contract negotiations. Several agents did not return requests for comment.)
It's not much better for women behind the camera. According to UCLA's 2015 Media Diversity Report, 100% of film studio CEOs are male. But even high-ranking female movie executives don't make as much money as the boys: 2014's infamous Sony email leak revealed that Michael De Luca made almost $1 million more than Hannah Minghella, despite the fact that they both had the same job title, as co-presidents of production at Columbia Pictures.
#HollywoodSoWhite
It only gets worse when you factor in race.
Eight actors routinely command salaries upwards of $15 million per film, according to The Hollywood Reporter, while four actresses (Lawrence, Sandra Bullock, Angelina Jolie, and Melissa McCarthy) can make the same claim. And just two of that elite dozen—Denzel Washington and Dwayne Johnson—are nonwhite. (Notice both have a Y chromosome.)
In fact, while discrimination certainly isn't a competition, this year's Oscars host, Chris Rock, made a valid point when he told The New Yorker, "You hear Jennifer Lawrence complaining about getting paid less because she's a woman—if she was black, she'd really have something to complain about."
Read Next: Turns Out Women Can't Even Be the Boss in Fiction
Washington and Johnson may make bank, but you'd be hard-pressed to find an actress of color being paid anywhere near as much. China's Bingbing Fan is the only non-white woman on Forbes' 2015 list of highest-paid actresses, and she makes her money overseas. Men fare slightly better, with Johnson and Will Smith appearing on the highest-paid actors list. Rock, Kevin Hart, and Idris Elba all bring home healthy paychecks as well (though not enough to make it onto the list, which features 34 actors).
But the most striking discrepancy is just how many fewer big-time roles there are for women of every color, but especially for non-white women. Women made up just 22% of protagonists in the top 100 domestic grossing films of 2015 and 34% of major characters, according to a report from San Diego State University's Center for the Study of Women in Television & Film. Meanwhile, 76% of all female characters were white, 13% were black, 4% were Latina, and 3% were Asian.
"Why don't we have a Black Jennifer Lawrence or a Latina Jennifer Lawrence?" says Melissa Silverstein, founder of Women and Hollywood and artistic director of the Athena Film Festival. "We're still a white, white business and a white, white world in terms of power, but we're not a white, white country."
Viola Davis noted as much in her Emmy acceptance speech last year. "The only thing that separates women of color from anyone else is opportunity," Davis said. "You cannot win an Emmy for roles that are simply not there." Or get paid for them.
So is there a silver lining in all of this? Dergarabedian says things are improving for women in Hollywood, thanks to the star power of actresses like Lawrence and Charlize Theron (see: Mad Max: Fury Road) and the influence of social media. It has finally gotten to the point where it's impossible to ignore the double standard.
"I think the marginalization of women and their roles and power at the box office is diminishing," Dergarabedian says. "The lines are thankfully being blurred. Women have just as much star power as men."
Lawrence, for her part, benefited mightily from sharing her salary information publicly (and you can too). She'll take home $20 million for her next movie, Passengers, a sci-fi flick co-starring Chris Pratt, who will reportedly be paid significantly less.
Estimated Earnings for Top Actors and Actresses in 2015
| Movie Star | 2015 Film Credits | Total Compensation |
| --- | --- | --- |
| Robert Downey Jr. | Avengers: Age of Ultron | $40 million |
| George Clooney | Tomorrowland | $20-$40 million |
| Matt Damon* | The Martian | $25 million |
| Leonardo DiCaprio* | The Revenant | $25 million |
| Dwayne Johnson | Furious 7; San Andreas | $25 million |
| Jennifer Lawrence* | Joy; The Hunger Games: Mockingjay - Part 2 | $22.5 million |
| Scarlett Johansson | Avengers: Age of Ultron | $20 million |
| Vin Diesel | Furious 7 | $20 million (not counting percentage of backend) |
| Daniel Craig | Spectre | $20 million |
| Melissa McCarthy | Spy | $15 million |
* = 2016 Oscar Nominee
Methodology: These figures were estimated using information from IMBD, Box Office Mojo, interviews with Hollywood insiders, leaked emails, ComScore, and reports from other publications including Forbes, The Hollywood Reporter, and more.