10 Horror Movies You Can Stream for Halloween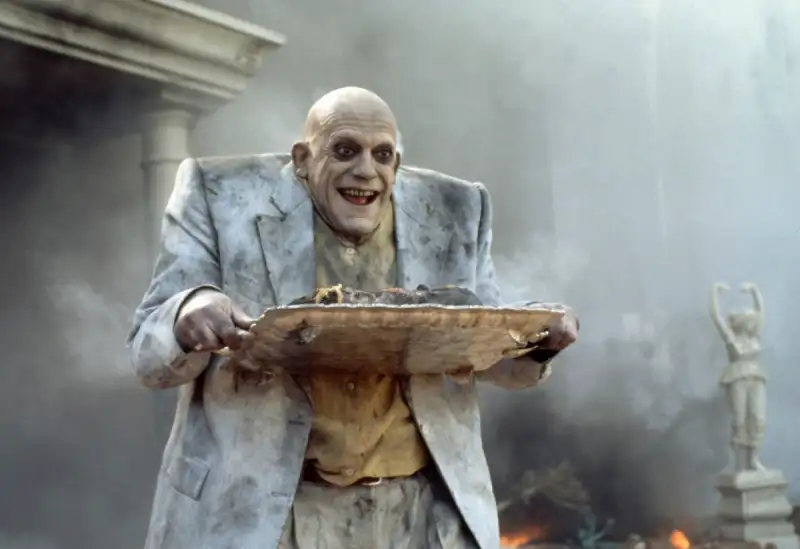 Is there a better use of your TV watching time than curling up with a great horror movie for a good scare? And if it happens to be Halloween, all the better.
And yet it's surprisingly hard to find the really great horror movies—the true classics and the scary sleepers that cinephiles love—on most streaming services. Which is why we're making your Halloween watching easy with 10 great horror movies now streaming for free. (Some of the services do require a monthly membership, but all offer a free trial.)
Many streaming services treat horror movies as an afterthought, even around Halloween. The large outlets—we're talking to you, Netflix—have a ton of movies but don't do a great job of curation, lumping in iconic titles with commodity slasher fare.
Is a free horror movie really free if you spend half an hour flipping through menus to find it? Since you're only going to watch a couple of horror movies between now and Monday, our list renders that question moot.
With that in mind, some smaller sites do a better job of steering you to exactly the right kind of horror movie you're in the mood for. Shudder ($4.99/month after a free trial) is a streaming service designed for the hardcore horror fan, and its menus, featuring quirkily specific categories like Bad Genes & Killer Kids or The End is Nigh, are a delight to use.
Shout Factory TV has a selection of free campy horror classics, available for streaming, like "The Atomic Brain" we selected for the list. Shout Factory's sister site features DVD and Blu-ray special editions of lots of classic horror movies, including several titles on this list well worth owning ("Carrie," "The Thing," "Babadook").
Among the Netflix competitors, Vudu features a surprisingly strong selection of Hollywood horror classics for free streaming (albeit with commercials), while Crackle features a few prime titles that are ready when you are.
Or you could just let us pick your Halloween fare. We selected 10 great films that run the gamut from 1950s camp to a Swedish vampire flick to some Hollywood titles that could be suitable to family viewing. Click through and add some chills to your Halloween weekend.
1. Addams Family Values
Directed by Barry Sonnenfeld, this 1993 sequel is an almost perfect family movie that plays softer than its 23-year-old PG-13 rating might indicate. Mature younger children will embrace the hijinks, older kids will love Christina Ricci's smart and subversive portrayal of older daughter Wednesday, while parents will laugh at the camp (and the subtly sensual relationship between Raul Julia's Gomez and Anjelica Houston's Morticia.) Wednesday's takeover of the Camp Chippewa play is a classic comedy setup that resonates even more strongly today. Roger Ebert called it "the rare sequel that is better than its original."
Who it's for: Children of all ages.
Where to find it: Netflix
2. The Atomic Brain
Originally released under the title "Monstrosity," this 1963 B movie has become a cult favorite in the so-bad-it's-good genre of low-budget horror. So much so that a 2015 Kickstarter campaign raised $27,000 for a 4K restoration of the film. The plot: In some kind of twisted proto-feminist statement, a wealthy old woman uses atomic power to transplant her brain into the body of her sexy housekeeper. Need we say more?
Who it's for: Snarky tweens and teens and lovers of retro camp.
Where to find it: Shout Factory/Hulu/YouTube
3. Babadook
This recent Australian indie, by debut filmmaker Jennifer Kent, has quickly earned classic status with its simple but terrifying premise: a young widow and her son are beset by supernatural forces. Or are they? The film goes light on the special effects but the performances of Essie Davis as Amelia and Noah Wiseman as her six-year-old son Sam are affecting and memorable. "You wonder if you should be afraid for Amelia or afraid of her," writes NY Times reviewer AO Scott, who included "Babadook" in his Top 10 films of 2014.
Who it's for: Couples without young children.
Where to find it: Netflix
Read More: Top pick tires for 2016
4. Carnival of Souls
What's the first modern horror film? What marks the moment where the genre crossed over from Vincent Price camp to strange things happening to (mostly) normal people? It might just be this 1962 black-and-white cult classic. The photography is crisp and so is the acting, especially by steely, blond Candace Hiligoss. "It's impossible to know whether this movie was seen by such directors as David Lynch or George Romero," wrote Roger Ebert, when "Carnival of Souls" was re-released in 1989. "But in the way it shows the horror beneath the surface of placid small-town life, it suggests 'Blue Velvet.'"
Who it's for: "Twin Peaks" fans and students of the cinema.
Where to find it: Shudder/Tubi/YouTube
5. Carrie
Steven King films have been notoriously hard to adapt to the big screen. Cinephiles love Stanley Kubrick's "The Shining," but the author reportedly hated it. Which leaves "Carrie," directed by the underrated 1980s auteur Brian DePalma ("Scarface," "Blow Out"), as, arguably, the most successful film adaptation of King's work. Sissy Spacek, who beat out Linda Blair, Jill Clayburgh, Farrah Fawcett, and Melanie Griffith for the title role, is not only brilliant, but she's game. That's her hand reaching up from beyond the grave, with Spacek actually buried in a box below.
Who it's for:Anyone who hated high school. A lot.
Where to find it: Vudu
6. Let the Right One In
Forget about those Stephanie Meyer movies. This 2008 subtitled Swedish import may be a vampire film, but it's one that Bram Stoker could relate to. It's the story of gender-bending first love between two lonely, outsidery 12-year-olds, one of whom just happens to be a vampire. Roger Ebert describes them as "kids washed up on the shores of despair," adding "We care for them more than they care for themselves." Needless to say, although this is a movie about tweens, it's not a movie for tweens.
Who it's for: Fans of "Nosferatu," not "Twilight."
Where to find it: Shudder
Read More: Best used cars for $25,000 and less
7. Night of the Living Dead
Are you one of the 15 million or so people who watch "The Walking Dead" every Sunday night? This George Romero low-budget feature is Robert Kirkman's inspiration. Filmed in gritty black and white, it's the touchstone of the zombie genre, establishing those relentless but slow-moving monsters as a metaphor for, well, us. It's also an early example of guerilla filmmaking that likely inspired subsequent lo-fi features from Steven Soderbergh's "Sex, Lies, and Videotape" to "The Blair Witch Project." While it isn't particularly gory by modern standards, New Yorker critic Pauline Kael's admonition—"one of the most gruesomely terrifying movies ever made"—makes NOTLD unsuitable for younger kids.
Who it's for: "Walking Dead" fans and would-be filmmakers.
Where to find it: Shudder/YouTube
8. Scream
By embracing the clichés of the horror film, this 1996 Wes Craven sleeper pretty much single-handedly reinvigorated the slasher film genre. Written in only three days by then-struggling screenwriter Kevin Williamson and originally titled "Scary Movie," "Scream" is built on the backbone of a stellar ensemble cast (from Drew Barrymore to Courteney Cox) playing characters who are as familiar with the tropes of the genre as we are. But despite these knowing nods, or perhaps because of them, "Scream" remains every bit as frightening as the films that it's gently parodying.
Who it's for: Horror film fans who can recite Jamie Lee Curtis's performance from "Halloween" line for line.
Where to find it: Netflix
Read More: 7 best mattresses for couples
9. Sleepy Hollow
Are horror films not really your thing? If so, this Tim Burton adaptation of the Washington Irving classic is a solid choice. For once declining to bring the weird, Burton largely plays things straight with lush, atmospheric production values that look especially great on an HD flat-screen, and an evocative Danny Elfman score. Johnny Depp as Ichibod and Christina Ricci as Katrina Van Tassel channel great leading couples of a bygone day, with just a dash of their trademark eccentricity to keep things interesting. While there's a bit of gore—this is a film about decapitation, after all—this R-rated film might be the perfect Halloween date night film if you'd rather be thrilled than frightened.
Who it's for: Couples looking for a Hallow's Eve film that's moody, rather than blood-curdling.
Where to find it: Netflix
10. The Thing
Screen Rant calls this version of "The Thing" "the best remake of all time" and it's hard to disagree. There was much to like about Howard Hawkes' 1956 original about aliens who can take any form they desire, and the paranoia that ensues. But the 1982 remake, by John Carpenter of "Halloween" fame, takes it to the next level. Largely panned upon its release—NY Times critic Vincent Canby called it "the quintessential moron movie of the eighties"— it has since achieved something of a classic status, and today it looks as great as Kurt Russell's splendid beard. All that earned "The Thing" a lavish 4K remastering by Shout Factory, and an important new clue for viewers. The bonus materials contain an interview with cinematographer Dean Cundey about how he visually differentiated between the humans and the aliens: "We were looking for some kind of a subtle way, to say which one of these (men) might be human. You'll notice there's always an eye light, we call it, a little gleam in the eye of the actor. It gives life."Hmmmm.
Who it's for: Heady horror fans not inclined toward paranoia.
Where to find it: Crackle
Consumer Reports has no relationship with any advertisers on this website. This article originally appeared on Consumer Reports.