40 Hotel Secrets Only Insiders Know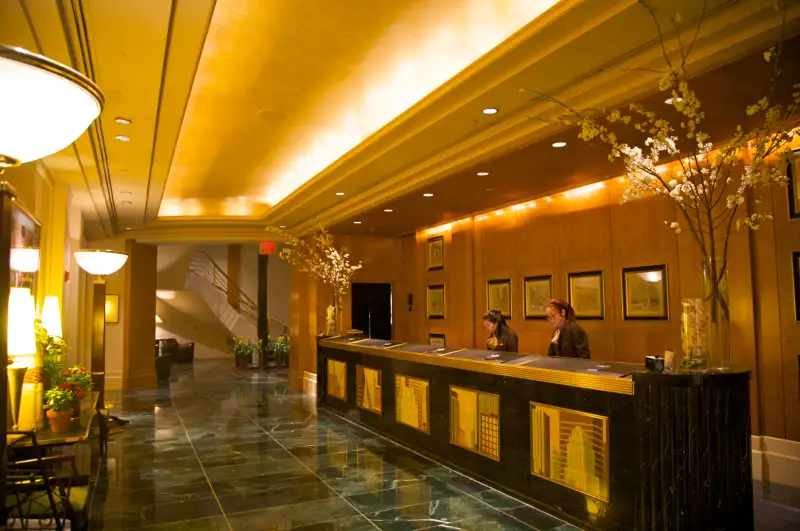 Barry Winiker—Getty Images
The price you pay for a hotel room can vary greatly depending on the property, its location and when you stay. On average, the daily rate for U.S. hotels was $120 in 2015, according to Statista, an online statistics company.
But you don't have to pay the going rate if you know the insider tricks on how to get the best hotel prices while avoiding extra hotel fees. Here are 40 hotel secrets only insiders know to save money on your next trip.
1. Book 30 Days in Advance
Boutique hotel booking website Stayful found that you can get the best hotel prices by booking 30 days before your stay, said Cheryl Rosner, co-founder and CEO of Stayful.
However, if you don't reserve a room a full month in advance, there is another window of opportunity to get a deal. Rosner said that hotels also tend to offer some of their best rates seven to 10 days in advance of a stay.
2. Wait Until the Last Minute to Book a Room
If you can handle waiting until the last minute, you'll often find a great rate at a hotel by booking a room the day of your stay, said Carrie Peters, travel editor for Hotwire. That's because most hotels are only 60 percent occupied on any given night, said Brian Ek, travel analyst for Priceline. "So they would love to fill that room even if it means filling it for only pennies on the dollar," he said.
However, they're more likely to offer discounted rates through third-party travel websites rather than their own sites, said Ek. You can find last-minute deals on sites such as Priceline, Hotwire and LastMinuteTravel.com. A note of caution: Don't expect to find last-minute deals at popular destinations during their peak seasons, such as Florida beach cities during spring break or New York between Thanksgiving and Christmas, said Ek.
3. Get a Refund for a Price Drop
If you don't want to chance ending up without a place to stay, you can reserve a room in advance and still take advantage of price drops by booking through Tingo.com. Tingo will automatically re-book your room at a lower rate if the price drops and refund the difference to the credit card you used. The average refund for rooms booked six weeks in advance is about $68, according to Tingo.
4. Stay on a Sunday
Timing a hotel stay right can save you money. Hotwire data showed that, on average, Sundays have the lowest rates for hotel rooms, Peters said. So, you can lower the overall cost of lodging if you plan your trip to include a Sunday night stay, she said.
5. Go to Tourist Locales Mid-Week
Cities that are major tourist destinations tend to see more traffic on weekends, when people are working and have time to travel. So prices tend to rise as demand does. You'll save on the cost of lodging if you go against the tide, said Bob Tupper, author of "Drinking In the Culture: Tuppers' Guide to Exploring Great Beers in Europe."
"Go to touristy areas in mid-week when the tourists aren't there in droves," he said.
6. Visit Business Hotspots on Weekends
You can save money on lodging by staying at a hotel in a city's business district on weekends when business travelers have checked out and headed home, Tupper said. For example, he found a room in an upscale business district of Zurich, Switzerland, on a weekend at half the price of a weekday stay.
7. Take Advantage of Shoulder Season
Shoulder season is the period of time between the off-peak season at a destination when the weather is not ideal for travel and the peak season when prices are high and crowds are abundant.
Because Easter came early this year, there's a rare two-month shoulder season between spring break and the start of the summer travel season on Memorial Day, Ek said. "That's 60 days when hotels will need help filling rooms, and the rates will be attractive," he said.
For example, the average daily rate in the popular ski resort city of Jackson Hole, Wyo., is about $135 in May — a bargain considering it will jump to $198 come June, said Ek. If you visit during this shoulder season, you can see nearby Yellowstone and Grand Teton national parks before the summer crowds arrive.
8. Get Deep Discounts During the Off-Season
Just because a destination has a reputation for extreme heat, cold or storms at certain times of the year, that doesn't mean you're destined to experience bad weather if you visit that spot then, said Elizabeth Avery, founder of Solo Trekker 4 U, a site dedicated to traveling solo.
What you will get, though, are deep discounts on lodging because demand will be lower in the off-season. For example, locales known for having a rainy season can be a good value because the rains can be brief rather than continuous, she said. You can still do plenty of site seeing — at a lower cost.
9. Stay in the Suburbs
If you stay on the outskirts of mid- and large-sized cities, you'll find more upscale hotels at lower prices, said Neil Emerson, senior vice president of product development for travel brokerage company Tourico Holidays.
For example, the rate for a one-night stay in April at the DoubleTree Suites in New York City near Times Square was $263. But the rate for a room at the DoubleTree Suites in nearby Jersey City, N.J., on the same night was cheaper by more than $100.
Plus, the cost of parking will be much more reasonably priced — or even free — if you stay at a hotel in the suburbs rather than the city center.
10. Watch Out for Event-Related Price Hikes
Before you book a trip, make sure there are no major events happening in a city when you want to visit it, said Eric Grayson, founder of Discover7 Travel Services. Otherwise, you could pay astronomical rates because of an increased demand for rooms in the area, he said.
Check the city's tourism or chamber of commerce site for a calendar of events to ensure you're not planning a trip at a time when rooms will be scarce and prices will be high.
Read More: How to Save Money for Vacation From 11 Travel Experts
11. Be Flexible With Travel Dates
The more flexible you are with the dates you can travel, the more you can save on a hotel room. Ek of Priceline recommended choosing a destination and then pricing the cost of a hotel over a few different weeks or months to spot the best rates.
For example, the rates for four-star hotels in Orlando, Fla., ranged from $123 to $532 the week of April 10 through 16 but drop to a range of $89 to $309 the week of May 8 through 13, he said.
You can use the Trivago.com Hotel Price Index to see the average monthly prices for 35 of North America's popular cities to find out when the cheapest time to book a stay is.
12. Be Flexible With Destinations
You can save even more on the cost of a hotel room if you're willing to be flexible with your destination, Ek said.
For example, if you want to go to the beach, you can save money on a room by visiting Ft. Lauderdale, Fla., versus Miami. Ek found that the rate for a four-star hotel on the beach in Ft. Lauderdale was about $75 less April 21 through 24 than a similar hotel in Miami.
"Same sand, same water, same sun — only difference is the rate," he said.
13. Use Mobile Apps to Book Rooms
Travelers often can get special deals on hotels by booking through travel apps, Ek said. For example, the Priceline app has "Tonight Only" deals that offer savings of up to 60 percent on last-minute hotel rooms, he said.
Emerson of Tourico Holidays recommended the Last Minute Travel Deals app, which offers discounts of up to 60 percent. You also can get $25 off your first hotel booking through the app. Another option is the Hotel Tonight app.
14. Get Discounts on Unused Reservations
You can save money on hotel rooms by taking advantage of other people's canceled traveled plans. The Roomer website and mobile app lets you book discounted rooms that travelers have booked but can't use.
Or, if you've reserved a nonrefundable room but have to cancel your trip, you can get some of your money back using this service. Roomer recommends that sellers offer at least a 20 percent discount of the market price.
15. Don't Be Afraid to Book Blindly
You can get even deeper discounts of up to 60 percent if you take advantage of the option at sites such as Hotwire and Priceline to book a room online without knowing the exact hotel you'll be staying in until after you make a reservation and pay. With Hotwire's "Hot Rate" hotels, you'll see a rate — and how much of a discount it is below published rates — the general location, hotel details and reviews.
With Priceline's "Name Your Own Price" option, you can specify your preferred neighborhood and minimum hotel star class. Ek recommended seeing what the published rates are for hotels in that neighborhood then entering a bid that's 60 percent below the going rate. And with Priceline's "Express Deals," you can pick the exact amenities you want — such as the number of beds you want in a room — in addition to star rating and location.
16. Use Online Coupons
There are plenty of coupon websites that offer codes to save money on purchases with online retailers. But coupon codes aren't just for products.
"By using online coupons for travel, people can expect to save up to 20 percent," said Scott Kluth, founder of CouponCabin, a site that offers both coupon codes and cash back on purchases at certain retailers.
The benefit of using coupons is that you can stack them with other discounts and cash-back offers to maximize your savings, Kluth said.
17. Save With Package Deals
You can save up to hundreds of dollars by taking advantage of deals offered by travel sites that bundle airfare and hotel accommodations into one price, said Ek .
These package deals allow hotels to offer lower rates because the room rate isn't disclosed separately from airfare, he said. "It gives a hotel cover for selling at a lower rate," Ek said.
18. Bid on Boutique Hotels
If you prefer staying at independent or boutique hotels, you can cut the cost of a room using a site such as Stayful. With Stayful, you can bid on hotel rooms in 38 markets — much like you would with Priceline's "Name Your Price" option — but the name of the hotel is revealed from the start.
"Even if the customer's offer is too low for the hotel, they will come back with a price they would be willing to accept," Rosner said. Travelers save an average of 22 percent using the site's bidding process.
19. Join Hotel Loyalty Programs
Most of the major hotel chains such as Hilton, Hyatt and Marriot have loyalty programs that allow members to earn points for staying at their properties and cash in those points for free stays. Programs also offer other benefits, including discounted room rates, room upgrades and free Internet access.
20. Join Travel Site Rewards Programs
Some travel booking sites have their own rewards programs that members can join for free and earn points for free stays at a variety of hotels.
For example, the Orbitz.com Orbitz Rewards program lets you earn one Orbuck for every $1 spent on eligible hotel bookings — and one Orbuck equals $1 in savings. Hotels.com also offers a rewards program that's free to join and allows members to get a free stay after booking 10 hotel stays through the site.
Read More: 15 Expensive Celebrity Breakdowns
21. Get Free Stays at Independent Hotels
Major hotel chains aren't the only ones that reward their guests for being loyal. You can get free stays at independent hotels through Stash Hotel Rewards. This free program lets you earn points by booking through StashRewards.com and redeem points for rooms at more than 150 hotels in 100 cities.
International travelers can join Voilà Hotel Rewards at VHR.com to earn points for free stays at independent hotels and resorts around the world. Members also get other benefits, including early check-in, late checkout and room upgrades.
22. Get a Travel Rewards Credit Card
You can rack up points for free hotel stays even faster if you get a hotel-branded credit card.
With the Hilton HHonors Card from American Express, for example, you can earn seven points for every dollar you spend on Hilton properties, five points for every dollar spent on gas, grocery and restaurant purchases, and three points per dollar for all other purchases. There's no annual fee, and you can get 75,000 bonus points if you spend $1,000 in the first three months after getting your card.
You'll need 5,000 to 95,000 points for one free night, depending on the property.
23. Get More Savings With Your Credit Card
Even if you don't have a hotel-branded credit card, your card might offer savings and perks at hotels. For example, American Express Platinum cardholders can book through Amex Travel Services' Fine Hotels & Resorts and get benefits such as room upgrades, free internet, food and beverage credits, and other benefits. Check your card to see what travel benefits it offers.
24. Get Airline Miles for Booking Hotel Rooms
You can get a lot more value for your hotel dollar by using a travel booking site that gives you airline miles when you book through them, said Jared Blank, CMO of deal and coupon site DealNews.com.
Rocketmiles.com, Pointshound.com and Kaligo.com are three sites that offer up to 5,000 miles per night for your favorite airline frequent flyer program when you book through them. And room rates are generally the same as those found on other travel sites, he said.
25. Get Free — or Discounted — Food With Your Stay
Several hotels offer guests free food, so you can eliminate the cost of some meals if you stay at these chains.
Comfort Inn & Suites and Hampton Hotels, for example, offer guests free, hot breakfast. Embassy Suites offers guests a complimentary breakfast and free drinks in the evening. And kids younger than 12 can eat free at Holiday Inn on-site restaurants.
Also, ask the hotel staff about whether it has deals with nearby restaurants that will give you a discount for being a guest at that hotel.
26. Be Nice to the Staff
When you check into a hotel, treat the staff well to get better treatment. Being nice to them might get you a room upgrade at no extra charge or other perks.
In addition to being polite, Avery of SoloTrekker4U said that if you're staying at a hotel in a foreign country, try speaking to the hotel staff in the local language. When she was in the Middle East, for example, she spoke in Arabic during check-in and was upgraded to a suite — for free.
27. Avoid Resort Fees
Resort fees are extra charges hotels levy for amenities such as the use of gym facilities or pool towels and can add up to 30 percent more to a hotel bill. Ek of Priceline said that travel sites are required to disclose the additional fees that hotels and resorts charge. But sometimes this information is limited because it's based on what the properties disclose to the third-party sites.
If these charges show up on your bill and you weren't aware that you were going to be hit with them — or if you're charged for amenities you didn't use — ask to have the resort fees removed. Be polite, though, when you ask.
28. Get Free WiFi
Although some hotels offer all guests free WiFi, many require guests to pay $10 to $15 to access the internet in their rooms, reported Fortune. You may be able to get free access, though, if you join the hotel's loyalty program — which should be free.
Or, if you have an ample data plan for your smartphone, you can use your phone as a mobile hotspot to connect to the Internet. Check your phone's settings for the personal hotspot option.
29. Pay Less for Parking
Some hotels in metropolitan areas charge outrageous parking fees. You might be able to find cheaper parking at a nearby parking garage or lot — and you might even be able to find coupons to save even more.
For example, Icon Parking Systems in New York City offers coupons on its website. Or, search for hotels that offer free parking on Priceline's hotel freebies page to see if you can avoid this cost altogether.
Read More: 40 Airport Secrets Only Insiders Know
30. Don't Check in Early
Find out what time you can check in at the hotel you've booked before you arrive by calling or checking its website. Otherwise, if you show up before the designated check-in time, you could be charged a fee.
According to a 2015 report by New York University's Tisch Center for Hospitality and Tourism, early check-in fees are among the new surcharges hotels have started levying on guests. They're especially common in Las Vegas resorts.
31. Don't Overtip Housekeeping
The American Hotel & Lodging Association recommends that hotel guests tip housekeepers $1 to $5 per night. However, before you leave money in an envelope for the person who cleans your room, ask whether a housekeeping gratuity is automatically included in your bill so you don't spend more on tipping than necessary. Resorts, in particular, are prone to adding this charge.
32. Avoid Room Service
You pay a high price for the convenience of room service. Not only will you be charged a room service fee and a gratuity, you'll still be expected to tip the person who brings the food to your room. And prices on the room service items tend to be higher than the same items served in a hotel's restaurant, according to SmarterTravel.com.
If you're too tired to venture out to a restaurant, ask the hotel staff which restaurants in the area deliver to the hotel and whether they have menus for those restaurants. Or, check the restaurants' sites to find which ones offer the best prices.
33. Don't Leave Your Bags in Hotel Storage
If you ask the hotel staff to hold your bags in storage to avoid checking out late, you might get hit with a fee. According to the Tisch Center for Hospitality and Tourism's study of lodging fees, hotels recently have been charging guests to hold luggage for them. So, ask about any fees before handing over your bags.
34. Watch Out for Extra Person Fees
Most hotel rates are based on double occupancy. So if you have more than two people in a room — even kids — you might have to pay more.
According to SmarterTravel.com, the fee for each extra person beyond two guests can range from $20 to $50. Always check a hotel's policy before you book, and avoid properties that charge this extra if there are more than two people in your party.
35. Use Membership Discounts
Take advantage or your profession or membership in various groups to score hotel discounts. For example, hotel chains such as Choice Hotels, Hilton Hotels and Resorts, and Marriott offer discounted rates for military members and government employees.
AARP, the organization for adults 50 and older, offers its members discounts that typically range from 5 percent to 20 percent at several hotels. And, AAA members can score discounts of up to 15 percent at several hotels.
36. Use a Travel Agent
It's easy to compare prices and book hotel stays online. But you might get a room with more perks at no extra cost if you use a travel agent to book your stay. That's because travel agents can leverage their relationships with hotels to get more for guests, said Jenny Ingram of Blue Grotto Travel, a travel agency in Fort Worth, Texas.
Ingram said she recently scored a bottle of rum, a room upgrade, spa credit, early check-in and late checkout for clients who were staying at a hotel in Jamaica. And the room rate was the same as what they would've found on a discount travel site, she said.
37. Don't Pay Extra for a View You Won't Enjoy
Getting a room with a view of the beach or city skyline can cost you more. But if you're only going to be in your room after dark, don't pay extra for a view you won't be able to enjoy, said Avery of Solo Trekker 4 U.
38. Avoid Deals That Are Too Good to Be True
If you find a hotel deal that seems too good to be true, it probably is, Avery said. A hotel with an unbelievably low rate might have lots of hidden costs that might wipe out any savings you think you're getting. Or, quality issues might be the reason a hotel's price is below the going rate — and a good reason to stay away, said Avery.
39. Be Persistent
If you check for hotel rates and can't find any that fit within your budget, don't give up. Hotels frequently adjust their rates, Ek said.
"So, if you don't see something you like today, come back tomorrow," he said. "And the next day."
40. Set Price Alerts
To keep track of hotel rates, you can sign up for price alerts at travel aggregator site Kayak.com. You'll be notified by a text message or email when rates at hotels you select change. Setting price alerts can help you nab hotel deals without having to check back at hotel or travel sites daily.
This article originally appeared on GoBankingRates.