10 Great Hotels That Offer Fun, Free Workouts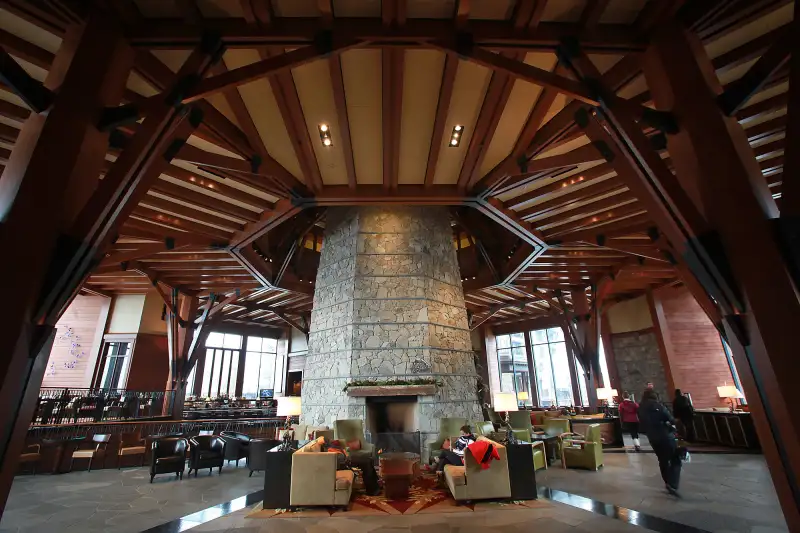 Brian van der Brug—LA Times via Getty Images
Many hotels offer wellness amenities — perks that help guests maintain a healthy lifestyle on the road. The features go beyond free bottled water and fitness centers, though. They include everything from healthful snacks and meals to guided hikes and unique exercise classes.
"Standard gyms and pools are the norm now, so we aim to go above and beyond by offering customized services," said Nabil Moubayed, Kimpton Hotels & Restaurants' Midwest director of operations. The Kimpton Hotels chain is just one of the many properties that offer good-for-you services.
Click through to find out which hotels offer free wellness perks that can help you save money on your next vacation.
1. Kimpton Hotel Palomar
Location: Chicago
Cost: Rates start at around $178 per night
Keep more cash in your pocket by booking a stay Guests of Hotel Palomar can head to the outdoor terrace and take in views of Chicago while getting fit with an hour-long, complimentary SurfSet class on Thursday mornings. As the name suggests, this is a surf-inspired circuit training class that is designed for all fitness levels. The hotel also offers yoga mats in every room and morning runs led by the hotel manager.
Related: 40 Hotel Secrets Only Insiders Know
2. The Restoration
Location: Charleston, S.C.
Cost: Rates start at $299 per night for a studio suite
Guests of Restoration can explore downtown Charleston and get in a little exercise during their stay with the hotel's complimentary bike share program, said Cheryl Rosner, CEO of boutique hotel booking site Stayful.com. The hotel partners with bicycle brand Martone to provide the bikes, which should be reserved in advance.
3. Le Montrose Suite Hotel
Location: Los Angeles
Cost: Rates start at around $239 per night
For a free, fun and healthy activity, play tennis on the rooftop courts at this West Hollywood hotel. At this hotel, you'll feel like There's also a rooftop pool, and you can charge your electric car at the hotel's charging stations. Unwind in front of the fireplace in your suite, and get a restful sleep on the hotel's pillow-top beds.
4. Mystic Hotel
Location: San Francisco
Cost: Rates start at $209 per night
If you're on a budget but still want to feel like a VIP, book a stay at Mystic Hotel. Guests at this boutique hotel in downtown San Francisco can enjoy a complimentary seasonal breakfast. And, the hotel also offers guests a day pass to Active Sports Club.
5. Kimpton Hotel Monaco
Location: Washington, D.C.
Cost: Rates start at around $159 per night for advance purchase, nonrefundable bookings
Guests who enjoy biking can take advantage of the hotel's bikes that can be rented for free and the "Bike with the GM" program. Developed by avid biker and hotel general manager Ed Virtue, the program features offerings such as touch-screen GPS systems loaded with the routes of Virtue's top bike rides in the D.C. and Virginia area.
Those who beat Virtue's best times for each ride can choose a small reward from the front desk, ranging from protein bars and goodies to a Camelbak water bottle, said Julie Marshall, a public relations and marketing specialist with Kimpton Hotels & Restaurants.
6. Boca Raton Resort & Club
Location: Boca Raton, Fla.
Cost: Rates start at around $235 per night
At this 356-acre Waldorf Astoria Resort in South Florida, guests have three fitness centers, said Jackie Biro, a spokesperson for Boca Raton Resort & Club. Classes range from Zumba and Pilates to beach yoga. Access to classes is included in the resort fee.
Related: 20 Best All-Inclusive Resorts for Summer 2016
7. Clift Hotel
Location: San Francisco
Cost: Rates start at around $239 per night
Guests at this boutique hotel near San Francisco's Union Square can relieve stress and get creative with a free mindful coloring book. They can get around the city — and get in a workout — with the hotel's complimentary bikes. The hotel also has a rooftop bee sanctuary, and the honey that is harvested is used in the hotel's food and cocktail offerings.
8. The London NYC
Location: New York City
Cost: Suites start at $249 per night
Guests at this all-suite hotel in Midtown Manhattan can get their fitness fix in their rooms. The London NYC has partnered with Xtend Barre, a barre and Pilates hybrid workout, to offer complimentary workouts streamed on the in-suite TVs, said Amanda Duff, a spokesperson for The London NYC. And there's plenty of room for a workout in the hotel's suites that are 500 square feet and larger, she said.
9. The Kimpton Journeyman Hotel
Location: Milwaukee, Wis.
Cost: Rates start at $279 per night
In addition to yoga mats in every room and bikes that guests can borrow, this hotel offers a weekly Parkour fitness class for those who can handle this intense training discipline that uses obstacles in your path to get from one point to another. The Journeyman has teamed up with local trainer Adam Von Rothfelder to provide this complimentary class that includes running, climbing, swinging, vaulting, jumping, rolling and more, said Jennifer Flick of Kimpton Hotels & Resorts.
10. Ritz-Carlton Lake Tahoe
Location: Truckee, Calif.
Cost: Rates start at $313 per night
Considered one of the best luxury hotels, it's no surprise that the Ritz-Carlton offers free wellness perks. The mountain resort in California near Lake Tahoe launched a new wellness initiative this summer: Rise & Hike. Guests can take this complimentary, family-friendly guided hike to serene Sawmill Lake on Saturday mornings. The Ritz-Carlton also offers other wellness services for a fee, such as a $30 yoga class.
Keep Reading: 50 Things Your Hotel Will Give You for Free
All hotel rates are sourced from the hotels' websites and are estimates for August 2016 stays. Rates are subject to change.
This article originally appeared on GoBankingRates.