How House Calls Are Saving Money for Medicare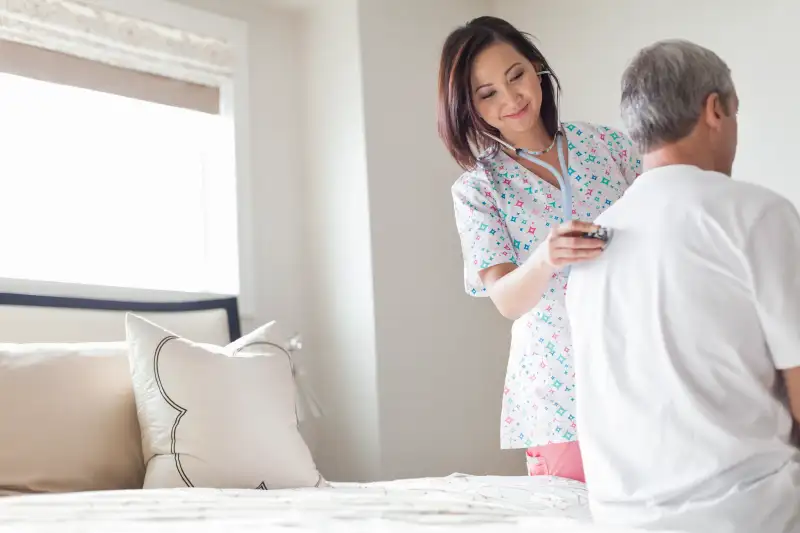 Looking for ways to save money and improve care, Medicare officials are returning to an old-fashioned idea: house calls.
But the experiment, called Independence at Home, is more than a nostalgic throwback to the way medicine was practiced decades ago when the doctor arrived at the patient's door carrying a big black bag. Done right and paid right, house calls could prove to be a better way of treating very sick, elderly patients while they can still live at home.
"House calls go back to the origins of medicine, but in many ways I think this is the next generation," said Dr. Patrick Conway, who heads the Center for Medicare and Medicaid Innovation, which oversees Independence at Home.
In the first year of the experiment, Housecall Providers of Portland, Oregon, which had been operating at a loss, saved Medicare an average of almost $13,600 for each patient in the pilot project. Its share of the savings was $1.2 million. The house calls practice at MedStar Washington Hospital in Washington, D.C., cut the cost of care an average of $12,000 per patient.
Medicare reported overall savings of $25 million in the pilot's first year, officials reported last June. From that money, nine practices earned bonuses totaling nearly $12 million, including a $2.9 million payment to a practice in Flint, Michigan.
After three practices dropped out, there are now 14 around the country participating in the project — including five sites run by the Visiting Physicians Association.
Medicare officials are expected to announce the second round of payments next month.
By all accounts, saving any money on these patients is a surprise. Independence at Home targets patients with complicated chronic health problems and disabilities who are among the most expensive Medicare beneficiaries. But a key study, published in 2014 in the Journal of the American Geriatrics Society, found that primary care delivered at home to Medicare patients saved 17% in health spending by reducing their need to go to the hospital or nursing home.
In addition to Medicare's usual house calls payment, doctors in the Independence at Home project get a bonus if patients have at least 5% lower total Medicare costs than what is expected for a similar group of beneficiaries. Medicare keeps the first 5% of the savings and the house call providers can receive the rest. The doctors must meet at least three of the six performance goals — such as reducing emergency room visits and hospital readmissions, and monitoring patients' medications for chronic conditions such as diabetes, asthma and high blood pressure.
Under the law creating the program, practices could join only if they make house calls to at least 200 patients with traditional Medicare who have been hospitalized and received rehab or other home health care within the past year. These patients also must have trouble with at least two activities of daily living, such as dressing or eating. The health care providers must be available 24 hours a day, seven days a week. They make visits at least once a month to catch any new problems early, and more often if patients are sick or there's an emergency.
"You never know what you're walking into," said Terri Hobbs, Housecall Providers' executive director. "This is a very sick group of people, with multiple chronic conditions, taking multiple medications and [they] have a very long problem list." About half the Portland patients have some degree of dementia.
Yet the Medicare reimbursement for house calls is about the same as an office visit and doesn't cover travel time or the extra time needed to take care of complex patients. It's not enough to convince most doctors "to leave the relatively comfortable controlled environment of an office or hospital to do this sort of work," said Dr. William Zafirau, medical director for Cleveland Clinic's house calls program in Ohio, which has 200 patients in the Medicare pilot and plans to add 150 more.
A house calls doctor can see only five to seven patients a day. One reason is that a house call visit can take longer than an office visit, even after taking travel time into account. After Zafirau examines his patients, he also takes a look around the home. He may open their refrigerators to make sure they have enough food or see if medicine bottles are running low. He may arrange home-delivered meals or other social services.
"How people are functioning is often the best indicator of their overall health," he said.
The care can also extend to other professional services. Portland's Housecalls Providers hired a nurse and a social worker to serve as an advocate for patients who enter the hospital. When the patient returns home, they visit. "They make sure if patients are supposed to get an antibiotic, a hospital bed or oxygen, that they get them," said Hobbs.
Hospital admissions dropped so significantly that Hobbs expanded the transition team to serve house calls patients who were not part of the pilot program when they were hospitalized.
A similar team serves MedStar Washington Hospital Center's house calls patients, said Dr. Eric De Jonge, director of geriatrics at the hospital and president-elect of the American Academy of Home Care Medicine. "When patients go to the hospital, there is very little contact from the primary care doctor with the hospital care," he said. Independence at Home "is actually pushing back to reverse that trend."
Ironically, Medicare doesn't pay for the transition team even though Hobbs said it saves Medicare "a tremendous amount of money."
Kaiser Health News (KHN) is a national health policy news service. It is an editorially independent program of the Henry J. Kaiser Family Foundation.