Are We in a Housing Recession? What the Slowdown Means for Buyers and Sellers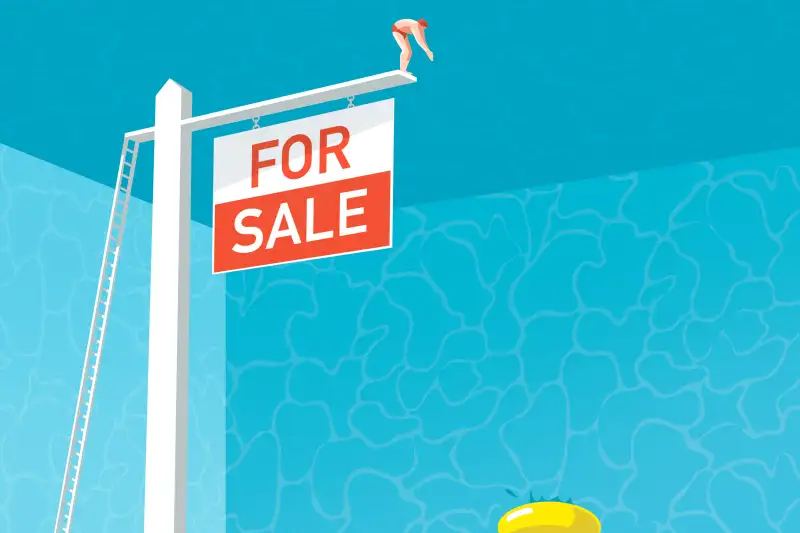 If the words "housing recession" make your heart skip a beat — and not in a good way — take a deep breath.
That phrase has become a common way to describe the current housing market — one that in 2022 saw mortgage rates shoot up, buyers retreat and home sales drop off their once-feverish pace. They also bring up memories of the housing crash of the mid-2000s that led to the Great Recession. But today's market is very different, and despite some dire predictions, a crash is far from certain.
A housing recession occurs when there is a slowdown in market activity; it's usually characterized by a decline in housing starts and home sales and an increase in sales contract cancellations, among other factors. According to the National Association of Home Builders, the market has been contracting since last August.
"The phrase 'housing recession' is a lot more scary than what's happening right now," says Ali Wolf, chief economist at housing data provider Zonda. Instead, she notes, the market is going through a much-needed contraction that will eventually lead to normalcy after a couple of wild and unsustainable years.
The monetary policies implemented by the Federal Reserve during the early pandemic caused mortgage rates to hit historic lows, leading to a housing boom unlike any other. Ralph McLaughlin, chief economist at real estate startup Haus, likens the market to a patient who received emergency medicine to keep them from dying.
Alas, it started to get used to feeling better than ever before. And now he says the housing market is less of a failing industry than it is "a patient coming off strong narcotics to keep them from suffering any pain."
The result, in experts' eyes, isn't a quote-unquote recession — it's a return to normalcy.
Does a housing recession affect homeowners?
Knowing what's going on in the market is important for homeowners, buyers and sellers. They can use this information to make better decisions about whether they want to participate in the market or stay on the sidelines. But the effects of any slowdown will be different for every consumer.
Homeowners who bought with the intention of staying in a place long-term should turn a blind eye to a "housing recession," says Wolf, as they are the least likely to suffer any negative effects from the market reset (as long as they can make the mortgage payments).
"Their equity may fluctuate, but I'd give similar advice as people tracking their 401(k)s in a changing market — try to ignore the noise," Wolf adds.
Even though home values may fall this year, they are likely to recover in the long run. That's because homes tend to appreciate between 3% and 5% per year on average. For example, the median home price in early 2012 was $238,400 compared to $433,100 in the fall of 2022, according to the St. Louis Federal Reserve, almost doubling over a 10-year period.
While not all homeowners will be able to weather the economic downturn, it also doesn't mean a crash is imminent. Foreclosure activity — which includes default notices, bank repossessions and scheduled auctions — was reported on 0.23% of all housing units in 2022, according to real estate data provider ATTOM.
That's double the 0.11% reported in 2021 but less than the 2019 level of 0.36%. In addition, it's significantly below the peak reached during 2010, when 2.23% of all homes were in foreclosure.
Buyers and sellers feel the biggest impact
While homeowners planning on staying put won't much feel the effect of a housing recession, the same isn't true for buyers and sellers.
Significantly higher mortgage rates have already had a negative impact on buying power. Monthly mortgage payments have increased by slightly more than 50% year-over-year, causing many potential buyers to take a step back from house hunting. Existing home sales are about 34% lower than they were last December, according to the National Association of Realtors.
Although current mortgage rates appear to be trending lower, they are still high compared to the previous two years, when rates averaged around 3%. As a result, there are fewer buyers in the market, with experts forecasting a continued slowdown in demand.
But there are still opportunities out there for buyers who are financially prepared to buy now.
Sellers are seeing their homes stay on the market for longer periods of time, with the average time on market increasing to 44 days for the four weeks preceding Jan. 8. That's the longest period since April 2020, according to brokerage Redfin. And because homes are sitting on the market longer, available inventory is increasing, providing a plus for buyers.
"One of the challenges of the last couple of years is that inventory was so low and homes were moving so fast, buyers were just settling for whatever they could get their hands on," McLaughlin says.
In addition to having more options to choose from, buyers are able to negotiate better terms, taking advantage of seller concessions, rate buydowns, price reductions and credits for repairs, among other things, that can help counterbalance the cost of a mortgage.
Heading into the spring, buyers may still feel the sting of higher rates. But McLaughlin adds that, with less competition, they should have a better chance of finding their dream home than at any time over the past three years.
Sellers, on the other hand, are adjusting to a market where they no longer have the upper hand.
For homeowners who bought within the last year or two and have to sell, 2023 will be very challenging, says McLaughlin. Homes will likely take a while to sell. Sellers may not get back what they paid for and, if they have to buy another home, will likely pay a higher rate and monthly payment.
The exception? Long-time owners who have accumulated equity over the years, McLaughlin adds. They may not get top dollar for their home, but they will still end up making a net profit.
More from Money:
Best Mortgage Lenders of January 2023
House Won't Sell? 6 Ways to Sweeten the Deal and Attract Buyers