How a 35-Year-Old "Credit Card Nerd" with 10 Million Rewards Points Travels the World for Free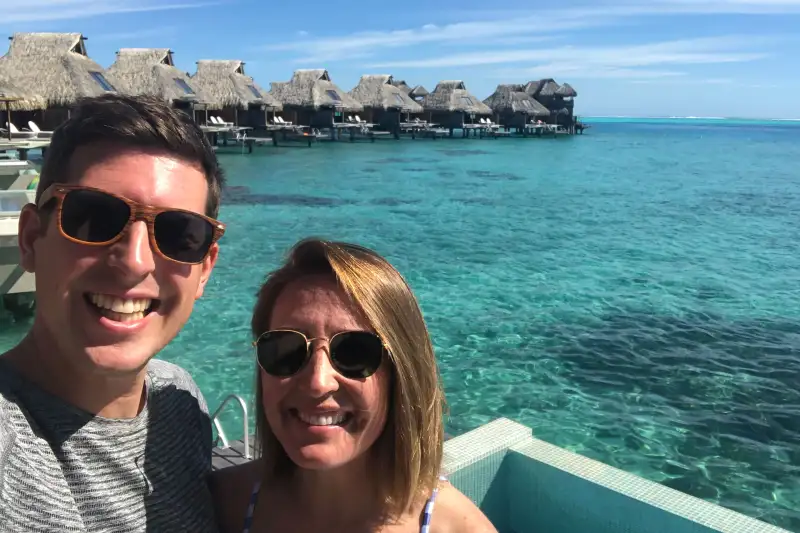 Courtesy of Chris Hutchins
Chris Hutchins was in college when he realized he had a passion for traveling. But he quickly came to another realization: he couldn't afford to globe-trot.
So he tried a clever — and increasingly popular — way to book a vacation when you're on a budget. Hutchins signed up for a rewards credit card that offered airline miles and was able to snag a free flight to London. That first card opened his eyes to a new way of traveling frugally, and often, almost completely for free. He was hooked. Fast forward about a decade, and Hutchins is a credit card points guru who's managed to rack up more than 10 million miles (10,111,397 to be exact).
It took the 35-year-old a long time to amass that many points, but he says anyone can get started with a little bit of discipline and motivation (he's even convinced his wife to get onboard and become a rewards fanatic, too). The self-described "credit cards nerd" has a day job as a senior director of product at Wealthfront, an online banking service, but being a points expert is like another full-time job for him. Here, Hutchins shares his best tips for earning rewards points and maximizing their value in the process.
Look At Where You Spend Money
Be aware that not all points programs or cards are created equal. The best value you can squeeze out of points programs is almost always for travel, Hutchins explains, not for things like groceries or gift cards.
"Where points get the most value is if you want to travel internationally, you want to fly business class, you want to stay at really expensive, nice resorts," Hutchins tells Money. "I tend to find the most value and the most excitement out of going to crazy places that are really far away and booking flights in business class. I would never pay for that myself."
That said, if you are someone who spends a lot on groceries and rarely gets on a plane, you won't reap any real rewards from a great travel card, so a cash back card is probably a better option for you.
"The best way to get started thinking about maximizing points is to look at where you spend money," he says. For example, if you spend a lot of money food shopping every week, there are certain credit cards that offer cash back or double rewards points for groceries or gas rather than dining out or travel. There's always a card out there that will maximize your points whatever your spending habits may be, you just have to figure out what cards match your lifestyle the best, Hutchins says.
Unlocking the best redemption value often takes practice, Hutchins says. The ability to book first class trips to exotic locales for next to nothing is a skill that advanced points fanatics have down to a science. Don't expect to go on a major trip for free right away. It takes a legitimate time commitment to become a points expert. But for Hutchins, it's worth spending hours reading the fine print and scanning online forums for points enthusiasts, who eagerly share all of their how-to tips and latest deals with each other.
Start With One Card
Don't spread yourself too thin in the beginning, Hutchins says. Pick one card and join one of the online communities dedicated to the points game to learn how other people have worked the system. You can begin to branch out into additional cards as you become more knowledgable about the different ways you can take advantage of points programs.
It's easy to start racking up points in really simple ways. Offer to pay for group dinners with friends and ask them to Venmo you or pay you back in cash, Hutchins says. Paying for group outings whenever he could is how he got started himself. Use your personal card for any work expenses instead of a corporate card if you can. If you travel often for professional reasons, you'll start seeing your points balance rise in no time.
Stay Organized
It can be hard to manage 10 different due dates for 10 different credit card bills, on top of remembering which card gets the most points for which spending categories. Some people use spreadsheets and smartphone reminders to stay on top of their cards. Hutchins says he likes Mint, a free personal finance management app that organizes all of his transactions for him. Whatever method you choose, being diligent about cash flow management is key to staying in control of your finances in the points world.
Last but not least, the golden rule is to never, ever rack up debt. You're cancelling out any free flights or perks you may have accrued if you carry a balance and pay interest every month.
"If you can't pay off your credit cards, the amount of interest you're going to pay on those purchases is never worth the points," Hutchins says. "Step one before you even get started is, have I figured out my cash flow situation?"