12 Sneaky Ways Amazon Gets You to Pay More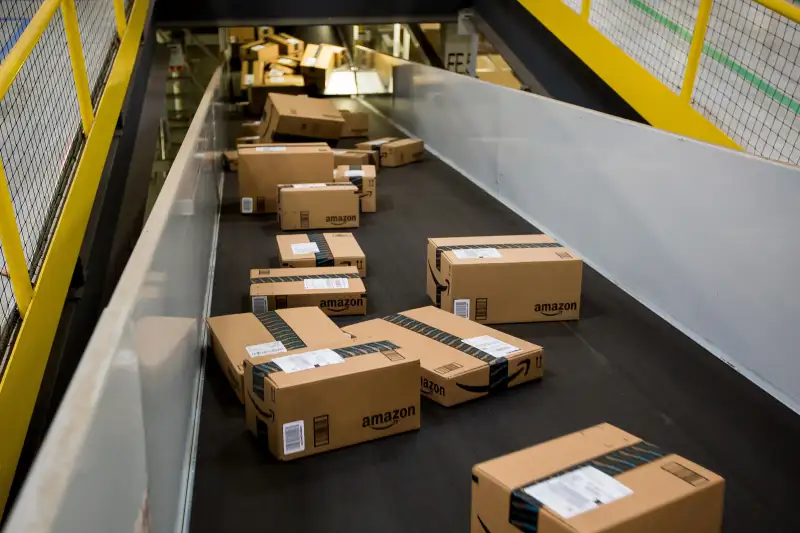 Bloomberg via Getty Images
Amazon is one of the largest retailers in the world. Offering millions of items for sale, competitive pricing and free shipping deals, Amazon has had a significant impact on the way we shop for retail goods.
Sales in 2015 rose 20 percent to $107 billion, but profit margins at Amazon remain tight, with the company's net income totaling just $596 million, according to Fortune. In order to stay profitable, Amazon employs a number of strategies designed to incentivize customers to spend more.
Here are a few sneaky ways the company gets you to bust your Amazon budget.
1. Data-Driven Upsells
Amazon uses a highly sophisticated algorithm to recommend the right products to the right customers, at just the right times. The company has access to data that allows it to analyze behavior from customers and use this information to recommend products to other shoppers with similar profiles.
According to Vadim Bichutskiy, director of data science at Innovizo, Amazon has pioneered a data-driven strategy for cross-selling and upselling.
"As an avid reader, I buy lots of books on Amazon, and on many occasions I have taken advantage of its 'Frequently Bought Together' and 'Customers Who Bought This Item Also Bought' features," said Bichutskiy. "Not only did I enjoy the books, but I never would have known about them without these recommendations."
In fact, Amazon attributes 35 percent of its revenue to cross-selling.
Read More: 16 Luxury Hotels That Offer Free Perks
2. Free Shipping Offers
Amazon offers customers a few different ways to score lightning-fast shipping. You can pay $99 a year for an Amazon Prime membership, which gets you free, two-day shipping on most items and free, two-hour delivery in certain areas. If you don't want to pay for an Amazon Prime membership, you can spend at least $25 on books — or $49 on other qualified items — for free shipping.
Free shipping isn't free for Amazon, and the company has to make up its losses somehow. The idea behind the free shipping offers is to incentivize customers to pay extra for Prime Memberships or get them to increase the number of items in their carts. And the strategy works. Revenue from these incentives offsets Amazon's annual shipping costs, which Forbes estimated at $11.5 billion for 2015.
3. Amazon Prime Membership
Amazon Prime is a customer loyalty program that was originally designed to get customers to spend more. According to a report by the market research firm Consumer Intelligence Research Partners (CIRP), 40 million people in the U.S. have Amazon Prime memberships. As a result, they can take advantage of incentives like free expedited shipping, same-day delivery in certain areas, unlimited video and music streaming, early access to lightning deals, access to the Kindle Owners' Lending Library and discounts on diapers, video games and more.
Once you pay for an Amazon Prime membership, you will likely stop shopping at other stores in order to take advantage of all the benefits. According to the report, Amazon Prime members spend a jaw-dropping $1,500 a year with the retail giant, compared to non-Amazon Prime shoppers, who spend just $625 a year. Still, this program isn't a direct money-maker for the online retailer. According to Fortune, Amazon Prime has become a tool for acquiring new customers and building loyalty, so the company can make money off members in other ways, like video streaming and cross-selling.
4. Prime Instant Video
Amazon Prime members have access to Prime Instant Video, which lets them stream popular shows, such as "Transparent," "Boardwalk Empire" and "Girls," along with movies like "The Big Lebowski," "When Harry Met Sally" and "Mad Max: Fury Road."
Prime Instant Video doesn't actually make the company money. However, Amazon has discovered that Prime members who use the free video streaming service are 10 times as likely to rent or buy movies from Instant Video as non-Prime members. So, once customers get into the habit of streaming free videos, Amazon has a chance to sell them on renting or buying videos that aren't available for free.
5. One-Click Ordering
Amazon actually owns the patent for 1-Click ordering, which has generated billions in revenue for the retail giant. Once customers' credit card payment and shipping information are stored on servers, they can simply click once to place orders without going through the checkout process.
This frictionless ordering system is another way in which Amazon disconnects customers from how much they are actually spending and encourages impulse buying.
Read More: 15 Best Travel Sites for Saving Money
6. Dash Button
Amazon offers more than 70 "Dash Buttons," which allow customers to reorder common household items like detergent, paper towels, diapers and pet supplies with the click of a button. Dash Buttons connect to Wi-Fi and can be placed anywhere in your home, so you don't need to get on a computer or smartphone to reorder — just press the button, and you're done.
Dash Buttons might seem like a convenient service offering, but many people think they are just another Amazon trick to disconnect customers from the truth of their spending habits. And because Amazon limits the brands offered through Dash Buttons, customers aren't necessarily getting the best rates on items they need.
The customer pays a price for convenience, and Amazon reaps the rewards.
7. Kindle Promotions
The next time you see a promotion running for an Amazon Kindle, think twice before buying, as the "deal" might actually cost you in the long run. According to CIRP, Kindle owners spend an average of $1,450 per year at Amazon, compared to $725 for customers who don't own Kindles.
In a press release, CIRP co-founder Mike Levin said, "Similar to Amazon Prime members, Amazon Kindle owners are better customers. They also shop more frequently and buy more expensive items on average."
8. Prime Day
Amazon's Prime Day is a 24-hour event during which members enjoy access to a wide array of products at below-average prices. To lure more customers into taking advantage of this promotion, Amazon offers a free, 30-day Prime membership, so anyone can participate in the event. By selling more Amazon Prime memberships, Amazon can increase its cross-selling opportunities and profits.
According to CNN Money, in 2015, Amazon Prime Day sales shot up 93 percent in the U.S. and 53 percent in Europe.
9. Lightning Deals
Amazon's Lightning Deals can be found throughout the website and on the Gold Box page. These deals are limited to one per customer and usually have very short expiration dates. Along with making the offers time sensitive, Amazon creates a sense of urgency by displaying status bars that show the percentage of deals already in shoppers' carts and the percentage still available.
Amazon is notoriously reticent about how much revenue it gains off these deals, but the company is known to double-down on the strategy during certain holidays. For example, Amazon doubled its lightning deals to 30,000 during the 2015 holiday season, and customers jumped at the chance to score flash deals on electronics, TVs, jewelry and toys.
Amazon Prime members were also treated to 30-minute-early access to Lightning Deals. This discount is yet another way that the company can profit off its memberships.
Read More: How to Master Your 401k in Your 20s
10. Amazon Echo
In April of 2016, Amazon reported a staggering $29.1 billion in revenue, representing a 28 percent increase over the same period last year. A huge portion of these profits comes from Amazon capitalizing on "the internet of things" with products like the in-home personal assistant, Echo.
Costing about $180, Echo is a wireless, voice-operated speaker that features artificial intelligence. It's always ready to listen and can do anything from play music and games to set alarms, perform math equations and look up facts online.
Additionally, Echo allows customers to have hands-off access to Amazon — and blindly purchase items from the company's website. Echo even has a friendly persona named Alexa, so you feel less like you're interacting with a company and more like you're shopping with a friend.
Amazon hasn't released sales figures, but CIRP estimates that more than 3 million Echoes have been sold since June of 2015.
11. Amazon Prime Now
The latest addition to Amazon's speedy delivery options, Prime Now offers items in two hours or less. This service is free for Prime members but limited to certain cities and zip codes. Prime Now is just another way in which Amazon promotes its Prime memberships and keeps customers from spending money at other retailers.
Amazon Prime members can use Prime Now to have groceries, household items, office supplies even gifts delivered right to their doors. And the company's investment in faster delivery services has paid off — in April of 2016, the company reported a 15 percent increase in sales to $22.7 billion. Amazon CEO Jeff Bezos said he will continue to invest in new warehouses and data centers, as well as additional services for Prime members.
12. Third-Party Sellers
It's become so easy to order products through Amazon that most customers don't bother to find out from where their merchandise is actually coming. So, instead of housing products in expensive warehouses and losing money on free shipping, Amazon has started employing third-party sellers.
Amazon's Marketplace allows smaller business to sell to millions of shoppers under the Amazon umbrella. It's estimated that independent sellers now account for 44 percent of Amazon's worldwide sales. Meanwhile, the company just sits back, relaxes and cashes in.
This article originally appeared on GoBankingRates.