How much money are you putting at risk?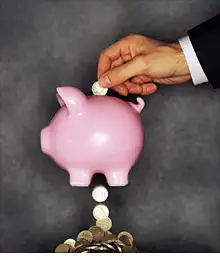 If you're trying to figure out how much risk you can stomach in your investment portfolio, there's a key question you have to answer first: What exactly is your investment portfolio, anyway?
The answer to that question isn't as simple as you might think — and it could have a significant impact on how you invest your money. Unfortunately, when I wrote a story about investment risk tolerance for the latest issue of Money, I didn't have space to explain the idea.
The story, published online as "How much risk can you stand?," explores how there's a certain percentage of stocks (vs. bonds or cash) that investors can psychologically tolerate in their investment portfolio during a market downturn. For example, according to FinaMetrica — a company that has developed a well-regarded risk tolerance questionnaire, an investor with average risk tolerance will likely be able to sleep well at night if stocks amount to no more than 56% of his or her portfolio. So if that hypothetical average investor is a man with $100,000 in his 401(k), under this guideline he'd have a maximum of $56,000 in stocks or equity mutual funds. (That's a limit, not a target; if his financial goals don't require him to be that aggressive, he could have less.) Pretty obvious, right?
Well, now let's move on to another hypothetical average investor: a woman with a $100,000 401(k) plus a $25,000 emergency fund in her local bank. Assuming she, too, can tolerate no more than 56% of her total investment portfolio in stocks, what's the most stock should she have in her 401(k) to keep herself from panicking when things go bad? Should it be $56,000 — that is, 56% of the $100,000 retirement account? Or should it be $70,000 — 56% of the $125,000 in her 401(k) and bank account?
What's the answer? After talking it over with FinaMetrica co-founder Geoff Davey, we learned…it depends. Some people — myself included — don't think of an emergency fund as an investment. They think of it as something else, like a metaphorical fire extinguisher you keep in the corner of your kitchen and hope you never have to touch. To others, money is money, and whether it's in a bank account or a retirement savings account, it's all an investment. These personal decisions are what behavioral economists call mental accounting — the way you sort your money into different imaginary buckets. And how you yourself sort your money determines how you might use FinaMetrica's guidelines: Davey advises applying them to whatever you understand your investments to be.
Another interesting thing that didn't make it into the story: Commentary from Greg Davies, head of behavioral finance for the wealth management division of the financial services firm Barclays. For some of his thoughts about risk tolerance and how to measure it, I recommend his articles, posted online, "How not to measure risk tolerance" and "The Behavioral Science of Risk."
If you'd like more insight into your own tolerance for investment risk, you can take FinaMetrica's test online. Normally, it costs $30 for individuals, but the company is making it available to Money and CNNMoney.com readers for free through November 30. If you do take the test, I'd be curious to know your reaction to it. Come back to the More Money blog and let us know what you think.