Choosing Between Two Great Candidates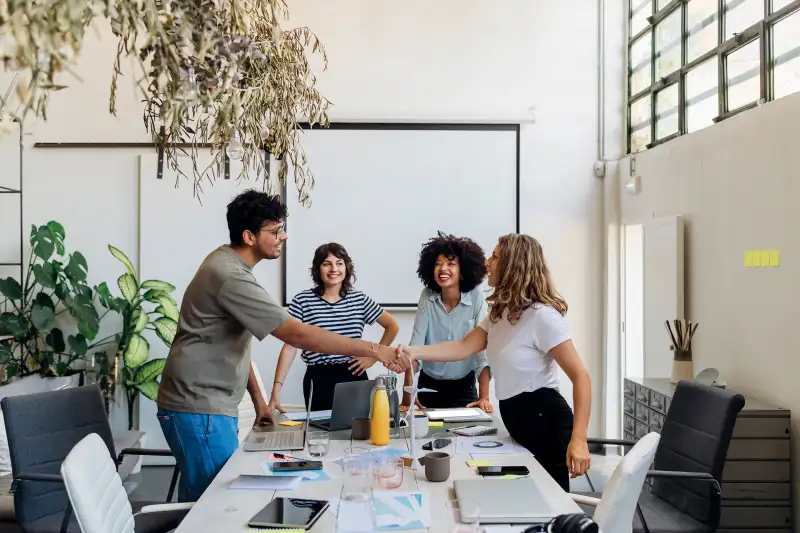 *Content includes branded mentions of our sponsor ZipRecruiter.
Choosing between two qualified job candidates for one open position can be a challenging situation for hiring managers. On the one hand, you want to make a fair decision, but on the other, you don't want to miss out on a solid worker.
If you've ever been torn between two great candidates, the following guide is for you. We examine how to choose between job candidates by exploring how experience, skills and cultural fit should factor into your decision.
And if you're ready to look for qualified candidates for other roles, check out ZipRecruiter. This mobile-friendly employment marketplace lets you send your job posts to over 100 top job sites with one click and quickly screen potential hires.
Why is it important to pick the right candidates for a specific role?
Successful workers drive successful companies. Though it may sound trite, your workforce drives your organization's performance. The right candidate will bring the right skills and attitude to the job. And, depending on the role, their creativity and initiative will have an outsized impact on the success of projects they're involved in.
Moreover, a candidate's impact doesn't end with their own job performance. For better or worse, workers also influence other staff. Successful team members will synergize with their colleagues, creating better results than they could have achieved individually. Great workers also teach one another and build strong bonds, which helps keep morale high.
How to decide between two qualified candidates
You're down to two candidates for a job and can't decide which one to hire. You've asked the usual interview questions and they've both given stellar answers. Both have impeccable resumes, similar levels of related work experience, and identical educational pedigrees. And, on paper, you could see both succeeding at the role.
If you're in this situation, review your interview process and consider adding a hands-on skills assessment if you don't already have one. Many industries require candidates to complete a short project or test during the interview process. This can provide critical insight into your candidate's skills and abilities.
Still not sure who to choose? Consider the following factors when choosing between two well-qualified candidates.
See if their career goals align with the position
To find employees who will stick around for the long haul and go above and beyond in their job duties, look for candidates whose career goals align with the position.
Individuals with a clearly defined career path that closely aligns with the position you're hiring for will recognize how the role can help them achieve their overarching goals. This can give them a sense of purpose and they'll likely feel more committed to and satisfied with the job.
Reach out to their references
When choosing between two qualified candidates, you can use references as a tie-breaker. References will give you details you can't get from a resume. A reference can tell you about the candidate's behavior, work ethic, initiative, willingness to collaborate, etc.
Determine how interested they are
You can use perceived interest in the role to decide between two good candidates. To determine whether a candidate is genuinely interested in a position, ask open-ended questions about how the role aligns with their career goals and where they see themselves in the near future. This can give you insight into their aspirations and motivations.
You can also look for signs of engagement in their body language and the questions they ask. Good candidates will have a list of questions about the role and your organization and will listen attentively to what you have to say.
Consider how they would contribute to your bottom line
When choosing between two candidates, look closely at the required skills and traits you outlined in the original job description. Then, determine which are essential and which are merely desirable. This information can help you assess whether the candidates possess the necessary soft and technical skills to succeed in the role.
By using the original job description as a guide, you can ensure you're making an informed decision based on the needs of your team.
Have each candidate interview with other team members
When hiring a new employee, consider their fit with the company culture and the existing team. A candidate may have impressive qualifications, but if they don't mesh well with the team, it can decrease their productivity and overall job satisfaction.
To ensure a good fit, consider inviting other team members to participate in the interview process. Additionally, ask questions that assess the candidate's communication style and problem-solving approach to see if it aligns with the team's dynamic. Hiring a candidate who fits well with the team can lead to a happier and more productive work environment.
Consider how they fit with the company culture
Expanding on the last point, consider how each candidate fits the broader company culture. Cultural fit factors into worker retention and engagement. Current hiring trends show modern workers care about their company's values. If your company values environmental sustainability and mental health awareness, your employees should too.
On a different level, company culture often refers to important values like work-life balance and approach to problem-solving. If, for example, your company is a startup that values proactivity and determination, you'll likely want to gravitate toward candidates who are self-starters and have a history of taking initiative.
Accept they're both great choices
When selecting between two candidates, it can be easy to focus on their flaws to justify rejecting one or both. However, it's important to avoid negative thinking and acknowledge both candidates have valuable skills and experience. Rather than viewing the decision as a burden, try to appreciate the fact that you have two great options to choose from.
Hire both if the budget allows
If you have two fantastic candidates, consider hiring both. This may not always be an option due to budgetary constraints, but if you can hire both, you'll be retaining great talent while increasing your team's productive capacity.
Hiring both candidates may be more feasible for entry-level or revenue-generating positions (think sales staff) that can pay for themselves.
Deciding between two candidates FAQ
What do you say to the candidate that wasn't chosen?
One of the more difficult aspects of choosing between two outstanding candidates is informing one of them that they haven't been chosen. You don't want to burn any bridges. Just because they didn't make the cut this time doesn't mean you won't need them in the future. Many people can take getting rejected from a job personally, so give them every reason not to.
Soften the impact of the news by carefully wording your rejection email. Congratulate the candidate on making it so far in the process, inform them that this was a difficult decision and compliment their skills, experience and education. You can also include any helpful feedback you have for them.
Let the candidate know that you'll keep their information on file and will reach out if any job opportunities come up for which they could be a good fit.
What do you do if your first choice says no?
If your ideal candidate declines, follow up and ask them why. If they have a problem with some aspect of the job, you can use their feedback to make future roles more attractive to top candidates.
You might even be able to change their mind if they were put off by a job duty you're willing to be flexible on, or if they misunderstood the role somehow. For example, many job candidates nowadays prefer remote or hybrid work. Perhaps your top candidate received a competing job offer that would give them a more flexible hybrid work schedule. If it's within your power, you might consider revising the job offer to allow more time to work from home.
However, if the candidate remains firm in their decision, your next option is to contact the second candidate. If you were respectful and transparent in your rejection email, they'll likely welcome the reversal.
Find the best job candidates to add to your team
At the end of the day, choosing between two well-qualified candidates is a problem that most hiring managers would love to have. If you're lucky enough to find yourself in this position, try to ascertain each candidate's interest and fit for the role.
Judge how well they'd get on in the company and with your team, compare their skills and experience and if you still can't make a decision, consider hiring both if your budget allows.
Finally, don't burn any bridges. It's not unheard of for successful job seekers to turn down job offers, in which case you'll want to stay on solid footing with the runner-up candidate.
If you have other positions you need to fill and are looking for the most qualified candidates, ZipRecruiter can help. This platform lets you publish job postings on over 100 job sites with just one click and provides the right screening tools to help you pare down your options. Plus, it offers a free trial.