How to Express Gratitude Towards Employees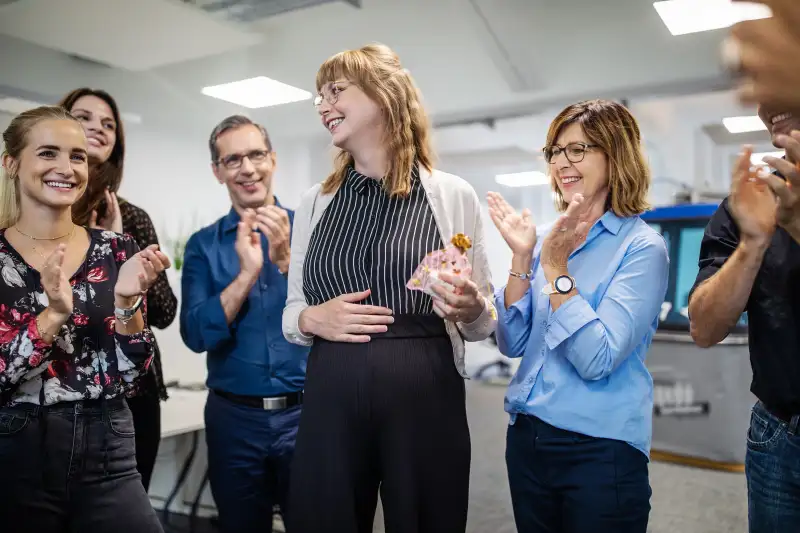 *Content includes branded mentions of our sponsor ZipRecruiter.
Employee gratitude is a powerful yet often overlooked way to drive employee engagement. When you express gratitude towards employees, you show them you value their ideas and their contributions to your organization. Show gratitude at the right time and in the right ways, and it can mean the difference between an energized workplace and a dejected one.
In this article, we'll discuss how to express gratitude towards employees and discuss why it's important for your business. And if you're looking for quality candidates to fill out your company's roster, ZipRecruiter can connect you to thousands of job seekers nationwide.
Why is it important to show appreciation to employees?
According to the Harvard Business Review, even the simplest acts of gratitude are huge mood boosters that can drastically improve the work environment.
When you show appreciation to employees, you assure them that their work matters at your organization. That reassurance can stir confidence in employees who might normally second-guess themselves. It can also win over employees who feel underappreciated.
Not only does appreciation boost employee happiness, but it can also have an impact on employee productivity. When you show true appreciation for your people, it serves as a driver of employee engagement. Best of all, showing appreciation doesn't cost much, if anything, and can be practiced across your entire organization.
How does employee appreciation affect company culture?
Your company culture is a reflection of your company values. When you and other leaders model a particular set of behaviors, it cascades down through your organization. The same goes for employee appreciation: Show kindness, and it'll spread.
Employees don't need additional reasons for leaving a job. By showing employee appreciation whenever you can, you'll encourage a culture of kindness and ensure that your people feel a shared sense of inclusion and belonging. In turn, you'll improve the employee experience and protect your company from high turnover rates.
What does a lack of gratitude look like in a company?
Lack of gratitude can take many forms. If employee gratitude is not properly provided, company leaders are actively sabotaging their own organization. Employees won't bother to go the extra mile if they feel dispensable and unappreciated and their lack of motivation can spread, leading to disengaged teams that stop collaborating. Who knows, they might even start looking at job search sites to see what postings are available.
By displaying gratitude, company leaders can avoid the worst-case scenario outlined above. Investing in employees' success and building them up after their failures will show them you know how to make employees feel valued and appreciated.
Different ways to express gratitude toward employees
Expressing gratitude doesn't have to feel like guesswork. In fact, there are plenty of small, easy ways to show your appreciation within your organization.
Below are some ways you can express gratitude towards employees, which can demonstrate sincerity and build organizational trust.
Acknowledge their wins
It's a common complaint you hear in the business world: A person does the heavy lifting on a project, only for a manager or peer to swoop in and take credit for the work. This behavior isn't just demoralizing — it perpetuates a toxic culture that can't be allowed to fester.
Flip the script and be transparent about your employees' wins. As a manager, you look good when they look good. Take time — whether publicly during a team meeting or privately during a one-on-one — to commend employees for a job well done.
You can ingrain worker appreciation into your culture by implementing an employee recognition program. Ask employees to nominate a fellow peer, then share the nominations during your next department or company all-hands meeting. By celebrating employees regularly, you establish a positive culture where one person's success enables collective success.
Show your appreciation on social media
A powerful way to celebrate your employees is to give them a shout out in a public forum. A team meeting or company Slack thread can be useful for this, but when you're looking to go beyond your company walls, social media is your best bet.
Get in touch with your marketing team — specifically those in charge of your social media accounts. Arrange for a spotlight-style post to go out celebrating an employee for a recent contribution they made to the company and its goals. Of course, you'll want to get the person's permission first.
Once you express appreciation to an employee on social media, share that post far and wide and repost it within your internal company channels. Be specific as to why you appreciate this employee so much, and reiterate how lucky you are to have them as part of your organization.
Get creative with rewards
Appreciation posts are great, but chances are, your employees will respond even better to some tangible rewards. Get creative with how you incentivize employees to model your cultural values and provide rewards that reinforce those behaviors.
Say you have a big department project coming up, and you expect the work to require some extra hours. Rather than mandate overtime, find ways to reward employees who do go above and beyond. You could provide double paid time off for every overtime hour. Or, you could implement a one-time bonus that'll pay out once the team hits its goals. No matter how it's done, monetary rewards are always going to be well received.
By leveraging rewards as part of your cultural fabric, you incentivize employees to give their extra effort.
Food is always appreciated
When monetary rewards aren't possible, food is arguably the next best thing. Find opportunities to present employees with a nice meal and express how grateful you are for all that they do.
If you anticipate a long work week ahead, take the initiative and cater lunch. Be sure to note any food allergies, dietary restrictions or special preferences, and keep options available for vegetarians and vegans. Encourage employees to take time away from their desks and eat together as a team. If you work remotely, you can provide food delivery gift cards.
Remember and recognize their birthdays
When an employee's birthday comes around, the worst possible scenario is for no one to acknowledge it. As a leader, you can set an example and recognize birthdays when they happen.
Ask your human resources team to provide a list of employee birthdays and make it a habit to mark those events on your calendar. You can even automate the process and have birthdays posted to a Slack channel.
When a birthday rolls around, email the person with a thoughtful note. If you have the budget, consider including a gift card for coffee or treats. Tell them something you appreciate about them — the more specific, the better — and thank them for the time and effort they've invested in the company. You can even do this for work anniversaries if you feel it's important.
When your people feel seen and heard, it builds goodwill. At a time when employers are reevaluating how to hire employees and keep them happy, that goodwill can mean the difference between retention and resignation.
Write an old-fashioned, handwritten note
To some, handwritten notes may seem antiquated. To many others, they're a sign of sincerity, professionalism and respect.
Writing gratitude messages for employees is an effective way to show your commitment to their development and growth in your organization. Whether you're wishing someone a happy birthday, celebrating a recent promotion or simply saying "happy holidays," a physical note has an impact that digital messages simply don't.
Be intentional about the content you include in your note. Choose the right words of gratitude for employees and be specific in how their work is invaluable to your organization and its success.
Show appreciation with a day off
One of the best ways to make employees feel appreciated is to simply let them recharge. Words of gratitude can only go so far before they start to ring hollow. It's important to live by your promises and encourage employees to take some well-deserved R&R.
It's important not to think of time off as a reward for working hard. By subscribing to that philosophy, you run the risk of employee burnout. Instead, adopt the mindset that everyone deserves time off for themselves. Foster a culture where employees feel they can take the time they need and come back to work better than before.
Remote work is another way to show your employees you care. By saving the commute and having the freedom to work in their own environment, remote workers tend to be happier than their on-site counterparts. Consider giving your teams dedicated work-from-home days so they have the additional autonomy that working remotely provides.
Always listen to and encourage their feedback
Above all else, make sure you're always listening to your employees and their needs. If you sense that employees are struggling in their job, set aside time with them and ask them if everything is OK. Listen candidly to their responses and come up with a plan to improve their experience.
Sometimes, expressing gratitude simply means supporting another peer's dreams. If you know an employee has aspirations to run their own company one day, give them resources on how to start a business. If they're looking to grow as a leader, work with them on a personal development plan that'll get them on a fast track to that goal.
By showing your people that you have their back, you'll be able to get valuable, usable feedback to take your organization to the next level.
Let your employees know how much you appreciate their hard work
Expressing gratitude towards employees can have an immense impact on employee engagement, morale, motivation and productivity. By expressing appreciation in different ways, such as acknowledging wins, celebrating birthdays, sending handwritten notes, giving employees a day off and encouraging employee feedback, you can build a workplace where everyone feels supported, appreciated and valued.