How to Find Great Candidates for a Job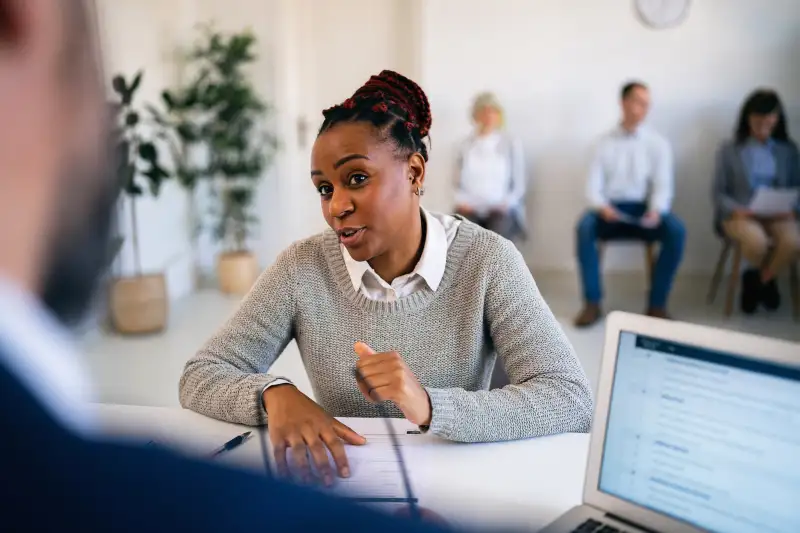 *Content includes branded mentions of our sponsor ZipRecruiter.
With countless resumes to review, interviews to conduct and references to check, finding the right candidate for an open position can be challenging. Moreover, hiring the wrong person can be costly for your company.
To source the most qualified candidates, you'll want to use one of the best job posting sites for employers, like ZipRecruiter. This platform lets you post job openings on over 100 job boards with a single click and gives you the tools to streamline the hiring process, including resume parsing and candidate screening.
In this article, we'll guide you through the steps for finding employees that fit your company's needs, whether you're hiring for an entry-level position or a seasoned executive. By following these steps and leveraging the tools available on ZipRecruiter, you can make the best hiring decisions for your business.
What does an ideal candidate look like?
Every company has different needs and expectations for their open job posts, so the qualities you're searching for in a candidate will be unique to your organization. Nevertheless, an ideal candidate should possess the desired technical skills and experience for the position.
Besides the technical skills, here is a list of qualities employers should look for when vetting candidates:
Good communication skills
Strong problem-solving and analytical abilities
Organizational skills
Ability to work well in a team
Passion for the job
Flexibility/willingness to learn
Initiative
Why is finding the perfect candidate so important?
Investing time to source candidates that align with your company's needs can set your organization up for success and help you avoid costly hiring mistakes.
Here are some reasons why finding candidates that match your job post is critical.
Saves Money
Hiring the wrong person can cost you time and money. This is especially true if you need to rehire for the position or pay for training and development. The costs involved in recruiting and onboarding a new employee can quickly add up, so it's important to select the most qualified individuals for the role.
According to the U.S. Department of Labor, hiring the wrong candidate can cost your business 30% of that individual's expected first-year earnings. This means that making a hiring mistake for a position that pays $40,000 per year could cost your business up to $12,000.
Other indirect costs associated with hiring the wrong person include lost productivity and missed deadlines on the part of the unsuitable hire. This, in turn, can affect team morale and disrupt workflows, ultimately affecting the business's bottom line.
Improves team dynamics
A team of people who work well together can make all the difference in productivity. A bad hire can disrupt team dynamics and cause tension or animosity between co-workers.
Moreover, it can lead to costly project delays or cause employees to become disengaged and unmotivated. To build a healthy and productive workplace, you need to hire someone qualified who's also a great cultural fit.
Increases retention
Good employees cost money and time to recruit and onboard, so make sure your new hires are likely to stay with your organization for the long haul.
Look for candidates who are passionate about their work and have a vested interest in the company. Highly motivated employees are less likely to look for other opportunities, thus reducing turnover.
Protects your reputation
Having a high turnover rate can lead to negative press and a poor reputation, which can eventually hurt your business's bottom line. No one wants to work for a company that has difficulty retaining employees, as this can be a sign of poor management or lousy company culture.
How to find the best talent during the hiring process
Here are a few tips on how to effectively source qualified candidates:
Review your brand
Before you even begin sourcing applicants, take some time to review your brand and make sure it accurately reflects your company's culture and values. This will ensure you attract the right candidates for your organization, no matter what position you're hiring for.
Update any outdated information on your company's "about us" page and across social media, ensuring you're using consistent messaging across the board. This will improve your reputation and make your business more attractive to applicants.
Third-party review sites such as Glassdoor and LinkedIn are also important sources of information for potential applicants. It's therefore crucial to accurately represent your company on these sites.
Use the right job board
Once you've taken the time to touch up your recruitment marketing, start searching for qualified candidates on any of the best job search sites. These sites can save you a lot of time and effort in the recruitment process by giving you access to a larger talent pool and powerful recruitment tools to help you filter through applicants.
For instance, online employment marketplaces like ZipRecruiter have filters that allow you to target candidates by location, job experience, education level and more. This helps narrow down the list of candidates and find the best ones for your role. Additionally, recruitment sites such as LinkedIn help you connect more easily with potential applicants and create a candidate pipeline.
Utilize social media
Social media has become a powerful tool for marketing and connecting with potential candidates. Platforms like Twitter, Instagram and LinkedIn offer targeted ads to reach passive candidates and engage with active candidates. You can also use social media to share interesting content that appeals to your candidate pool.
Ask people you trust for referrals
One of the best ways to find job candidates is through referrals from colleagues, former co-workers and others in your network. Referrals from trusted sources can help you find qualified candidates who are a good fit for your company culture. This approach can also streamline the hiring process and save time and resources.
Rely on recruiters to find potential candidates
Recruiters, also known as "headhunters," actively seek out potential candidates for a role and perform tasks such as sourcing resumes, posting job openings and offering tips and recommendations to hiring managers. While they typically charge a fee, they can be a great option when you need to find candidates quickly or lack an internal HR team.
Recruiters have access to a vast database of candidates and can provide valuable insights into sourcing for specific roles. They can also assist you with interviewing candidates and provide feedback to help you decide if they're the right fit.
Meet potentially qualified candidates at career fairs
Career fairs are a great way to access a large pool of active and passive candidates without investing much money. Employers and recruiters can get to know prospective employees in person and ask them about their qualifications, experience and skills to determine if they fit open positions.
These events can also be an excellent opportunity for recruitment marketing, where employers can provide potential candidates with information about their organization and current vacant roles.
Engage with your top candidates
Once you have a list of qualified candidates, you'll want to connect with each one. Engaging with potential hires can help you in several ways:
You can assess their fit. Engaging with top candidates allows you to get to know them better and understand whether they have the skills and experience you seek. It can also help you determine whether they're the right fit for your team and company culture.
You learn about their motivations and goals. In connecting with candidates, you can understand what they're looking for in their careers and whether the role you offer aligns with their goals.
They can ask questions. By giving them an opportunity to ask questions about the role, the company and the team, you're helping them make an informed decision about whether they want to join your organization.
You put your best foot forward. Personalized engagement demonstrates that your company values their time and is interested in building relationships with them. This can improve the overall application experience and make a candidate more likely to accept an offer if one is extended.
You stand out from the competition. In a competitive job market, engaging with top candidates can help your company stand out from other potential employers and make a positive impression on top talent.
Use an applicant tracking system
Applicant tracking systems (ATS) are software tools that automate the recruiting process by helping you track and manage job applicants, from initial contact to onboarding. These tools can help you find qualified job candidates by allowing you to quickly screen resumes, schedule interviews and send automated messages to candidates.
An ATS can also provide you with data and insights — such as candidate demographics and time-to-hire — you can leverage to improve your recruitment process.
Be sure to keep track of those you didn't hire
Once you find the right person for the job, remember to keep a record of the runners-up. This way, you can build a skilled candidate pool to tap into the next time you need to find a new employee.
Stay connected with skilled candidates who may be a good fit for future job openings. By maintaining relationships with these people, you're showing them that you value your team and have a positive work environment.
Optimize your talent pipeline and find qualified job candidates
Finding great candidates for a job requires a combination of proactive sourcing, a clear and compelling job description, and a thorough and thoughtful interview process. By leveraging the power of networking, utilizing online job boards and recruiting tools and creating a positive candidate experience, you can attract top talent and find the best fit for your organization.
Remember to keep an open mind and be willing to consider candidates with experience levels, as sometimes the best fit for a role may not be immediately obvious. By following these tips and being persistent in your search, you can find the perfect candidate to join your team and help drive your company's success. Ultimately, there isn't one best way to hire employees, but rather the best solution is a combination of the above best practices.