How to Get a Free Turkey for Thanksgiving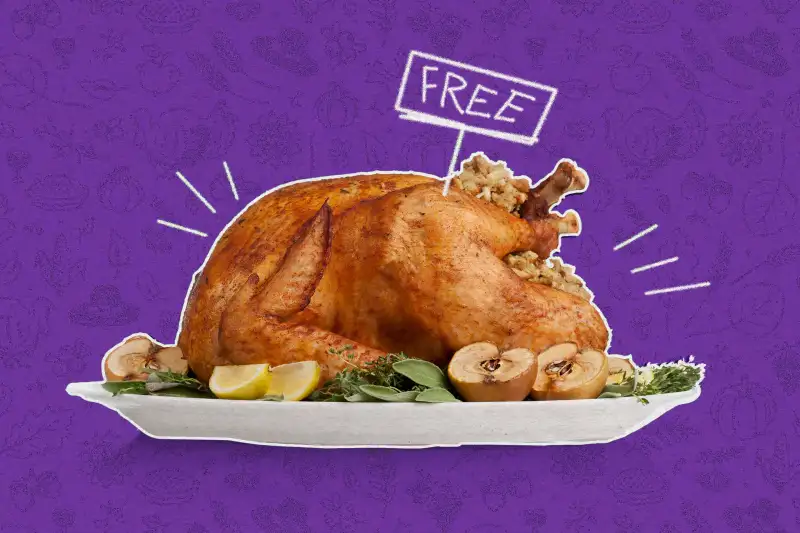 The holidays are here, and stores like ShopRite and BJ's are offering free turkeys and discounts on the accouterments for your Thanksgiving dinner this year.
U.S. Department of Agriculture data shows that prices for frozen turkeys are dropping just in time for Thanksgiving. Turkey prices were around $1.25 per pound in September, which is 43 cents cheaper than last year and the lowest monthly average price since the summer of 2021.
But if you plan your shopping strategically, you may be able to pay nothing at all for a turkey or score steep discounts. Many big grocery store chains are offering seasonal discounts and promotions for every plate on the Thanksgiving table, including free turkeys with qualifying purchases.
We compiled a buffet of the best deals on turkeys and Thanksgiving essentials to help keep your wallet and dinner guests full this season.
Stores giving away free turkeys for Thanksgiving
For the most part, the offers and giveaways highlighted below are one per household and available only to store rewards members (rewards programs are usually free to sign up). There are also requirements you typically have to satisfy if you want a free turkey or other offers, like minimum purchase requirements or registration for a digital rewards account.
As always, check your local stores leading up to Thanksgiving time for weekly circulars to find out about deals near you. The deals available may vary depending on your location, and those in need around the holidays can look up local resources for food baskets and giveaways through United Way 2-1-1.
While shopping during the holidays or any time of year, it may also be worth using one of the best credit cards for groceries for added rewards and savings.
Through Nov. 23, shoppers can earn a free Signature Farms frozen turkey up to 22 pounds or a 4- to 7-pound turkey breast when they add the ACME for U digital coupon to their accounts and spend $400 or more. Be aware: You have to add the offer to your loyalty account prior to in-store or online check-out, then redeem it at your regular ACME location or apply it to your online order.
BJ's members who registered for a digital account spend $150 in one transaction before Nov. 9 qualify for a coupon for a free Butterball whole fresh or frozen turkey. You have to open your digital coupon gallery in the BJ's app or on BJs.com between Nov. 11 and Nov. 22 to clip your free turkey coupon. You can redeem your coupon in-store or place an order online through Nov. 22.
Spend $400 in one or multiple transactions at Foodtown stores until Nov. 26 and get a free 10- to 20-pound store-brand frozen turkey in return.
Free alternatives to turkey include:
4- to 7-pound Foodtown turkey breast
Stouffer's frozen lasagna
Cook's ham (shank or butt)
$10 Foodtown giftcard
When Giant rewards members earn 400 rewards ($400) points between now and Thanksgiving Day (Nov. 23), they can redeem their points for a free frozen Shady Brooks Farms turkey up to 20 pounds starting Nov. 11 until Nov. 23. Points can also be used toward a free Tofurky or Stouffer's party size lasagna, or $1 off per pound on any other turkey brand. Members can use either a paper coupon or digital offer in-store or online.
Ibotta, one of the most popular cash-back apps, is back with its fourth Free Thanksgiving promotion, offering shoppers 100% cash back on five Thanksgiving essentials at any participating retailer until Wednesday, Nov. 22. You'll need to create a free Ibotta account and add the eligible offers before hitting the aisles, and the maximum cash back value you can earn is $20.50 (that's less than last year's $26.99).
To complete the turkey bonus, you have to buy the exact items listed on the app at a participating retailer, then submit your receipt for cash back.
Qualifying items and estimated cash back prices:
Turkey roast (any brand, 3 pounds): $14.35
Idahoan mashed potatoes: $1.60
Ocean Spray cranberry sauce: $2.65
Jiffy corn muffin mix: $0.75
McCormick gravy mix: $1.15
ShopRite Price Plus members who spend $400 on one or multiple transactions now through Nov. 23 qualify for a free turkey or one of the other offers below. Just make sure you present your Price Plus card at the beginning of every order when you shop.
ShopRite or Bowl & Basket All-Natural Frozen Turkey (up to 21 pounds) or save $1.99 per pound off any other fresh or frozen turkey brand (up to 21 pounds)
Empire or Kosher Turkey brand $1.99 per pound off (up to 21 pounds)
Cook's butt or shank half-smoked ham, or save $2.39 per pound off any Cook's spiral sliced ham, boneless ham, or any other smoked ham (up to 12 pounds), or $7.17 off John F. Martin boneless ham
$3.29 per pound off any other fresh or frozen turkey breast or Empire Kosher Turkey Breast
Empire or Kosher Frozen Roasting Chicken (up to 8 pounds)
Any Stouffer's frozen lasagna (90 to 96 ounces)
Frozen Gardein plant-based roast 35.2 ounces
Tofurky (56 ounces)
Marie Callender's sides (13 ounces)
After Nov. 11: Fresh Whole Picnic 12-pound Pork Picnic, or take $1.89 per pound off any other bone-in smoked Pork Picnic
Weis rewards members who earn 400 points, which equates to spending $400 in one or multiple transactions through Nov. 24, can get a free store-brand frozen turkey breast or Smithfield smoked bone-in ham portion. Alternately, you can choose a free Tofurkey roast and gravy (up to 2.5 pounds), Tofurkey ham style roast and glaze, Weis Quality meat or vegetable lasagna or Weis Quality macaroni and cheese.
When you earn 200 points, you can get the frozen turkey breast or ham for 99 cents per pound, or several other discounts on fresh and frozen turkeys, hams and other items.
Other $200 minimum purchase offers:
Butterball frozen turkey: 99 cents per pound
Weis Quality fresh turkey: 99 cents per pound
Butterball fresh turkey: $1.99 per pound
Smithfield hickory smoked or brown sugar spiral sliced ham: $1.99 per pound
John F. Martin or Hatfeild whole boneless ham: $1.99 per pound
Frozen kosher turkey: $2.99 per pound
Fresh Atlantic salmon filets: $4.99 per pound
Weis Quality meat or vegetable lasagna, or macaroni and cheese: $4.99
More from Money:
Social Security and the 2024 COLA: Everything You Need to Know
13 Best Credit Cards of November 2023
How to Tell Whether a Black Friday Sale Is 'Worth It'