How to Host a Money-Making Yard Sale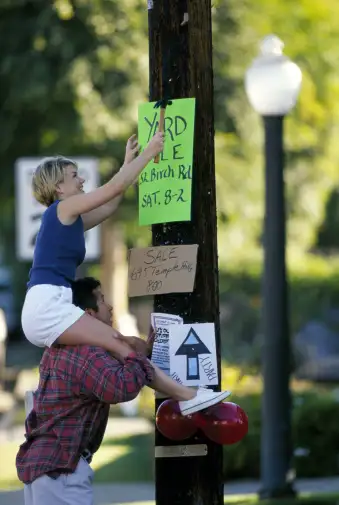 While the art of a yard sale may seem pretty straightforward, simple alterations in timing, pricing, and display can make the difference between a successful sale and a full-on flop. For starters, consider inviting friends and neighbors to join in and making it a group effort, since multihome sales typically attract a bigger crowd. Once the team is assembled, follow these dos and don'ts from Ava Seavy of GarageSaleGold.com for selling your unwanted wares the old-fashioned way. You may just strike gold.
1. Title your event wisely. "Estate Sale" or "Moving Sale" implies that you're liquidating a house's contents and can earn you more than the simple "Garage Sale."
2. Drum up attention. Place ads in local newspapers, online, or on public bulletin boards. Reserve signs for the day of the event, and only include the sale's date, time, and directional arrows to its location. Make sure your signs are readable from a distance that will give a driver time to slow down and turn. That means bold, thick, black letters on large, brightly colored posterboard, readable from a few hundred feet down the road.
3. Offer freebies. While you shouldn't hand out items without a catch, encourage people to spend more with buy-one-get-one deals, which let you truthfully advertise free goods. Be sure to conceal items you don't plan to sell, to avoid dashing buyers' hopes.
4. Don't forget Fridays and Saturdays. Many experts maintain that Sunday is the best day for a sale, since people tend to reserve Saturdays for running errands. But, Seavey advises, "Start your sale earlier in the week than you think. Believe it or not, the best day of the week to hold a sale is Friday, as this is when most dealers and retired people will come."
See the full list of 10 tips, plus photos, at This Old House.
Related:
9 Ways to Score Big at a Yard Sale
Inside the 'Pay What You Want' Marketplace