How to Manage Remote Workers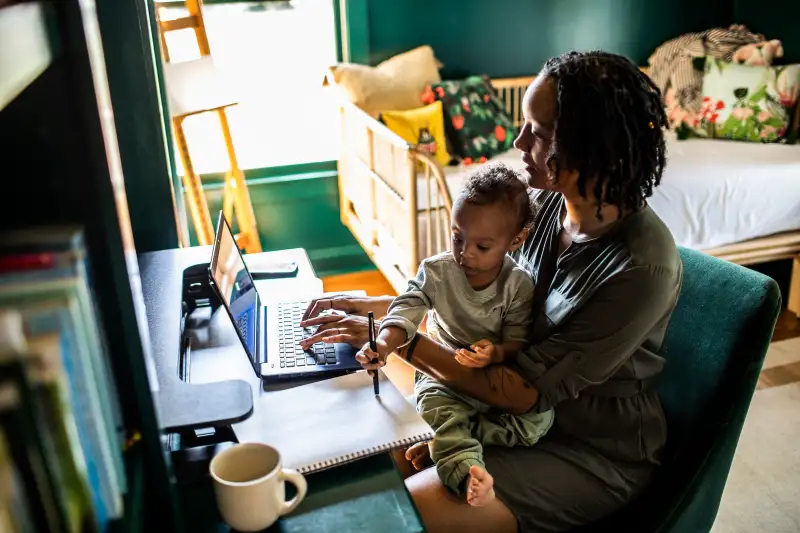 *Content includes branded mentions of our sponsor ZipRecruiter.
Managing remote workers effectively is becoming an essential part of many supervisors' role. With countless benefits like flexible scheduling, reduced overhead costs and even increased productivity, it's no wonder that more and more companies are opting to have full and part-time remote positions. Indeed, a recent survey by job posting site ZipRecruiter found that 14% of employees would take a paycut to work remotely.
However, to reap the benefits of remote worker programs, you first need to learn how to manage remote workers.
Read on to learn more about the pros and cons of managing remote employees.
The benefits and challenges of a remote work environment
Fully and partially remote teams are becoming the norm, especially in high-income industries like finance, legal and aerospace.
However, this doesn't mean that remote positions are perfect. While they offer plenty of benefits for employers and employees alike, they also pose some challenges worth considering. Here are some of the top pros and cons of a remote work environment.
The benefits
Higher employee productivity
Contrary to the age-old belief that working in an office environment is conducive to higher productivity, new research has tied remote work programs with increased productivity levels. In fact, an overwhelming amount of research studies conclude that employees are more productive with work-from-home schemes. In particular, remote worker productivity is highest when employees can voluntarily choose to work from home instead of mandatory, full-time remote work.
The research is clear on the impact of remote work on an employee's happiness and mental health. A 2021 study found that remote work can lead to increased job satisfaction, motivation and commitment, making it more conducive to happiness. The study found that higher employee autonomy over their working environment and working hours is the main driver behind these benefits.
With such an impact on mental health, it's no surprise that a study by the Federal Reserve Bank of New York found that remote workers have more fun. This can also be good news for productivity, as a 2019 report from Oxford University's Saïd Business School found that happy employees are 13% more productive on average.
Access to a wider talent pool
One of the most revolutionary benefits of a remote team is access to a global talent pool. In an increasingly interconnected world, hiring a remote worker who may not live anywhere near you has never been easier. With online collaboration tools like video conferencing apps and online employee onboarding platforms, it's now possible to seamlessly integrate someone who lives on the other side of the world into your team. If you've been wondering how to find employees that will exceed all expectations, consider widening your search area and using a job search site such as ZipRecruiter.
Savings on overhead expenses
Having a remote team means you can downsize or eliminate the company offices. In addition to monthly rent, businesses can reduce or eliminate the following expenses:
Recurring monthly expenses like electricity bills, office supplies, business services and office catering
Remote employee onboarding costs by automating worker training with pre-recorded videos and modules
Labor costs associated with handling payroll and taxes if remote workers are hired as freelancers
The challenges
Difficulties with collaboration
One of the most significant benefits of working in the same office as your team is how quickly you can reach out to them when you have a question or need help. Employee collaboration can become slightly more difficult when you're managing a team that is fully remote and may not have uniform working hours. A 2021 study from the MIT Initiative on the Digital Economy found that remote work can fracture organizations by reducing collaboration between departments.
Technology issues
Many businesses with a traditional office working environment may struggle to find the right technology to adapt to remote work. If your business isn't set up for digital or online work, it may take some time and a significant financial investment to set up the necessary technology. For example, you may have to invest in employee computers, company phones and accessories like headsets to allow employees to take calls and join video conferences remotely.
Additionally, employees won't have as much tech support when things go wrong. If an employee runs into a technical issue at the office, finding a solution can be as easy as requesting a visit from the IT team. However, if the employee runs into a problem with a program or their computer at home, they may have to do more troubleshooting independently.
Fewer team-building opportunities
A significant benefit of working in person with your team is the camaraderie that results from constant physical interaction. Even unofficial interactions like going on a coffee run together or getting dinner after work can help increase employee morale and trust among your team members.
Unfortunately, there aren't as many remote worker team-building opportunities. Even if you make an effort by hosting virtual mixers or happy hours, they may not be as effective. Studies have shown that virtual interactions tend to leave participants with more negative perceptions than in-person interactions, suggesting that virtual team-building activities may not be as effective as in-person activities.
Tips for successful remote management
Before setting out to craft the best plan for remote worker management, work to understand the goals and challenges of your remote team. This will allow you to be a more effective leader. The following tips will help you set out a healthy and effective remote worker management system from the start.
Set expectations from the beginning
Being clear with your remote workers on what's expected of them is crucial for a successful working relationship. With many kinds of remote worker agreements ranging from full-time work to freelance gigs, you and your employees may not be on the same page regarding what remote work entails. Setting clear expectations is the best way to prevent communication issues or knowledge gaps with remote workers.
Furthermore, different jobs will require different commitments from their employees. In a goal-oriented working environment, strict working hours may not be as important as hitting targets and reaching milestones. Work environments with seasonal or highly variable sales cycles should allow for more flexible employee scheduling.
On the other hand, highly collaborative or client-facing jobs may require employees to be available during business hours. If this is the case, employees must know precisely what time they're expected to be online and the consequences of not being available during their shifts. Clearly defining each position you need to fill is one of the most important steps when hiring employees, as explicit roles will reduce employee disorientation.
Emphasize the importance of effective communication
Communicating effectively over the internet is entirely different from doing so in person. As such, what constitutes effective in-person communication may not be as helpful over the internet. You should institute best practices for effective remote communication and make sure your entire team is on board with what that means.
For example, sending a private instant message to a coworker can be a great way to get an answer to a quick question. However, what happens when many employees keep asking the same question over and over again? A good communication strategy is identifying and addressing common questions via team-wide memos or FAQ bank.
Use the right technology
Choosing the right remote worker management software can make or break your experience with remote employees. The best worker management programs will include tools for communicating effectively, institutionalizing knowledge and keeping track of project progress.
Here are some key features you should look out for when picking the best remote worker management programs:
Integrated communication channels
Individual and collaborative task management
Interactive feedback and comment capabilities
Robust storage space
Employee equipment tracking
Ability to build up an internal knowledge base
Integrated video conferencing
Brainstorming and ideation tools
Workflow automation
Integrated employee time tracking
Keep in mind that you don't need a single employee or project management software that will handle every single aspect. Although finding one application that does everything for you would be ideal, the reality is that you will probably need to use a combination of tools to meet your team's needs. Testing different tools will allow you to see what works for you and what doesn't. Some may sound good in theory but not work well in practice, so get comfortable with testing out numerous programs for your team.
Keep in mind time zone differences
Just as being able to cherry-pick top talent from around the world is one of the biggest benefits of remote work, it's also one of its biggest challenges. Arranging for team meetings or company-wide conferences can be a real challenge when your team works worldwide.
What's perhaps more difficult than finding a meeting time is being aware of and respectful of the different working hours of your team. What this means in practice is being able to anticipate how time-sensitive information or tasks may become a problem. For example, if your web developers are twelve hours ahead of you, attempting to make substantive changes to a website while they're asleep may not be a good idea.
Be strategic with how you schedule team meetings
Knowing how to schedule effective team meetings is one of the most vital skills you can master, especially when managing a remote team. Research shows poorly facilitated meetings result in over US$100 million a year in direct losses, making this a significant area of opportunity for companies nationwide.
Here are some tips for scheduling effective team meetings:
Get your team onboard before scheduling the meeting: Make sure everyone knows what the meeting will be about and is excited about the conversation.
Be selective: While it can be tempting to invite the whole team to your meetings, try only to invite those who need to be there.
Schedule the meeting at a convenient time for everyone: You can use automated scheduling software to find the perfect time for everyone involved, regardless of time zone differences.
Prepare in advance: Plan a clear agenda and gather any necessary materials or information before the meeting. This also includes ensuring that the entire team can access documents or programs relevant to the meeting.
Be brief: Video conferences are notorious for making people lose focus, so brevity is crucial here. According to Vanderbilt Medical School, most people will lose focus within the first 10 minutes of a virtual meeting. That's not to say that you should keep your meetings under 10 minutes, but try to keep them as short as possible to maintain employee engagement.
Regularly check in with remote employees
Making a conscious effort to check in with employees is particularly critical with fully-remote team members. It can be challenging to humanize someone with whom you've only ever interacted remotely, so building rapport one-on-one with them can help them feel appreciated and cared for.
You should also make yourself accessible to employees who may have feedback or suggestions for improvement. Unlike in an office environment where an employee may knock on your door and ask for a chat, scheduling a virtual one-on-one with a manager may be more intimidating. Be explicit with your policy for scheduling one-on-ones and ensure there is a straightforward way for employees to find a time to have a conversation with you.
Don't micromanage
Excessive remote worker monitoring is one of the easiest ways to create a hostile working environment. While having a process for remote worker time tracking may be acceptable, it's imperative not to fall into micromanaging territory. Research studies show that micromanagement can lead to low employee morale, decreased productivity, employee dissatisfaction and high employee turnover.
The key takeaway
Incorporating remote work into your company's structure can be an excellent way to increase employee productivity, morale and loyalty. However, you need to be aware of the challenges and limitations of remote work to be able to address them promptly, such as difficulties with collaboration, tech problems and limited team-building opportunities.
To maximize your chances of fostering a successful remote work environment, make sure to:
Set expectations from the beginning
Emphasize the importance of effective communication
Use the right technology for remote work
Keep time zone differences in mind
Be strategic with how you schedule team meetings
Regularly check in with remote workers
Avoid micromanaging