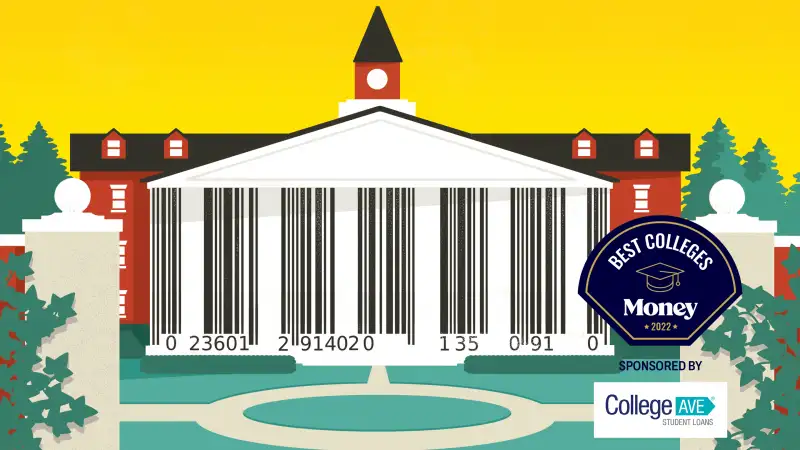 Going to college has a ton of benefits — it's fun, educational and can lead to a roughly $30,000 annual earnings premium for people who graduate with bachelor's degrees, government data shows. But it is also undeniably expensive.
Experts say it's never too early to start thinking about college — where you want to attend, what you want to study and, of course, how you're going to pay for it.
These questions often bear down on people in their junior or senior years of high school, but experts say you can alleviate some of the dread by thinking about these questions sooner rather than later.
No matter where you and your family are in your higher education journey, it's smart to make a financial plan that combines your savings and current income with student loans and "free money" from grants and scholarships.
Don't know where to start? Our guide covers 14 strategies to help you pay for college.
Table of contents:
How to lower tuition and room and board
First, we'll cover several tried-and-true methods of keeping college expenses as low as possible. Many will take place before you even choose a college.
1. Compare different college options
Not all colleges are created equal, especially when it comes to cost. For example, in-state fees for public institutions — which receive government funding — tend to be cheaper than fees for private schools — which rely on their students for revenue.
For the 2021-2022 academic year, the average annual total for in-state undergraduate tuition, fees, room and board at public colleges was $22,690, according to the College Board. The total for public colleges for out-of-state students was $39,510. It was $51,690 at private nonprofit institutions. (All those figures are for four-year institutions.)
Private, for-profit figures were not included, but those institutions typically charge even more. As you can see, different types of colleges come with drastically different price tags. The price will also vary considerably by state.
In Wyoming, for example, in-state tuition and fees at public four-year colleges cost an average of $6,100; in Vermont, they cost $17,750, College Board data from the same year shows.
There's also a difference between the listed price and what a student actually pays. A college's so-called "sticker price" is often a scary-large number that doesn't include financial aid. (Private colleges in particular end up discounting tuition, often by at least half, research shows.)
In order to figure out what you'll actually pay, you'll want to look for a college's "net price," which you can find with the help of institution-specific calculators or general tools like MyinTuition.org. It's better to use tools to get a personalized net price, rather than just looking at an average net price.
And remember that you're not only on the hook for tuition and fees. The full cost of college also includes room, board, textbooks, transportation, health care... the list goes on. If you need to reduce costs even further, you might want to consider starting at a two-year college or community college before transferring to a four-year school to complete your degree.
2. Consider living off campus
Living on campus can be a great experience. It's very convenient and you'll be surrounded by your classmates and professors — but it also tends to be very, very pricey.
Aside from tuition, on-campus room and board can be a major college expense. In some cases, it can even exceed the cost of tuition.
Once you've chosen a college, you'll want to carefully weigh whether you want to live on or off campus. Look over its dorm-room as well as meal-plan estimates. If these numbers aren't readily available on your college's website, try reaching out directly to the financial-aid or housing offices.
Keep in mind that these numbers will likely be ballpark estimates. Your ultimate expenses depend on your meal plan, which dorm you're assigned to, and more.
According to the College Board, living on campus cost approximately $11,950 for four-year public colleges and $13,600 for four-year private, nonprofit colleges during the 2021-2022 academic year.
In some cases, your college may not let you stay in your dorm during winter and summer breaks. So you may be required to find alternative housing options anyway.
You may be able to skirt a lot of these headaches and costs by choosing to live off campus. Although this isn't a surefire way to reduce costs, many students find more affordable options nearby.
Off-campus housing expenses can also vary greatly, though, and you may need to pay a security deposit. Additionally, you'll want to factor in groceries (in lieu of a meal plan) and other monthly expenses such as renter's insurance.
3. Reduce your number of classes
One smart strategy to reduce your tuition is by reducing the number of credits you have to pay for to earn your degree.
There are several ways to do so, and they vary by state and college. Here's a look at the most popular methods.
AP and CLEP tests
Advanced Placement (AP) courses and College Level Examination Program (CLEP) tests are two major ways to "test out" of college classes. Both are administered by the College Board.
If you did well on your high school AP exams, you may be able to send your scores to a college to be counted as credit toward your degree. Most colleges will grant credit for the most popular AP courses, according to the College Board, but rules vary by college and academic department.
About 2,900 colleges accept CLEP test scores, too, the College Board says. You must register to take these standardized tests, and depending on your score, it may satisfy your college's general education requirements.
CLEP is not as popular as the AP program, so be sure to check that your college accepts CLEP scores before you sign up to take an exam.
Earn college credits in high school
Dual enrollment is another popular way to potentially reduce college costs — and it can help you graduate college faster.
Also known as concurrent enrollment or early college, these programs allow you to take college classes, usually at a nearby community college, while you're still in high school. Doing so allows you to earn high school credit and college credit at the same time.
By the time you graduate high school, you'll have already knocked out some of your general education requirements for college.
Every state except New York and Pennsylvania have state-wide dual enrollment programs. Even so, that doesn't mean you can't dual enroll in those two states. You still can, but the program will likely be run by specific colleges.
Dual enrollment is often a cheaper alternative per credit hour than directly enrolling in a college after you graduate high school, and in many cases, it can be free. The price depends on many factors, though, and could be set by your state, your school district, or the college you're dually enrolled in.
Funding programs, scholarships and grants
There's a lot of money out there to help you pay for college, and it doesn't have to come from loans. It might come from the government, a local non-profit organization or even your employer.
4. Fill out the FAFSA to apply for financial aid
Once you're applying to colleges, you'll want to complete the Free Application for Federal Student Aid, or FAFSA.
You can qualify for federal student aid if you're a citizen or eligible noncitizen, have a Social Security number, possess a high school diploma, GED or homeschool equivalent, and are enrolled in an eligible college program, according to the Department of Education.
The FAFSA opens on Oct. 1 each year. For the 2022-2023 school year, the federal deadline is June 30, 2023. But you shouldn't drag your feet — some institutions and states have different deadlines and may award aid on a first-come, first-served basis. Families and college students are advised to submit their FAFSA ASAP.
To fill out the FAFSA, you'll need to gather your Social Security or Alien Registration Number, tax records, bank statements, investment records and documentation of untaxed income. You'll also need to create a Federal Student Aid account, or FSA ID. Visit FAFSA.gov to get started.
Experts recommend that you fill out the FAFSA — even if you don't think you'll qualify for need-based aid — because many institutions also use the data from the FAFSA to make decisions about their own aid.
After you file your FAFSA, you'll first get a Student Aid Report, which is an estimate of how much federal aid you may receive. Later on, after you've been accepted to a college, you'll receive an award letter that lays out grants and loans from the federal government, state and specific college you're looking at.
5. Look for grants and scholarships
Grants differ from loans in that they do not have to be paid back. That's why you'll often hear them called "free money."
The federal government runs the Pell Grant program, which gives money to undergraduates from low-income families. The specific amount you'll receive depends on your expected family contribution and your cost of attendance. For the 2022-2023 year, the maximum is $6,895.
In addition to this federal assistance, each state provides additional financial aid.
Florida, for example, has the Bright Futures Scholarship Program that awards as much as $211 per credit hour to eligible applicants. Washington has the Washington College Grant, which can cover full tuition costs at approved, in-state public institutions or "a comparable amount toward tuition and other education-related costs at an approved private college or career training program."
Schools also often offer what's called merit aid to students with certain standardized test scores or other academic achievements. At private colleges especially, this is a significant form of financial aid, totaling billions of dollars a year.
Finally, you may want to take advantage of outside scholarships. Companies, nonprofits, foundations and other groups are constantly coming out with private scholarship opportunities that may offer free money with fewer strings attached than federal, state or institutional programs.
The biggest challenge is finding them. Check with your high school guidance counselor to see if they know any local scholarships you should pursue. From there, use a scholarship search engine like Niche or FastWeb to identify other grants you might be eligible for.
Warning: They may require some elbow grease. But writing an essay or filming a creative video, for example, is arguably easier than paying for college out of pocket.
Here's a quick breakdown of common sources of funding:
High school scholarships: If you're a high-achieving high schooler or have an interesting personal background, a good place to start your scholarship search is through the National Society for High School Scholars (NSHSS). Of course, check with your high school counselor, if you have one, for more localized options. Your own school district, for example, may run additional scholarship programs.
Sports, music and STEM-field scholarships: If you excel in a particular area, such as sports, music or a STEM-related field, you should look for related scholarships. The more niche the scholarship, the less competition you will have. These scholarships could come from various funds — including local, national, public or private sources. If you're interested in becoming a student athlete, the college you're applying to would likely be the main source of funding.
Local clubs and organizations: Depending on where you live, you could have some major sources of funding right in your backyard. Local membership organizations — such as the Rotary Club — provide all sorts of scholarships to residents.
State grants: Above, we mentioned Florida's Bright Futures Scholarship Program and another option from Washington state, but these are just two of hundreds of state-level programs. To dive deeper, use the Education Department's database, which compiles state-by-state information.
6. Ask about tuition reimbursement from your employer
While it may have worked in decades past, a part-time job unfortunately no longer covers the costs of attending college. But a good gig from the right employer can certainly put a meaningful dent in those expenses.
In recent years, tuition reimbursement has been gaining popularity at major employers all across the U.S. Target, Walmart, Disney and Amazon, for example, now cover some or all of the costs at select universities for their workforce.
Many smaller employers also have reimbursement programs. And even if they don't, it doesn't hurt to ask for tuition benefits — especially with the labor market being as tight as it is.
Ways to save or earn additional money
We've covered the basic funding options outside of student loans. Before taking on student debt, try these additional ways to augment your personal finances and get those college costs down even lower.
7. Tap into savings
As the saying goes, "the best defense is a good offense." This applies to paying for college, too: Parents, relatives and friends have several ways to set up savings accounts for children's higher education. The earlier you start, the better.
529 savings plans
The most popular option is a 529 plan, formally referred to as a qualified tuition plan. Not only do many 529s come with state tax benefits, but withdrawals are also tax-free if used for certain education expenses. Qualified expenses include college tuition, fees, books, supplies and equipment (like laptops).
Typically sponsored by states, 529s come in two varieties. Prepaid tuition plans allow you to purchase future tuition at today's rates. College savings plans are investment accounts that grow over time.
529s are set up through states, though you can open accounts in states you don't live in.
Coverdell accounts
Another way to prepare for college costs is through a Coverdell education savings account, which is a trust or custodial account intended to cover certain school-related expenses. Coverdell savings grow tax-free, like 529s, and can be used for college as well as elementary and secondary education.
But contributions are capped at $2,000 a year for each beneficiary until they're 18. The money generally has to be spent by the time the beneficiary is 30 years old.
Alternative accounts to save for college
Alternatives include accounts under the Uniform Gifts to Minors Act (UGMA) and Uniform Transfers to Minors Act (UTMA). These are considered more flexible options than a 529 or Coverdell because the funds can be used for anything — not only education expenses. Adults hold assets for a minor until they turn a certain age, at which point the account is transferred to them.
Each type of account offers its own pros and cons, but in most cases, experts recommend 529 accounts over the other types for education savings. They have the possibility of state tax advantages as well as federal tax advantages, have higher contribution limits than Coverdell accounts, and they are counted more favorably under financial aid formulas than UGMAs.
8. Consider work-study
When you're filling out the FAFSA, you'll have to answer a question about whether you want to be considered for the federal work-study (FWS) program, which gives part-time jobs to students in financial need. Work-study jobs pay at least $7.25 per hour — the federal minimum wage — but can pay more.
Experts recommend you always answer yes, when asked about work-study on the FAFSA. You don't have to take a work-study job that's ultimately offered to you in your financial aid letter, so by answering yes, you're simply keeping your options open.
One thing to keep in mind: Not everyone is guaranteed a work-study job, and you'll only be approved for a limited amount of wages. Your school's financial aid office ultimately determines this based on the funding they received from the government and your FAFSA.
9. Maximize current income
Even if you can't get work-study, you can still find another job to make ends meet. That vast majority of students do these days.
A 2020 study from the Education Department found that more than 80% of students worked at least part-time while attending college in 2018.
Aside from that, review your financial situation. Can you free up any money in your normal monthly budget and redirect it to college?
This may end up benefiting you because if you spend money out of pocket, there are federal tax credits intended to offset the cost of tuition, fees and course supplies. With the American Opportunity Credit, you can claim up to $2,500 per student for four years. With the Lifetime Learning Credit, you can claim up to $2,000 per student.
10. Land a student research position
Another solid option to increase your income — all while beefing up your resume with work experience in your field of study — is to become a student research assistant. Many college departments offer these types of positions to students studying a relevant subject.
If you're interested in applying, ask professors or staffers in your department about potential openings and keep an eye on your college's career page, if it has one. If all else fails, consider using job search sites like Indeed or Glassdoor.
While these positions might be through the federal work study program, they're not always. That means they can be good job opportunities even if you're not considered for "need-based" financial aid.
11. Score an internship
Internships should first and foremost be about learning, according to the non-profit organization National Association of Colleges and Employers (NACE). However, they can also make you a little money. The organization found in an April 2021 survey that, on average, bachelor's degree-seeking students with paid internships earned between $18 and $22 per hour depending on their year of study.
Not all internships pay that much, unfortunately. And some don't pay anything at all. According to NACE, about 40% of internships are still unpaid.
Also worth noting: Internships can sometimes earn you credit toward your degree, similar to taking a class. If, for instance, your internship is unpaid and counts as credit, you should keep in mind that you're essentially paying to work. And that might not be the best option if making money now is your goal.
Whether or not your unpaid internship could potentially earn you more money via a higher-paying job later down the road is an entirely different matter.
Student loans
After running the calculations, you may still find yourself short of reaching your desired college's net price. And in that case, you might need to consider taking on student loan debt. Experts recommend talking with your family and determining the maximum amount you feel comfortable borrowing.
Taking out loans to pay for college is extremely common and is not a de facto bad thing. Yes, you should strive to graduate with as little student debt as possible, but approximately 45 million Americans have student loans. Many of those borrowers wouldn't have had another way to pay for college without them.
Student loans can broadly be separated into two different categories: federal and private. Federal loans, made by the government, tend to have lower interest rates and more flexibility for borrowers. Private loans, made by banks or other private lenders, tend to be more expensive.
12. Federal student loans
Because federal student loans are open to nearly all students and they come with better protections, experts universally agree you should take these first. Federal loans are often referred to as "Direct" loans, as they come directly from the Department of Education in three different forms for undergraduate programs:
Direct unsubsidized loans
Direct subsidized loans
And Direct PLUS loans for parents
Students can take out both subsidized and unsubsidized loans. We'll get into PLUS loans below.
One big difference between direct subsidized and unsubsidized loans — sometimes called Stafford loans — is who pays the interest that accrues while you're in college.
For subsidized loans, which go to undergrads with financial need, the Education Department covers your interest until six months after you graduate. For unsubsidized loans, which aren't based on need, you are responsible, meaning interest starts accruing as soon as you receive the funds.
The FAFSA will tell you which federal student loans you're eligible for.
13. Private student loans
After you've exhausted all of the options above, you may want to move on to private student loans. This will require some shopping around.
When taking out private student loans, be careful, and do your research. In addition to having higher interest rates and fewer repayment options, private loans often involve credit checks and application fees.
Additionally, private student loans aren't eligible to receive the same benefits as federal loans — including the ongoing payment pause and any future federal student loan forgiveness.
14. Parent PLUS loans
As their name suggests, Parent PLUS loans are geared toward the parent(s) of a student, and they're becoming a fast-growing portion of federal student debt.
To get a PLUS loan, the borrower must meet the general federal student aid eligibility requirements mentioned above and be a biological or adoptive parent of the student. Grandparents, unless they have adopted the student, aren't eligible.
Unfortunately, PLUS loans don't have the same repayment benefits as other federal student loans. As soon as the loan is disbursed, the parent is expected to start making payments (unless they request a deferment).
The debt can also be risky for parents approaching retirement, so be sure to weigh the pros and cons of taking on this type of loan carefully.
How to pay for college FAQs
How to pay for college without loans?
While it's true that tens of millions of Americans have taken out student loans, they're not required to pay for college. We cover many non-loan options above, such as scoring grants, scholarships or a job that comes with tuition benefits. You may also pay for college without a loan by planning early with a college savings account, reducing your costs by dual enrolling in high school or testing out of certain college courses.
How to save money in college?
College can be overwhelmingly expensive, but it's still possible to save a little while attending. Consider purchasing your textbooks used, choosing to live off campus, cooking at home often and utilizing free campus resources and entertainment to cut down on typical expenses.
How to pay for college without parents?
If you're going to pay for college on your own, you can still follow the vast majority of the strategies we outline above. First thing's first, start by filling out the FAFSA and seeing what aid you're eligible for. Then fill in the gaps by applying for grants and scholarships. You can also pay for college by working — ideally for an employer that offers tuition benefits — and taking student loans out as needed.
What is a 529 college fund?
In short, 529 savings plans are tax-advantaged investment accounts that help you save for college. Almost every state has its own 529 program, and each of them vary slightly. In most states, 529 contributions are tax deductible, and withdrawals aren't subject to federal taxes so long as they're spent on qualifying education expenses, including tuition, room and board at most colleges.
Bottom line: How to pay for college
Remember, there are plenty of ways to pay for college. We cover 14 strategies above — including grants, scholarships, jobs and loans as well as several ways to reduce the cost of college to make it more affordable in the first place — but these methods might not all be applicable to your situation. The most important part is to carve out some time to make a financial plan that works for you and your family.
More from Money:
The Best Colleges in America, Ranked by Value
5 Best Student Loan Refinance Companies