25 Ways to Save Hundreds on Your Holiday Shopping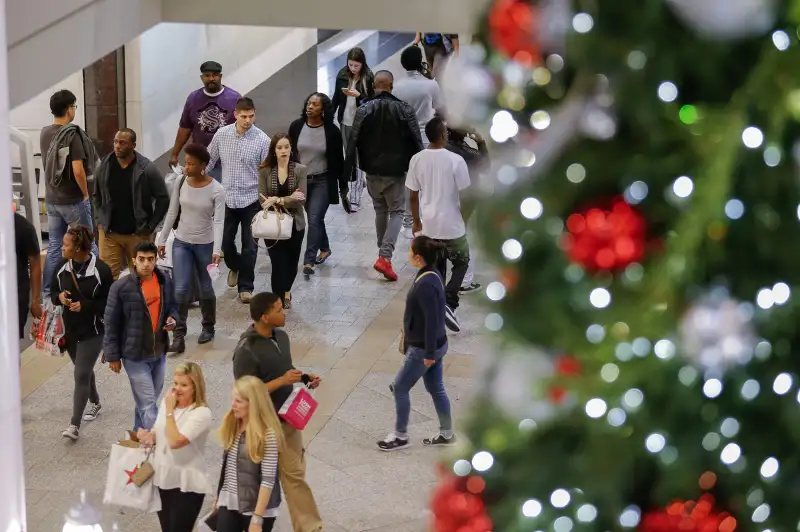 Erik S. Lesser—EPA/Newscom
Overwhelmed by the length of your holiday shopping list and the amount of cash you'll need to complete it this year?
You're not alone. A recent study found that 39% of Americans feel pressured to spend more than they can afford during the holiday season.
That's no wonder, with the average U.S. adult planning to drop $830 on Christmas gifts this year, and 30% of people planning to spend upwards of $1,000, according to a November Gallup poll.
To help you make the most of every gift-giving dollar, we've asked shopping experts for their smartest strategies for scoring deals and outsmarting retailers at their own tricks. Here are more than two dozen ways to save.
1. Track the items you want
One of the easiest ways to save is to avoid impulse buys. Start by making a gift list, then comparison-shop with InvisibleHand, a browser extension that automatically scours the web for the lowest price on whatever item you're looking at. You can also use price tracking tools like CamelCamelCamel or PriceZombie to see the highest and lowest prices an item is currently selling for, as well as its price history. That way you know whether to whip out the card now or wait till closer to Christmas, says shopping expert Lisa Lee Freeman, former editor of Consumer Reports' ShopSmart. (Click here for more of Freeman's insider shopping tips.)
2. Set up price alerts
Want something that's still too pricey for your budget? Use TrackIf.com to set up email alerts that will notify you when the price drops.
3. Ask for a price match
Once you know the lowest price an item is selling for, ask your local merchant to match it. Most stores will price-match with their direct competitors. You can even compare prices while you're out shopping by using mobile apps like PriceGrabber and ShopSavvy, Freeman says.
4. Shop from a cash-back site
Websites like Ebates.com, FatWallet.com, and TopCashback.com will give you cash back for shopping at certain retailers as long as you enter the shop's site through them first. You'll typically get between 1% and 5% of the purchase back, though sometimes retailers will run specials that bump that figure up to 20%.
You may have access to a similar deal through your credit cards. Discover's Discover Deals program, for example, includes several retailers who offer between 5% and 15% cash back when you click through Discover's site to the retailer. As with the sites above, these offers are on top of your usual credit card rewards.
5. Subscribe to store emails
It can be well worth the spam to sign up. Major retailers offer special loyalty coupons and early sale access to frequent customers. Just keep in mind that come-ons for 40% off clothing or housewares could cause you to ramp up spending even as you hunt for bargains. Avoid the temptation by keeping these emails in a separate folder that you check only when you actually need something.
6. Watch social media
Try following your favorite brands on Twitter or Instagram, Freeman suggests. These days stores publicize special deals and daily discounts on social media; it can also be a quick way to get customer service.
7. Use coupons
Don't want to sign up for dozens of retailer emails? Use sites like RetailMeNot.com and CouponCabin.com to search for coupon codes before making any online purchase. Or automate your coupon clipping by installing Honey, a browser extension that tracks coupon codes for hundreds of retailers and applies the highest value one to your cart at checkout.
8. Store your gift cards electronically
About $750 million in gift cards went unredeemed last year, according to a report by CEB TowerGroup. Avoid leaving money on the table—or at the bottom of your purse or wherever your half-spent gift cards go to die—by downloading the Slide app. Just scan a card into the iOS app to see the remaining balance, and then use the barcode it generates to redeem the card's value in store.
9. Leave your shopping cart unattended
Load up your online shopping cart, start the checkout process by entering billing and shipping info, then close the window. Stores hate this because 68% of online shopping carts are abandoned, according to web research firm Baymard Institute. Desperate to convert those almost sales into actual ones, many stores will send you an email within a few days offering additional discounts to get you to complete the purchase, says Kyle James, founder of Rather-Be-Shopping.com. You'll need to be registered at the site for this to work, and you can expect the best discounts if you've got a pricer cart.
James found 17 well known retailers, including Bed, Bath & Beyond, Macy's, JCPenney, and Toys R Us, that offered coupons ranging from 20% off to free shipping to customers who left their carts.
10. Swipe the right credit card...
Opt for a card that offers the sweetest cash back opportunities. Two of Money's Best Credit Cards are particularly profitable for holiday shoppers: Citi Double Cash gives 2% back on any purchase with no limit, while Discover It pays 5% on department store and Amazon.com purchases through the end of the year, in addition to its cash back portal offers. Just remember to pay off the balance in full so interest charges don't erase the reward earnings.
11. ...Which is never a store credit card
Retailers are rolling out all kinds of tempting offers to get you to open a credit card with them. Walmart promises $35 off a $75 purchase when you sign up for a card, while Macy's promises 20% off, up to $100 in savings. But these retailer-branded credit cards have much higher APRs than standard credit cards—23.2% vs. 15%, according to creditcards.com. And many also engage in the sneaky practice of "deferred interest," which means if you don't pay off the balance in full by the time the introductory 0% interest period ends, you'll be charged interest retroactively on the entire amount from the initial date of purchase.
12. Claim price adjustments
Save your receipts and continue to keep your TrackIf price alerts on after you've made your purchase. Some retailers like Target, Walmart, and Kohl's will refund you the difference if an item you bought goes on sale later. The window for making such adjustments varies with each retailer, but some offer extended time through the holidays, so it's worth asking, says Woroch. Walmart app users will find that the store logs what you buy and automatically refunds you the difference if an item's price drops.
Your credit card may also do it for you. Citi Price Rewind and any Discover or MasterCard offer price-protection programs. For instance, Discover will give you a refund for any price change within 90 days, meaning you could benefit from steep after-Christmas discounts.
13. Never pay for shipping
Many retailers offer free shipping when you spend over a certain amount, and some even give it as a bonus discount when doing big sale promotions, but if you can't find a coupon code, there are plenty of other ways to skirt delivery fees.
See if the retailer offers a ship-to-store option, where you buy online but pick up in store for no additional cost. Big-box stores like Walmart, Target, and Sears all do this.
Or sign up for an Amazon Prime trail. For 30 days, you'll get free two-day shipping anytime you order from the site. Just be sure to cancel your subscription before the trial ends, otherwise you'll be billed. You can get the same shipping benefit by signing up for a free trial at ShopRunner (American Express customers always get free two-day shipping from the site.)
Or wait until Dec. 18, known as free shipping day, when roughly 1,000 retailers offer shipping and guaranteed delivery before Christmas at no extra charge.
(For more ideas, read 5 Ways to Get Free Shipping Every Time You Shop.)
14. Start a "live chat"
You've probably seen that box pop up on your favorite retailer's website asking if you want to "chat now." Take them up on the offer and ping a customer service rep before you finish checking out. "Chit-chat for a bit. Say, 'This is a little more than I wanted to spend and I can't find a coupon, can you offer free shipping or a discount?'" says Kyle James. "These operators have coupons on their desk. They are just waiting for someone to ask." Just be sure to wait to add any other coupon codes or discounts until after your chat, warns James, as operators will be less likely to help if they see you're already getting a break.
15. Name your own price
For home appliances, camera equipment, home theater gadgets, or musical instruments, try shopping on Greentoe.com. Name the price you want to pay for any listed item, and if one of the site's network of retailers likes your offer, that's the price you'll pay. "Greentoe show you the lowest price currently online as well as the average, so you don't want to make an offer too far below the lowest or it won't be accepted," says Woroch. "But it's a great way to haggle without the work."
16. Buy discounted gift cards
Take advantage of other people's unwanted gift cards by buying them for as much as 25% off the face value at GiftCardGranny.com. Use the savings to help with your holiday purchases, says Woroch—or just give the cards as presents.
17. Shop on the right day
Depending on what's on your shopping list this year, you might see the best savings by waiting for a specific day to shop. By sorting through eights years of retailer data, James figured out the best days in December to shop for toys (Dec. 16), clothes (Dec. 18), and TVs (Dec. 11-13).
18. Skip deals with rebates
As much as 60% of store rebates, or more than $500 million, goes unclaimed every year, found Consumer Affairs and ConsumerWorld.org. If you're likely to forget or don't want to do the paperwork, forgo these deals all together and go for a slightly pricer option. "You'll save more in the long run," Woroch says. If you do want to claim rebates, make sure to mark your calendar so you don't miss the deadline.
19. Know when a sale is really a sale
Retailers are notorious for "high-low pricing" during the holiday season, says James. This is when retailers mark up merchandise right before a big sale or online promotion to trick you into thinking you're getting a much better deal they you really are. Black Friday and Cyber Monday's "amazing deals" netted the average Amazon shopper savings of only 2.5%.
Use the price tracking tools mentioned above to help you figure out which sale prices are actual bargains and not just clever marketing.
20. Round up the item's price
Every price tag seems to end in .99, and that's strategic. William Poundstone, author of Priceless: The Myth of Fair Value, found that using this "charm pricing" method increased sales on average by 24% when compared with the use of rounded, even pricing. To combat this, round up the numbers yourself before deciding whether to buy.
21. Do the math on bulk pricing
When a store is offering several items for one price, check to be sure it is actually discounted and not just clever signage making you think $5 soaps being sold five for $25 is a steal. And if is actually a discount, ask if you can get the lower price without buying all five.
22. Learn the layout
There's a reason the clearance section is always at the back of the store. The more aisles you walk down, the more likely you are to make unplanned purchases. Shoppers who walked fewer aisles checked out with only half their carts filled with impulse buys vs. 68% of items for those who visited all or most of the store, a Marketing Science Institute study found.
23. Leave the kids at home
The bigger your shopping party, the more stuff you're likely to grab, that same Marketing Science Institute study found. So leave your friends, your spouse, and your kids behind.
24. Put down that free treat
Indulging in just one free chocolate increased shoppers' desire for luxury goods like expensive watches, designer shirts, and Mac laptops immediately after eating, a study published in the Journal of Consumer Research found.
25. Bring your own soundtrack
Create your own mix of upbeat songs to combat the slower tempo songs stores pick. Studies show that such songs encourage you to move more slowly through the aisles, and that slower pace can lead shoppers to buy 29% more, according to Martin Lindstrom, author of Brandwashed: Tricks Companies Use to Manipulate Our Minds and Persuade Us to Buy.
Read next: 10 Subliminal Retail Tricks You're Probably Falling For