How to Score the Best First-Class Seats Without Paying Full Price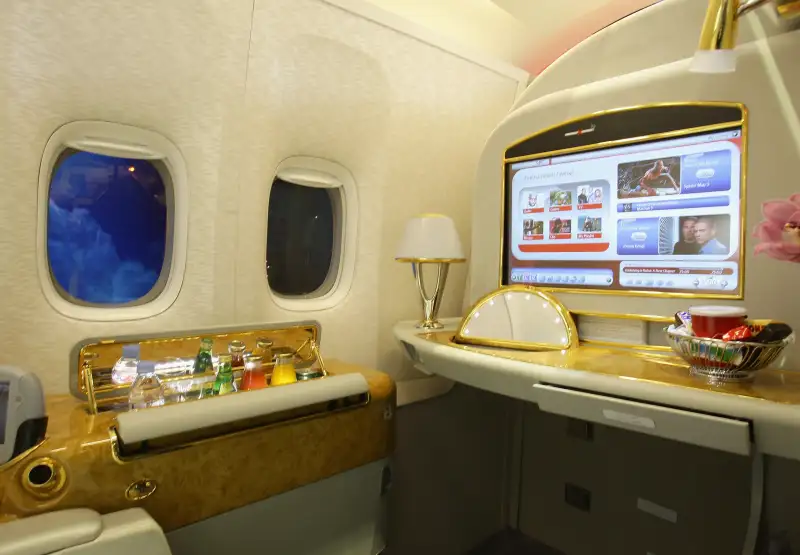 Andreas Rentz—Getty Images
Airline industry experts have been proclaiming the death of first class for years. While some airlines have done away with it altogether, others are doubling down with palatial suite-style seats, lavish amenities, and services that pamper, both on the ground and in the air.
What's ensued is a golden age of flying … for those who can afford it. In November, Singapore Airlines Ltd. and Emirates Airline both unveiled all-new first-class suites, tricked-out with such extravagant amenities as in-suite minibars and Mercedes Benz-inspired interiors. A round-trip ticket from Dubai to Geneva in Emirates' new suites can cost upward of $8,000—and that's on the affordable end of the spectrum. These airlines aren't alone: Quieter, gradual enhancements on such airlines as Cathay Pacific Airways Ltd. and Société Air France SA have resulted in truly premium experiences, with improvements ranging from more personal storage space to latest-generation entertainment screens and touchscreen seat controls.
Here's what the airlines don't want you to figure out: All it takes is a little points savvy to experience these seats for pennies on the dollar. And thanks to powerful credit cards such as Chase Sapphire Reserve and American Express Platinum, loyal flying may not be necessary. The trick is to adjust your strategy according to where you want to fly and which seat you want to fly in (1A, please). Here are the hacks that will get you into the five best cabins in the skies today.
Emirates First-Class Suites
Andreas Rentz—Getty Images
Why you want to fly it: Emirates' new suites, which were announced in November, are impressive not just for luxuriousness but relative rarity: For now, they're available only on certain flights—from Dubai to Brussels, Geneva, and London Stansted (starting on June 8). By the end of 2019, they'll be installed on just nine planes, all brand-new Boeing 777-300ERs.
If that sounds like a small number, it is. It's even smaller considering that there are only six suites per aircraft. Each suite has 40 square feet of completely enclosed personal space—a first for any airline—with stitched-leather seating created in collaboration with Mercedes-Benz and inspired by the automaker's S-Class vehicles. The seats also have in-suite minibars, personal temperature zones and mood lighting, and a privacy hatch for meal service.
How to book it for less than coach: Emirates may not partner with the large airline alliances, but it does offer valuable points partnerships that are easy to leverage. Those include American Express Membership Rewards and Starwood Preferred Guest, whose points can be applied toward an award booking through the Emirates website. A first-class ticket between Dubai and Europe costs 85,000 miles each way.
Have a Chase Ultimate Rewards account? Transfer points from there to Korean Air's Skypass program, which partners with Emirates, and your round-trip Dubai-to-Europe ticket will cost 120,000 miles. If you have Starwood Preferred Guest points to burn, try moving them to Japan Airlines Mileage Bank, which charges just 100,000 miles for a round-trip between Dubai and Brussels, Geneva, or London.
The caveats: Taxes and surcharges on award tickets can run you more than $1,000, and award space in Emirates' new first-class suites is virtually nonexistent—at least for now. As more planes with the new suites go into service and the hubbub over their launch dies down, that should change.
Singapore Airlines First-Class Suites
James D. Morgan—Getty Images
Why you want to fly it: Similar to those at Emirates, Singapore Airlines' first class improvements include all-new suites with closing doors on the upper deck of its flagship Airbus A380 jumbo jets, which are currently flying from Singapore to Sydney, Hong Kong, and London Heathrow. (The cabins are being installed on new A380s first, then retrofitted onto existing A380s over the next few years.) The distinguishing features? Swiveling Poltrona Frau leather armchairs that recline to 135 degrees, plus separate, stowable beds that are made up with Lalique linens. You can also turn adjacent suites into a huge one if you're traveling with a companion, and get primped up for landing in an enormous lavatory with a sit-down vanity counter.
How to book it for less than coach: The only miles currency that Singapore Airlines accepts for first-class bookings is its own KrisFlyer miles—a transfer partner of American Express Membership Rewards, Chase Ultimate Rewards, Citi ThankYou Rewards, and Starwood Preferred Guest. Even a new KrisFlyer member can score the 75,000 miles it takes to fly one-way in a suite from Singapore to Sydney by rolling over the same number of points from one of these partner programs.
The caveat: Limited availability, as with Emirates. Review frequent-flier boards such as FlyerTalk and the blogs of Boarding Area to stay up to date as availability loosens up on both products.
Air France la Première
Why you want to fly it: Air France's la Première first class is one of the most exclusive experiences in the skies. It debuted back in 2014, giving it broader accessibility on Boeing 777-300ERs from a few U.S. cities, including Los Angeles, New York, San Francisco, and Washington.
There are only four such seats per plane, each with wraparound curtains for privacy. But it's the details that set this experience apart: Think Givenchy pajamas, Sofitel MyBed linens and colorful cashmere throws on the beds, and Daniel Boulud-designed menus served on Limoges china with Christofle cutlery.
How to book it for less than coach: As one Air France flight attendant told me on a recent trip, "There are no upgrades to la Première." The airline doesn't make it easy to get it free by using miles, either, but it is possible. To do so, you can use only Air France's Flying Blue miles—and solely if you have elite status with the airline. The good news is, you need only a basic level of elite status to be eligible, so frequent fliers can credit a few weeks or months of travel to Flying Blue and they will be set. Flying Blue also transfer partners with American Express Membership Rewards, Chase Ultimate Rewards, Citi ThankYou Rewards, and Starwood Preferred Guest, so it's easy to pad your account with points from other programs.
The caveat: Brace yourself for high redemption rates. Flights between Paris and the U.S. will cost 200,000 miles each way, while flying from Paris to one of the airline's Asian destinations will cost 320,000 miles each way. Taxes and fees in either direction can also cost several hundred dollars.
Cathay Pacific First Class
Bloomberg—Bloomberg via Getty Images
Why you want to fly it: Cathay Pacific's excellent first-class cabins offer the full package experience, with everything from pre-flight spa treatments to Champagne and caviar service on board. The seats are extra-wide (at 36 inches) and extra-long (the bed stretches almost seven feet), and can be found on some of the carrier's Boeing 777-300ERs—including many of the planes it flies from its Hong Kong hub to such major U.S. airports as Boston Logan, Chicago O'Hare, LAX, and JFK.
How to book it for less than coach: Good news for U.S.-based fliers: Cathay is a member of the Oneworld airline alliance, along with American Airlines Inc., so you can use AAdvantage miles for award tickets on the Asian carrier. That costs 110,000 miles each way from the airline's hub in Hong Kong to the continental U.S., or 90,000 miles each way between Hong Kong and Europe. Have Alaska Airlines miles? You're in even better luck. It costs only 70,000 Alaska miles for a one-way, first-class ticket between Asia and the U.S. or Europe. Pro tip: Cathay often opens up award seats at the last minute, so spontaneous travelers can be handsomely rewarded.
The caveat: Booking via partners requires a work-around, as Cathay Pacific awards can't be found on Alaska or American's websites. Simply pinpoint the award seat you want, using British Airways' award search engine (another Oneworld partner), and then call Alaska or American's mileage desks with your specific, desired flights.
Etihad First-Class Apartment
MARWAN NAAMANI—AFP/Getty Images
Why you want to fly it: Most airlines are just playing catch-up to Etihad Airways, which debuted its stunning suites and three-room Residence back in 2014. What makes these suites so special? Access to some of the world's best lounges, on-demand dining (thanks to a dedicated, on-board chef), private minibars, and even in-flight showers. As with Singapore's suites, these also have Poltrona Frau reclining chairs and separate twin beds. You'll find all this aboard Etihad's A380s on routes to London Heathrow, New York JFK, Sydney, and Paris (starting on March 25).
How to book it for less than coach: Transfer agreements with American Express Membership Rewards, Citi ThankYou Rewards, and Starwood Preferred Guest make it feasible to book even the Apartment as an award ticket. All you have to do is shuffle points into an Etihad Guest account and redeem directly through the airline's website. Redemption rates vary by destination, but a one-way award ticket from JFK to Abu Dhabi costs roughly 136,500 Guest miles, plus $275 in taxes and fees. A similar ticket between Abu Dhabi and London costs far less: about 88,000 miles, plus $235 in taxes and fees.
Prefer to use AAdvantage miles? You can do that, too. A first-class award between Abu Dhabi and the U.S. costs 115,000 miles each way, and routes between Abu Dhabi and Europe come to about half that.
The caveat: Domestic customer support at American Airlines is wonky about redeeming flights on Etihad. As a result, you'll have to call one of American's international call centers, such as the one in Australia, to book with AAdvantage miles.