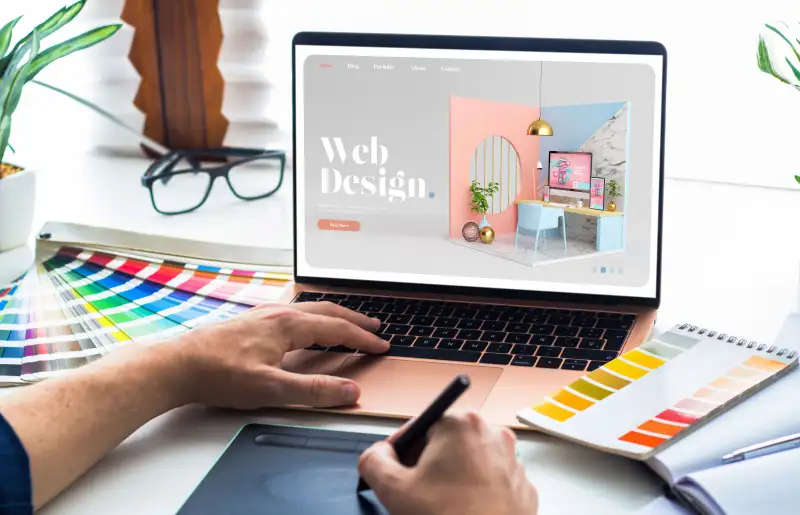 *Content includes branded mentions of our sponsor Hostinger.
With our world going increasingly digital, websites have become an effective and lucrative marketing tactic. Whether you're hoping to create a website to advertise your business and sell products, promote your brand or just start a fun blog to keep up with your personal circle, learning how to start a website can be an incredibly valuable asset.
That being said, learning website design, building and hosting can be a bit intimidating. There are many different types of websites so it can take time to determine which type might be right for you.
Read on to learn more about how to start your website, from creating a custom domain name and picking a hosting site like Hostinger to implementing SEO best practices and promoting your site.
5 easy steps to building websites
Learning how to build a website is easier than you think. Here's a step-by-step guide on how to start a website for beginners.
1. Create a custom domain name
The first and one of the most simple steps in learning how to start a website is choosing a custom domain name. The domain name refers to your website address. For example: www.money.com.
Choosing a strong domain name is very important, especially for business owners, as it helps drive traffic to your website. A good domain name should meet the following guidelines:
Easy to write and spell. Don't choose an overly complicated or long domain name. If people are typing your website into the search bar, it needs to be word-perfect, or else they won't end up on your website. This will also help with search engine optimization (SEO), which will help you appear on popular search engines like Google.
Incorporates niche keywords. This is another way to optimize your website for search engines. Your domain name should be the name of your business plus the service you offer. This will make your website easier to find by the right audience.
Avoid punctuation and double letters. Simply put, you don't want to lose a potential client because they couldn't figure out where the hyphen should go. When your domain name is typed out in all lowercase letters with no spaces, it should still be clear and easy to read.
Once you have an idea of what you want your domain name to be, it's time to register it. Use one of the best domain registrars online to check the availability of your domain name and register it for your own use. Fees for domain names depend on a number of factors, including the value of the domain name and the domain name suffix. Usually, you pay an annual fee to register your domain.
2. Pick a hosting site that fits your needs
The next step is to decide where to host your website. There are many different web hosting sites to choose from, all of which offer different hosting plans, features and prices. Where to create websites depends on your specific needs and level of expertise. Hostinger, for instance, is great for beginners looking for an easy to use control panel at a competitive pricepoint.
Here are a few things to consider when choosing a web hosting plan.
Security
Web security should be a top priority for you, especially as your web presence begins to grow and you become more vulnerable to cyberattacks. Here are a few things to look for in a hosting plan to determine if a hosting site is secure:
2-factor authentication to protect logins
Network monitoring for unusual website activity
Ability to assign user permissions
Ability to upgrade security if desired
If email is part of your plan, an anti-spam filter
If you are hosting an E-commerce website, secure credit card payment options
Regardless, if you are using a public network connection to work on your website, it'll be important to find the best VPN service to protect your data. Using the best password managers helps to securely guard your passwords and prevent cybersecurity issues. You can never be too safe online, so take all the precautions you can.
Customer Service
Good customer service on your web hosting platform is an absolute must. Since so much can go wrong on a website, and website downtime can seriously damage your business, most hosting sites have 24/7 support.
Customer service includes technical support (which covers hardware-related problems, server configuration issues, performance issues and more) as well as other forms of account support, like billing. You want to know that it will be easy and quick to receive support if you run into issues.
Another consideration is the type of customer service offered by the web hosting site. Some hosting sites offer live chats, phone calls, email service, ticket request systems and other ways of contacting customer service. Make sure your chosen hosting site has an option that works well for you.
Features
What do you need your website to do for you? Knowing what specific features to look for may help you avoid extra costs and find the perfect plan catered to you. Disk space, bandwidth, uptime, website speed, SEO tools, pre-installed apps and an intuitive website builder that's easy to figure out regardless of technical skills are all important features to look for in a web hosting service. Everything else is up to you and what you need.
3. Plan content and design your site
This is the fun part, as it's likely the very reason you decided to learn how to start a website in the first place. Once your website domain is ready to use and you've chosen a hosting site, you can plan your content and come up with website design ideas. Almost all hosting sites have a set of basic theme options to choose from, though you can get a bit more creative if you have coding skills or the funds to hire a web developer.
If you plan to regularly publish content on a blog, you would benefit from content planning in advance. Decide which pages you'd like to include and what content you'd like each page to display. Collect high-quality photographs and decide what font you want to use. This takes the guesswork out of your content strategy and helps you stay on a consistent posting schedule.
As you begin to write content and collect multimedia to post on your website, here are a few things you will want to keep in mind.
Using Search Engine Optimization (SEO)
One of the best tools at your disposal for promoting your website is SEO. Search engine optimization (SEO) is the process of making minor changes to your website to make it easier to find through search engines like Google.
There is plenty of information to learn about SEO tools and techniques, but here are a few basic changes you can make to help improve your on-page SEO:
Keywords. What is your website about? Choose some target keywords and be sure to sprinkle them in on each page. Do some research to figure out which specific keywords you want to target, and be careful to avoid "keyword stuffing".
Internal and external links. Use links on and off your website to build connections and gain authority in your niche. Having links that interconnect different related pages on your website, as well as links to your website from other websites, tells search engines that you are a trusted authority in your field.
Optimize media. Make sure that any photos or videos you post have appropriate file names that say what they are. Images should have alt text describing clearly what is in the picture.
Readability. Content on your website should be readable. Break up large paragraphs and use different headers and body text to categorize information. Readers should be able to clearly understand your writing and skim pages with ease.
Mobile compatibility. Your website should be easy to access on mobile devices.
These are only a few small examples of SEO. You will need to do some research of your own to learn more.
Be sure your website is easy to navigate
Having great content that provides value to your audience doesn't do you any good if your website is difficult to navigate. In order to avoid confusing your audience, be sure to include a navigation menu and keep your website simple, with a well-organized layout.
4. Invest in good CMS or e-commerce technology
If you're learning how to start a website to sell things, you'll want to look into an e-commerce content management system (CMS) or other e-commerce technology. This software allows you to edit your online store through a user-friendly application without knowing how to code. This is a huge advantage for those less experienced in website design who are trying to learn how to start an e-commerce website but are struggling with the technical side.
5. Perform regular maintenance and updates
Don't let your website go out of date. Check regularly to make sure everything is working correctly, that information is up-to-date and that there are no broken links. Nobody likes an outdated website.
How to promote and advertise your website
Once you've got your website up and running and have begun to implement SEO best practices, you can shift your focus to generating traffic to your website. Deciding how to promote your website will depend on what marketing techniques work best for you.
A few common techniques include:
Social media marketing. Use social media to your advantage to drive traffic to your website. Include links to your website on all your platforms and create content that prompts your audience to visit the site.
Content marketing. Use online web content to promote your website. This can include blogging, videos, podcasts and other web content that drives traffic to your website.
Email marketing. Leverage your online presence to build an email list and use consistent email marketing to encourage your audience to visit your website.
Online forums and communities. Post about your website in relevant forums, such as Facebook groups and Reddit. Make sure you abide by any posting rules. This can be an effective (and completely free!) way to advertise your website.
Pay-per-click advertising. PPC advertising allows you to advertise your website to search engine users by targeting specific keywords. The cost of PPC advertising can vary and depends on competition within keywords. If you're wondering how to advertise a website, this would probably be one of the more straightforward ways.
Different types of websites you can start
There are many different types of websites, but most business owners and individuals who want to know how to start a website are probably looking to start one that falls into one of these five categories:
E-commerce websites. The main purpose of these websites is to sell products. E-commerce websites need a shopping cart feature, a secure payment portal and a way to list and categorize products. The best e-commerce websites function as online marketplaces with high-quality photos and user-friendly navigation.
Blog websites. The central purpose of a blog is to post informational, entertaining or otherwise valuable web content, such as articles, videos and pictures. Blogging can be the main purpose of a website, or a blog could be built in as a section of a larger website. Great blogs provide valuable, usually SEO-optimized content on a consistent posting schedule. Starting a blog can be a lucrative way to gain a following and generate revenue.
Portfolio websites. These websites are meant to showcase a professional's skills and services. Types of professionals who may use a portfolio website to promote themselves may include artists, contractors and writers, to name a few. These websites are typically media-heavy, as they display the site owner's work and usually include testimonials from past clients.
Small business websites. These websites usually include any combination of the above elements to promote a business and increase conversions. Small business websites typically include basic information about the business, such as the location, services offered and a short history. They may also include blog and e-commerce sections, photographs, contact forms, media and more. Since the website's main purpose is to advertise a business, the possibilities of how business owners can choose to use these websites are endless.
Personal websites. Finally, personal websites exist to promote a personal brand or are just for fun. They may incorporate any of the elements above and may be especially rich in text or multimedia content.
Once you successfully drive traffic to your website, use a tool like Google Analytics to learn about your audience's demographics, interests and browsing activity. This will give further insight into how to advertise your website.
Easily set up your dream website
Whether you're learning how to start a business website to promote your products and services or just creating a personal website to establish an online presence, learning how to start a website is an incredibly valuable skill for marketing and communication.
Your website can be a great tool to help you sell products, share content, market yourself and stay in touch with the audience that matters most to you.