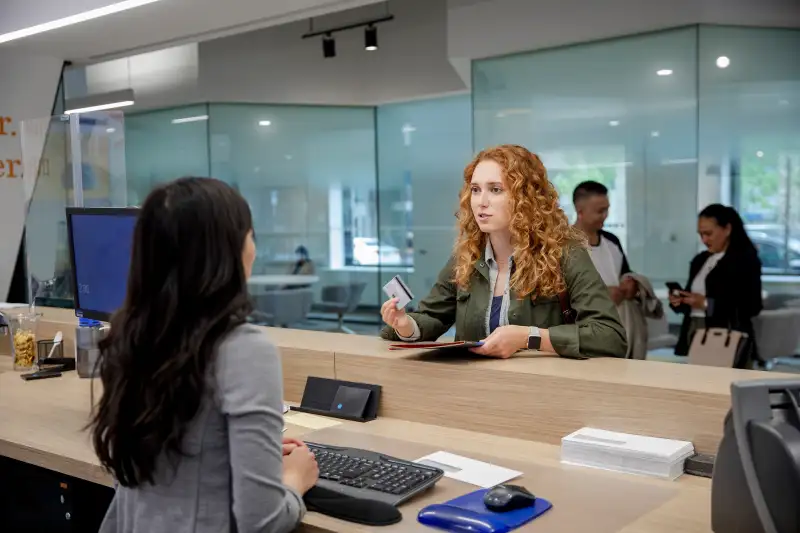 Switching banks isn't difficult — you can often do so online — and there are plenty of online and traditional lenders to choose from. Yet a seamless transition involves some prepwork, like updating automatic payments and ensuring no outstanding charges are linked to the old account.
Keep reading to learn how to find a new bank, open a new account and close your existing account without any inconvenience.
Steps to take when switching banks
Switching banks is easy. Take note of our recommendations, follow the steps outlined below and your new bank account will be ready to go in no time.
1. Research the best banks where you live
Start with a local search to find branches near your location. Take note of the bank's business hours, drive-through banking availability, number of in-network ATMs and any special services offered, such as online banking and mobile support.
(Pro tip: The bank's website should display interest rates, applicable fees and the types of accounts it offers — business, checking, savings or investment). Read our guide on how to choose a bank for more pointers).
Next, you can ask family and friends for recommendations and check out online reviews for any red flags or deal breakers.
J.D Power's customer satisfaction surveys and rankings can lead you in the right direction. The company's Banking Intelligence Platform organizes every banking survey under one accessible hub. We also recommend you check the bank's complaint history with the Consumer Financial Protection Bureau (CFPB) and verify if the company's been subject to any regulatory actions.
2. Take note of all of your automatic payments and deposits
Recurring transactions — direct deposits, automated clearing house (ACH) payments, recurring transfers and subscription payments — won't go through once you close your old account and switch banks.
Before switching to a new account, it's important to identify each recurring transaction linked to the old one. Failure to do so might result in transaction penalties or service disruptions due to missed payments.
Direct deposits - A direct deposit is any automatic deposit someone else makes into your bank account. Examples of direct deposits include bi-weekly or bi-monthly paycheck deposits, tax refunds or Social Security payments.
ACH bill payments - Automatic Clearing House (ACH) bill payments are payments you make to creditors, lenders and other entities from your bank account. You can set up recurring ACH bill payments for your mortgage or utility bills and you might also use this payment method for one-time purchases using your routing and account number.
Recurring transfers - Recurring transfers are automatic transactions that send funds from your bank account to another account. Take a recurring contribution to a retirement fund or a monthly savings plan, for example.
Subscription payments - Subscription services require customers to link a debit or credit card or authorize direct withdrawals from their bank account. If you're subscribed to services such as music and video streaming or meal delivery kits, check your bank statements and take note of any service that needs an updated payment method.
3. Open a new bank account
Once you've found a new bank, you'll need to choose which of the various checking and savings account options best suit your needs. Pay attention to details such as fees, limits, interest rates and any promotions from banks with incentives to switch. In addition, note any initial deposit and minimum balance requirements for the account.
Most banks allow you to open a new account online but you can also do this through a local branch. Whether you're opening an account online or in person, you'll need to provide the following information:
Contact information (phone number and email address)
Government-issued ID number and other details
Proof of residential address (utility bill, for example)
Employment and income information
Planned account activities
Existing bank account details if you plan to transfer the initial deposit instead of using cash or a check
After you submit the necessary documents, the bank will pull up an electronic or physical account agreement detailing the terms and fees of your new account. Read this carefully before signing. At this point, the bank may also ask if you want to set up additional services, such as overdraft protection.
Finally — if the bank requires it — you need to fund the account. There are several ways to go about this. You can provide the routing and account number to transfer funds from another account, give the new bank a check or deposit cash directly with the teller.
4. Update your autopay and deposits with your account information
Once you have your new account, update any automatic bill payments or deposits with the new account and its routing number. You can locate these details on the bottom of a paper check, ask your financial institution or check your online banking portal.
Next, contact your employer and any other entities with whom you have autopay, transfer or deposit arrangements. Most entities allow you to update this information online or by phone — as is the case with the Social Security Administration — but some may ask that you fill out a paper form.
5. Transfer or withdraw funds from your old account
The easiest way to move money from an old account is to transfer the funds to the new one. You can do this through your bank's external account transfer tool on its app or website. Note that a transfer fee may apply.
Alternatively, you could withdraw all the funds in person or request a check be mailed to you. Using an ATM to withdraw funds can also work, but you'll want to keep in mind daily withdrawal limits and ATM fees.
Regardless of how you choose to empty out the old account, remember to let all pending transactions clear or you'll risk paying an overdraft fee.
6. Close your old account
After you've removed all the funds from your old account, contact your old bank to begin the closure process. In most cases, you'll need to fill out a closure form but the submission method (online or mailing it in) varies by bank. Some banks allow you to close the account via phone or secure online messaging.
Once you've submitted the application, the bank will verify that your account has no unresolved issues such as overdrafts or outstanding checks. If everything checks out, the account will be closed. Note that the bank may charge a fee if you close the account shortly after opening it.
7. Install your new bank's mobile banking app
Managing your finances through mobile banking apps is a breeze. You can initiate transactions and track their progress, access bank statements and manage your account, all without leaving the house.
To locate your new bank's mobile app, check your phone's app store. The bank's website should also have a page dedicated to its mobile app and its features, tech support options and supported platforms.
8. Activate your new debit card
If your new bank account provides a debit card, you should receive it within a week or two of opening the account. The card should come with a letter and instructions on activating it, which you'll need to do before using the debit card.
There are several ways to activate a debit card: online, by phone, at your bank's nearest ATM or with a bank teller. You'll need to have the card's number and security code on hand as well as your personal identification number (PIN), especially if you plan to activate it at an ATM.
Common reasons for switching banks
Customers may switch banks because they're moving to a new location, found better rates with a competitor, or simply because they're dissatisfied with the customer service.
No branch locations where you're moving to
It's no surprise that digital banking is here to stay. Even traditional lending institutions now offer portals where customers can see their account information, and make check deposits, money transfers or wires.
That said, a local branch is still necessary for certain transactions, and a lack of nearby branches or limited operating hours may be a dealbreaker for those who make frequent cash deposits or large cash withdrawals.
Better rates and lower costs elsewhere
No one likes losing money unnecessarily. Banks with low interest rates keep you from maximizing the money you have at hand, while high service and overdraft fees can add up if you're not careful.
Below are examples of the service fees charged by some of the largest national banks, Chase, Citigroup and Wells Fargo:
Monthly maintenance: $10 to $25
Out-of-network ATM: $2 to $5
Wire transfer fees: $15 to $45
Non-sufficient funds: $30 to 34
Stop payments: $30 to $35
The good news is that many banks don't charge these fees or offer waivers, and others set more competitive interest rates as well (especially when it comes to savings accounts). Some banks might even give a cash bonus for meeting savings goals and for opening a new account.
Note that you'll need to meet specific conditions to qualify for most service fee waivers. Chase, for example, waives its $12 monthly fee if you meet one of the following: 1) receive $500 in monthly electronic deposits, 2) maintain a daily balance of $1,500 or more or 3) keep an average daily balance of $5,000 in qualifying investments or deposits.
Poor customer service
Signs of poor customer service include constant errors, rude representatives, negligent customer care, lack of disability accommodations and inefficient automated customer support.
Online banks were the chief offenders in this category (particularly when addressing customer complaints online), but brick and mortar lenders aren't that far behind. According to J.D Power's 2022 US National Bank Satisfaction Study, traditional banks saw similar complaints regarding in-person service and the ability to resolve customer complaints.
If you've noticed these problems, it may be time to switch banks, especially if you've reported the issue with the bank and received no resolution.
The Key Takeaways
Switching banks isn't that different from opening a new bank account, save for a few added steps.
Once you've chosen a new bank — our reviews for the best national banks and the best online banks can lead you in the right direction — your main goal is to prevent any issues with payments and deposits linked to your old account.
Avoiding this is simple enough: update every deposit, autopay and transfer with your new account number and wait until all pending transactions clear before fully closing the previous account. Then, all that's left is to activate the new debit card, install your new banking app and you're good to go.