How to Watch the March Madness Final Four Games Online for Free Tonight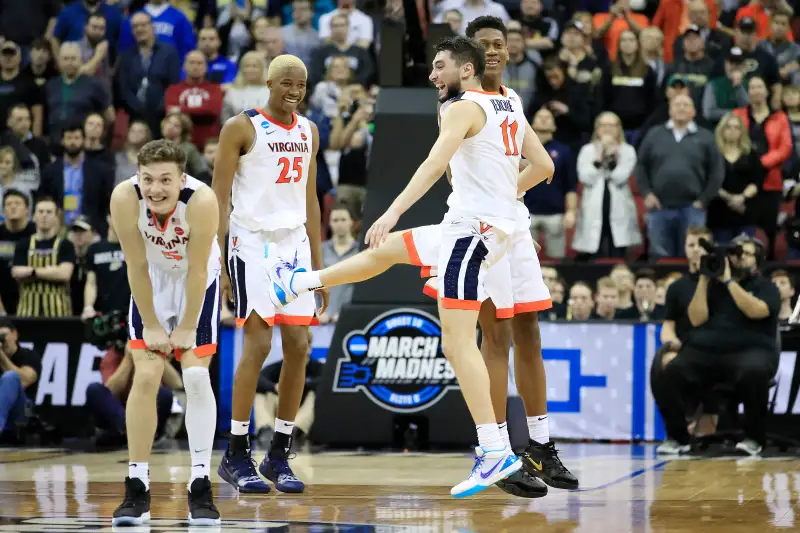 The 2019 March Madness NCAA men's basketball tournament is nearing the end: Just three games remain, including the two Final Four games tonight.
Duke, the favorite to win the 2019 championship largely on the back of freshman superstar Zion Williamson, was knocked out of March Madness last weekend by Michigan State, a No. 2 seed in the tournament. Alongside Cassius Winston and Michigan State in the 2019 Final Four are Virginia (the only No. 1 seed still alive) and two surprising contenders vying for the championship: Texas Tech and Auburn.
Tonight's Final Four games, being played in Minneapolis, feature showdowns of Auburn vs. Virginia, followed by Texas Tech vs. Michigan State.
Here's all the other information you need to watch March Madness for free — online or on TV — during the Final Four tonight and the NCAA championship game scheduled for Monday, April 8.
What Channel Is the Final Four on Today?
The two Final Four games tonight and the 2019 NCAA championship game on Monday are all being broadcast on CBS.
Here's the March Madness college basketball TV broadcast schedule today, Saturday, April 6, 2019:
• Auburn vs. Virginia, 6:09 p.m. ET on CBS
• Texas Tech vs. Michigan State, 8:49 p.m. ET on CBS
And here's when the men's college basketball NCAA championship game starts on Monday, April 8:
• TBD vs. TBD, 9 p.m. ET on CBS
It's easy to watch the Final Four for free on TV tonight. If you have cable or another pay TV package, it most likely includes CBS and other major broadcast networks in the bundle of channels. Simply find your local CBS channel to watch Virginia vs. Auburn and Michigan State vs. Texas Tech tonight.
It's also easy this year to watch the Final Four for free if you don't have cable. If you have a TV, in most of the country all you need to watch CBS — and other major over-the-air broadcast networks like ABC, NBC, and Fox — is an HDTV digital antenna. You can buy a decent digital TV antenna for about $25, and once it's hooked up to your TV, you should be able to tune in your local CBS station and watch the Final Four games for free tonight.
The channels you can tune in with a digital antenna vary based on where you live, how strong the antenna is, and where the antenna is positioned in your home. So not everyone will be able watch the Final Four tonight for free by way of a digital antenna. But in most of the country, you can use an antenna to tune in CBS and many other local broadcast affiliates for free, without subscribing to cable or paying a dime outside of the cost of the antenna itself.
How to Watch the Final Four Online for Free: Live Streams
If you don't have a TV, or just prefer to watch the Final Four online for whatever reason, there are plenty of free March Madness live streams available.
Probably the easiest way to live stream Auburn vs. Virginia and Texas Tech vs. Michigan State tonight is with the NCAA's March Madness Live. You can stream college basketball games tonight with March Madness Live in a browser or with an app for Android or Apple, and there is no subscription or registration required.
Bear in mind, however, that the March Madness Live website (or app) generally lets you stream college basketball tournament games for free only for about three hours. After that, you may be asked to log in with a participating pay TV account and password. But fans should be able to use the live stream to watch most of tonight's Final Four games before hitting the limit. (If you're locked out before Final Four games end, you might try switching to a different browser to catch the rest of the action.)
There are also many live-streaming TV services that include CBS in their channel bundles, and you can watch the Final Four online for free tonight by way of a free trial.
CBS's live-streaming service, CBS All Access, lets you stream all CBS content, including March Madness games live, on a smart TV, laptop, or any connected device you like. The normal price of CBS All Access is $5.99 per month, but you can check it out and stream Final Four games for free (as well as the 2019 national championship game) if you're a new subscriber and sign up for a one-week free trial.
The live-streaming TV services FuboTV, DirecTV Now, Hulu + Live TV, PlayStation Vue, and YouTube TV also come with CBS alongside dozens of other channels in their basic packages. The regular costs of these live-streaming TV services start at about $45 per month, but they all offer free trials lasting five to seven days for new subscribers. So you could register for a subscription and watch the Final Four games today and the national championship game on Monday online for free, while your free-trial period is still in effect.
Just remember that if you do not want to pay for live-streaming TV, you must cancel before the free-trial period expires. You'll automatically be charged for the first month if you don't cancel the subscription in time.
We've included affiliate links into this article. Click here to learn what those are.