How to Watch the Sunday NFL Games Online for Free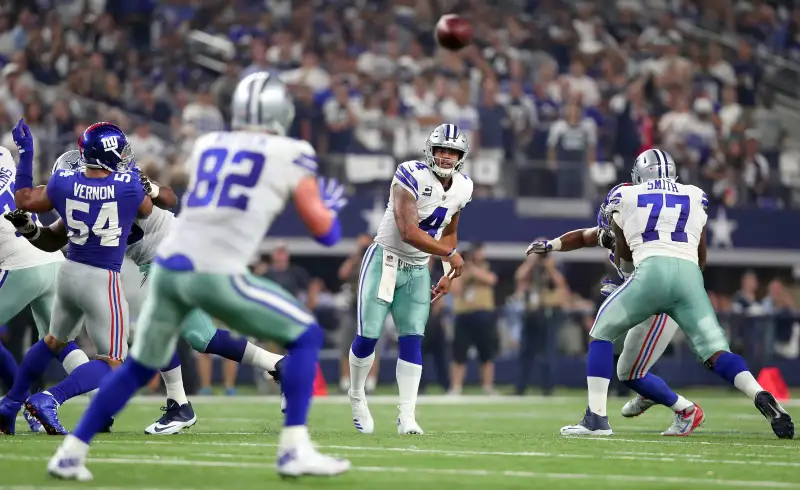 Tom Pennington—Getty Images
[This guide for how to live stream NFL games for free is from 2018. While these methods may still work, check out our 2019 version of how to watch NFL games online for free here.]
The third week of the 2018 NFL season is here, and although it's still very early in the year, there are some awesome matchups on the game schedule.
Week three technically kicked off with an exciting "Thursday Night Football" game in which the Cleveland Browns won their first game in more than a year, over the New York Jets.
The NFL games on Sunday, September 23, include the return of quarterback Carson Wentz, who will try to lead the Super Bowl champion Philadelphia Eagles in their game against the Indianapolis Colts. Other Sunday matchups include the New Orleans Saints vs. Atlanta Falcons, Green Bay Packers vs. Washington Redskins, Tennessee Titans vs. Jacksonville Jaguars, and New England Patriots vs. Detroit Lions.
The 2018 season arrived with new options for fans who want to live stream NFL games for free, even if they don't have cable or a streaming TV service. But the new services that let you watch the NFL online have also created frustrations for fans — largely it has been tough to figure out exactly how and under what circumstances live streams are available for free.
We'll try to clarify which NFL games you can watch for free online, and explain how to go about it.
How to Live Stream NFL Games for Free With Yahoo Live or the NFL App
As we've explained in previous stories, the 2018 season marks the first time that fans can live stream many NFL games for free using the Yahoo Sports app or the NFL App. The apps should work with whatever wireless provider you have, with no requirement that you log in with a satellite or cable TV account.
That sounds awesome, and it is indeed a great deal for fans who have cut the cord on cable TV. But the new live streaming options come with some restrictions — some people call them "gotchas" — and fans shouldn't expect to be able to watch unlimited NFL games online for free.
Here are some key points to keep in mind:
• You can't stream every NFL game for free. Once you have the latest version of the NFL App or Yahoo Live app downloaded, you can live stream NFL games that are being broadcast locally on TV in your area of the country, as well as nationally broadcast primetime games. In other words, you should be able to stream your local NFL team's Sunday game, plus the marquee matchups aired on NBC's "Sunday Night Football," ESPN's "Monday Night Football," and Fox and the NFL Network's "Thursday Night Football."
But if you want to watch any other NFL game online or on TV — let's say you live in Florida but root for the Oakland Raiders — you'll have to subscribe to a pay TV or streaming package that includes out-of-market games. These packages generally cost around $300 per season.
• You can't watch an app's live stream on your TV. This is one of the biggest sources of confusion regarding the NFL App and Yahoo Sports apps' new capabilities. You can use the apps for free streaming to your phone (and in some cases, a tablet), but they cannot be used to screencast games to a TV. So if you were hoping to use an app to cast the game to your 65-inch TV, you're out of luck.
On the other hand, remember that many NFL games are broadcast on free, over-the-air channels like CBS and Fox. Even if you don't have a pay TV package, you can access these channels — and watch your local broadcast for free — by connecting your TV to a digital antenna. Buy one for about $25 and you'll be able to watch your local NFL games, plus catch "Sunday Night Football" on NBC and "Thursday Night Football" when it airs on Fox, for free throughout the season — without paying a cable bill.
• You might have to use data, not wifi. Some fans who have been trying to use the apps to live stream NFL games have complained that they were prompted to log in with a pay TV provider account, and that they were instructed to turn off wifi and use their cellular data. What gives?
For the apps to function properly, you must download the latest version. If you have an older version, you may be asked for a pay TV log-in. And while you can live stream most of the games available on the NFL App or Yahoo Sports app while connected to wifi, it seems there are some games that can only be streamed if wifi is turned off. Specifically, it appears as if the "Thursday Night Football" games airing exclusively on the NFL Network can be live streamed with either app only if you're using data, not wifi. Obviously, that data use has the potential to make "free" streaming a bit more costly, depending on your wireless plan.
For example, the Jets vs. Browns game on Thursday, September 20, could have been live streamed on the apps only if you were using data — because it was broadcast on the NFL Network. One week later, though, the Vikings vs. Rams game on Thursday, September 27, can be live streamed on the apps with wifi or data because it's being broadcast on Fox.
• So far, the NFL live streams have been glitchy. Unsurprisingly, the apps have been popular this season. But perhaps because so many fans have been trying to use them to watch the games, the apps have also been reportedly riddled with glitches. The latest app reviews are loaded with complaints about frequent crashes, constant requirements to download new versions, and the like.
• Watching football on a small screen stinks. Smartphones are big nowadays. Even so, watching a sporting event on any phone screen is hardly the optimal viewing experience. This holds especially true for football, where the action takes place over a huge field — and the ball looks like a speck of dirt on a phone.
The NFL has made new live streaming options available this season to win over new fans and keep the existing ones tuned in. But what the NFL and its partners really hope is that you enjoy the product on the field so much that you pay up monthly for a cable, satellite, or streaming TV package. So it appears as if it's no accident that the new options cannot be used for streaming games on TV.
How to Live Stream NFL Games on TV for Free
If you do want to watch the game on your big screen, many streaming TV services have packages that include access to local channels like CBS, Fox, and NBC, as well as pay TV channels that air NFL games, like ESPN and the NFL Network. These services all have free trial periods for new subscribers, making it possible to stream NFL games for free for a week or so before you'll be charged.
The streaming TV services that have some (if not all) NFL games include Fubo TV, Hulu Live, DirecTV Now, PlayStation Vue, Sling TV, and YouTube TV.
Before subscribing to any of these services, check carefully for what channels are included. Fubo TV, for example, is a sports-focused streaming TV service, but it does not include ESPN — so you can't use Fubo TV for watching "Monday Night Football" broadcasts.
Also, be sure to cancel any of these services before the free trial period expires, or you'll be charged the monthly rate, which ranges from around $25 to $45.
How to Watch the NFL for Free on Amazon Prime
As we reported previously, the NFL signed a contract with Amazon that allows some — but not all — 2018 "Thursday Night Football" games to be live streamed for free on Amazon Prime Video. Here are the specifics:
We've included affiliate links in this article. Click here to learn what those are.