HQ Trivia Paid Nothing For Its Super Bowl Ad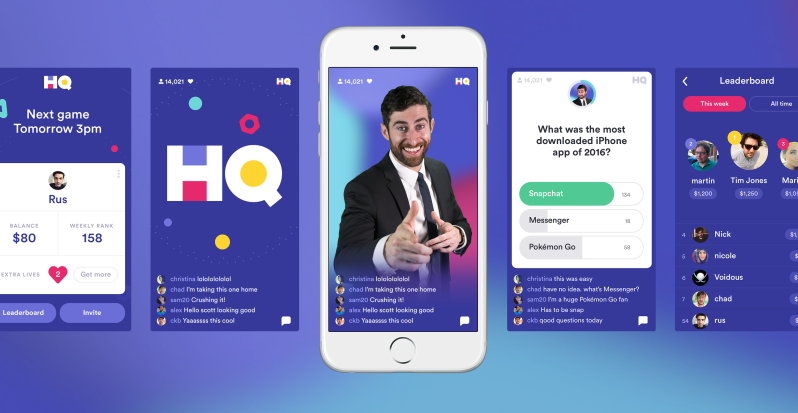 HQ Trivia, the fast-growing and controversial interactive game-show app, edged further into the mainstream on Sunday, airing a commercial on NBC just three minutes before the Super Bowl broadcast began. The spot, in keeping with the online game's off-kilter aesthetic, featured a 12-second clip of a woman screaming in excitement followed by a screen showing the app's logo. The source: a video, posted on Twitter last month, featuring Lauren May, a young woman who won $11.30 playing the trivia game and celebrated with disproportionate gusto.
Though HQ's parent company, New York-based startup Intermedia Labs Inc., has already raised $8 million and is in negotiations to raise additional capital at a valuation of about $100 million, the company didn't dip into its cash reserves to pay for the ad. Super Bowl commercials have been going for around $5 million this year for 30 seconds, but this one cost HQ nothing at all. NBC gave the spot to Intermedia for free.
When asked about the price of the ad, an Intermedia spokeswoman indicated that no money had changed hands for the spot. "HQ Trivia does not do any paid advertising or marketing," she said. She declined to comment on how the company got the ad for free.
Why would NBC give away valuable ad time to a startup with only about 30 employees, especially one it competes with? Comcast Corp., parent company of NBCUniversal, didn't immediately respond to a request for comment, but the surprise freebie gives credence to speculation that the two companies may be pursuing a possible partnership, an investment deal, or both. HQ's host, comedian Scott Rogowsky, appeared this afternoon during the network's pregame coverage, and earlier this week, Intermedia hired Brandon Teitel, a former NBCUniversal executive, as the company's head of programming and partnerships.
A deal with Intermedia would be an enticing prize for Comcast, which, like all big media companies, has been looking for ways to reach millennials. In the span of just a few months, HQ has managed to attract live audiences each night that are on par with the biggest online broadcasts. HQ's shows, which air weekdays at 3 p.m. and 9 p.m. New York time, have been routinely attracting more than 1 million concurrent viewers. At the end of last month, it attracted its largest audience to date: 1.6 million viewers. (For a sense of why that's impressive, consider that last year's Super Bowl broadcast on Fox attracted an average online audience of 1.7 million viewers.) Intermedia Chief Executive Officer Rus Yusupov told Bloomberg Businessweek in January that the company plans to eventually create an interactive streaming television network on mobile phones.
HQ's Super Bowl coup came just days after a controversy over the company's other co-founder, Colin Kroll, flared up on Twitter. After Recode reported that Intermedia was close to raising money from Founders Fund, the venture capital firm started by Peter Thiel, the hashtag #deleteHQ was briefly trending on Twitter, as activists reacted to the possible involvement of a supporter of U.S. President Donald Trump and the fact that Kroll had been accused of "creepy" behavior while he worked at Twitter. In December, Lightspeed Venture Partners, HQ's first investor, said it had investigated the behavior but didn't find evidence of any wrongdoing.
According to a person familiar with the negotiations between Intermedia and Founders Fund, Thiel has had no personal involvement in the deal, which would include a $15 million investment, led by Founders Fund partner Cyan Banister. The person, who asked not to be named because the discussions are private, said that Banister conducted her own investigation and came away satisfied.
On Twitter Friday, Banister implied it was unfair to assume that Thiel was directly involved in the deal. "Throughout my career journalists have on the one hand decried the lack of females in VC/tech and on the other consistently attributed my work, as a female VC, angel and entrepreneur, to my male colleagues," she wrote.