Inside the Strange and Fascinating World of Celebrity Money Handlers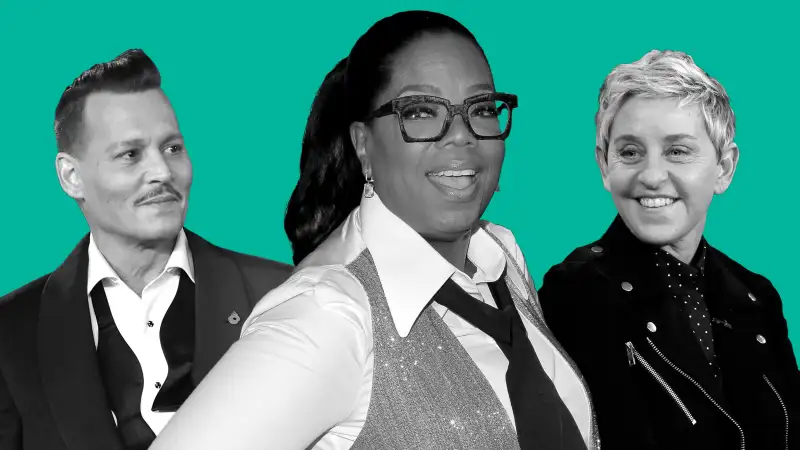 Ellen DeGeneres doesn't know her ATM pin. Oprah hadn't seen the inside of a bank in 29 years. Serena Williams tried to deposit million dollar checks in a bank's drive-thru. Stories like this go viral but also serve as tiny windows into the weird, unconventional ways celebrities interact with money — or in some cases, don't at all.
Personal assistants are the cash handlers for many celebrities, a job that rarely comes with any sort of Hollywood glamour. A young, female personal assistant remembers a time when one well-known director asked her to get stores to loan her clothing for her boss — just so he could see the items in person. She was making $700 a week, while searching for antique Danish coffee tables in the $15,000 range for his prewar apartment.
"Honestly I think he's just extremely cheap," she said of her former boss. "It's a very selfish mindset he has. He has no problem spending money on himself."
The experience has now led to her asking pointed questions of prospective employers about their demands in the future to vet them. (She's been luckier with her bosses, including an A-list actor, since.) "Unfortunately the longer someone has been famous, the less they remember how to do menial tasks for themselves. They have these expectations they think are commonplace, but to any other human, you kind of feel like you're adult-babysitting."
That's where someone like Mike Vaden comes in. The 64-year-old Nashville native, who leads the entertainment division at the firm Elliott Davis, found his calling as a young accountant when he started working with Johnny Cash and Waylon Jennings. He now works with some of music's biggest stars (he doesn't disclose names of current clients) to get the most out of their dollars—a talent the artists often lack.
"What we do is manage the managers," Vaden said of a business manager's role. "We beat up the money managers to make sure they're doing their job and getting their client a good return." (Money managers specifically look after investment portfolios, while business managers work more broadly with clients' financial concerns.)
That means everything from communicating with stockbrokers about investment decisions to negotiating any major deals, from real estate to cars. They make it all happen.
"Anything related to one's financial life that I like to say you and I would handle ourselves—that's what we do with them," said 54-year-old Arnie Herrmann, a partner at Citrin Cooperman whose clients include Martin Scorsese and Barbara Walters.
The business managers and their teams take on even the most mundane financial tasks, which the rest of us would happily unload on someone else, like paying the monthly electric bill. Herrmann's office cuts checks and keeps track of clients' expenses. The assistant mentioned earlier said business managers have issued credits cards in her name for work expenses, like those takeout meals. (She speaks glowingly of good business managers, saying, "They're almost like having another agent.")
Assistants also frequently take on big financial chores. Sarah H., a former assistant to a TV showrunner, had to go to a public notary in the middle of a shoot so she could unload her boss's vehicle at CarMax. "I ended up becoming a temporary power of attorney for him so I could sell his car for him because he said he was too busy," she said. "He was not." (She chose to keep her boss anonymous because of professional concerns.)
Certain prominent names, in the vein of Oprah and Ellen, don't even bother getting cash out for themselves. "We do have a few that we work with the bank that delivers cash to them on a weekly basis. Bonded messengers will relay cash to them," Herrmann said. "Other times they have a member of their staff they trust to get it. There are varying degrees of financial sophistication."
And the less sophisticated can get into heaps of trouble. Johnny Depp's money woes became national news recently when he waged legal war with his ex-business managers at The Management Group, alleging that they misused his funds. TMG countersued, claiming that Depp alone was responsible for his "financial turmoil," citing extravagant expenses like over $3 million to shoot Hunter S. Thompson's ashes out of a cannon, $75 million on 14 residences, and a stunning $30,000-a-month wine budget. TMG said they had warned the actor of his reckless spending.
Not every horror story is quite as ugly as Depp's. Vaden sees it as his mission to "educate" clients by delivering them monthly reports and talking through their situations, but he's had stars come to him who have been duped out of a lot of cash.
"We had somebody who was collecting art that was painted by some no-name Chinese artist. He had been talked into it without knowing what the market actually was," Vaden said. "Whoever talked them into it backed it up with stories about some art selling for high-dollar numbers, and they wanted to believe it and liked some of the work. They thought they were investing, but they were really just following a whim. It was a lot of money, but not to them." He added that clients tend to have their "hot buttons" when it comes to acquisitions—the things they find hard to resist, whether it's land, horses, or fine wines.
The lesson seems to be that at least a significant number of Hollywood's elite are better off turning over financial strategy and even minor expenses to the pros. Maybe Oprah and Ellen know what they're doing after all.
"Most of them need special attention in that they are not savvy to much of any kind of business transactions from mortgage rates on loans to rates of return on their investments to any kind of tax brackets that they're in. They really focus on the creative process," Vaden said. "We get them out of bad situations and try to steer them down the road of saving money."
But of course, the handlers can get burned, too. The same assistant who worked for the "neurotic" director, as she called him, also talked fondly about a movie star she assisted on a project who had a gift for the cast made. But the leather engraving shop where she picked it up was cash-only, so she ended up paying $1,200 out of her own pocket. She still hasn't been reimbursed over a year later, despite calling and emailing the actor's business manager.
"I feel like such an asshole, " she said. "I was like, oh no, this poor guy gets constant attacks trying to suck [money] from him. And now I'm that person."
Still, she wants to be paid back.