These Instant Pot Deals Are the Best We've Seen Since Amazon Prime Day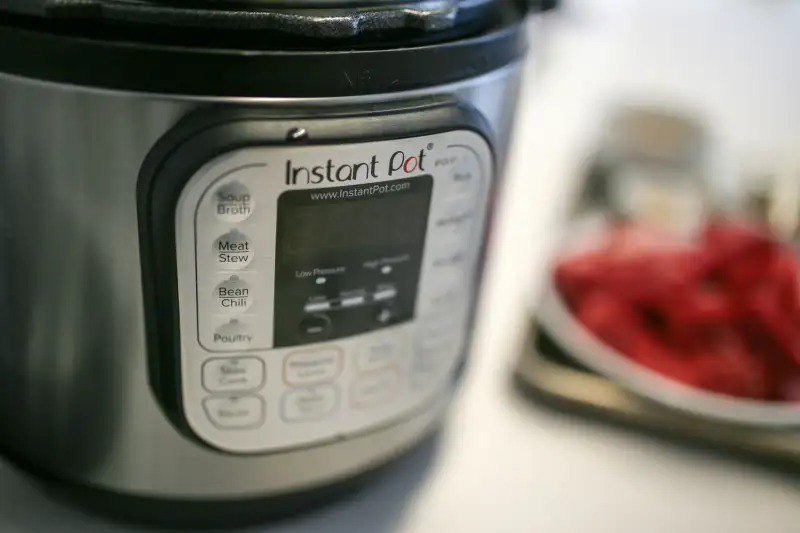 Detroit Free Press—TNS via Getty Images
Amazon, Walmart, and Target all just launched huge Instant Pot sales — and right now the deals are better than Black Friday.
At Walmart, the six-quart Instant Pot DUO60 is on sale for $59.95, or 40% off the regular price of $99.95.
Essentially the same Instant Pot deal (just under $60 for the DUO60) is available from Amazon and Target, and all three retailers will provide free shipping for online orders. It's unclear when these special discounted offers will expire, and it's possible they could sell out.
So how good is this Instant Pot deal?
For the sake of comparison, the lowest price we saw for the same model Instant Pot was on Black Friday 2018 and was just under $70. The only time we can recall seeing a slightly cheaper price for the Instant Pot DUO60 was Amazon Prime Day 2018, when it was listed for $58.99 — before it quickly sold out.
If you're unfamiliar with the Instant Pot, or not convinced you'd find one handy in the kitchen, check out our Instant Pot overview guide, which runs down the variety of sizes, models, and functions available with this cult-favorite multi-cooker. The six-quart Instant Pot DUO60 currently on sale has seven functions — pressure cooker, slow cooker, rice cooker, steamer, sauté, yogurt maker, warmer — and is frequently cited as the most popular and best-selling Instant Pot model.
If you are more interested in a larger Instant Pot, or one with more functions and features, there are some other deals worth considering right now.
The bigger eight-quart Instant Pot DUO80, which has the same seven functions as the DUO60, is on sale at Walmart for $84.99 ($149.99 regularly), and the 10-function Instant Pot Ultra is discounted to $89.99 ($159.99 regularly). Similar Instant Pot prices are available at Amazon.
Finally, if you're still on the fence about jumping on an Instant Pot deal right now — or if they quickly sell out — there could be more Instant Pot sales in a few weeks. Amazon has not officially announced a date for Amazon Prime Day 2019, but it's widely expected that the "summertime Black Friday" will take place around July 16 and July 17. And while Prime Day deals are available only to Amazon Prime members, you'll surely be able to find Instant Pot sales even if you're not a Prime subscriber — because other major retailers like Walmart, Target, and Macy's will likely host big sales around the same time to compete with Amazon.
We've included affiliate links into this article. Click here to learn what those are.