How Do I Interrupt the Office Chit Chatter Without Seeming Rude?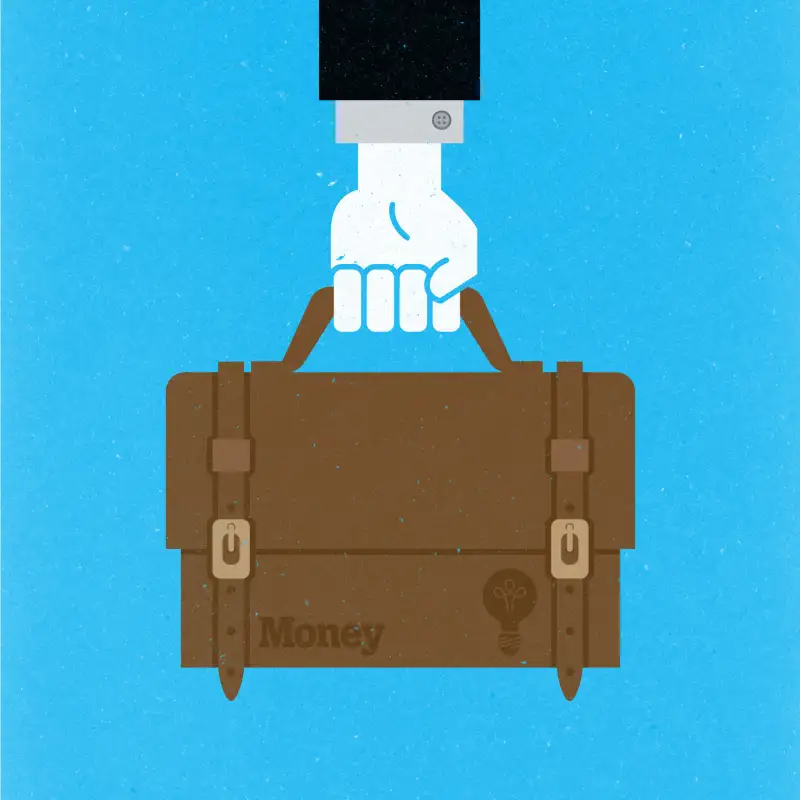 Q: What's a professional way to interrupt a conversation at work?
My job often requires me to get input from someone who is higher up than me in order to complete my work tickets. Usually, I need a quick answer to a question or two.
However, he is very social and it seems like he is always chatting with someone, both work-related and a lot of chat about his kids/weekend/etc.
When I need to talk to him, usually I just stand at a distance until he acknowledges me, and then I tell him I have a question and offer to come back at another time if he is busy. I feel less bad about it when he is going on about sports or whatever. It seems like instant messages would be perfect for a situation like this, but when I try this there is about a 50/50 chance of getting a response. He has never has responded to my emails.
Read More: My employee constantly interrupts me with unnecessary questions
A: If he's in the middle of a conversation that's clearly social and not work-related, what you're doing sounds reasonable — standing nearby until he gives you an opening to ask if you can interrupt with a question. It's good to also say something like "I'm sorry to interrupt — can I ask you a quick work question?"
If he's in the middle of a conversation that's work-related and your question isn't time-sensitive, I generally wouldn't do that — in that case, you'd want to default to letting him finish the work conversation he's in before starting a new one. But of course, if your question is very time-sensitive and needs to get resolved quickly, you may not have a choice but to wait for an opening to interrupt.
The other thing you can do is to ask him during a moment when he's more free how he'd like you to handle this. For example: "I'm never quite sure if it it's okay for me to interrupt you when I have something I need your input on. Is it okay for me to keep doing that, or would you like me to handle it differently?" (Although since this is someone who has never responded to an email from you, this might not be worth asking — because if he says "try emailing me," you're not going to want to actually follow that suggestion. With normally responsive people though, it's always fine to just ask what they prefer.)
Read More: My coworker follows up on emails in person if he doesn't get an instant response
Q: Should I tell my boss that I'm going through a tough time in my personal life?
I work at an amazing company that cares about me as a person, is incredibly flexible with time off and working from home, and treats me very well as an employee. In the past few months, I have gone through a terrible depressive episode. I broke up with an emotionally and verbally abusive narcissistic boyfriend and struggled with the decision.
I know that this has affected my performance — the quality of my work hasn't become worse, I just have become less productive and driven. I've started therapy and adjusted my meds (I was already taking an antidepressant for anxiety). However, I am wondering if I should disclose some of this to my bosses so that they understand that this is not my usual behavior and I am actively working to improve it.
Read More: Explaining to my boss that stress is impacting my work
A: If you think your bosses have likely noticed a change in your behavior, it could be useful to let them know that you've been dealing with some personal issues outside of work. I wouldn't get into the details — the details don't actually matter for the purpose of what you want to communicate to them — but instead would just say something like, "I want to let you know that I've been dealing with some difficulties in my personal life, and I realize I may not have been working at 100% over the last few weeks as a result. I'm working to fix that, but in case you'd noticed any changes, I wanted to give you some context for it."
A good boss will appreciate knowing you're in a stressful time (so that if they have noticed any change in your work, they'll understand why) and will also appreciate knowing that you're trying to mitigate it.
These questions are adapted from ones that originally appeared on Ask a Manager. Some have been edited for length.