How to Invest in AI as ChatGPT Takes Tech by Storm
Money is not a client of any investment adviser featured on this page. The information provided on this page is for educational purposes only and is not intended as investment advice. Money does not offer advisory services.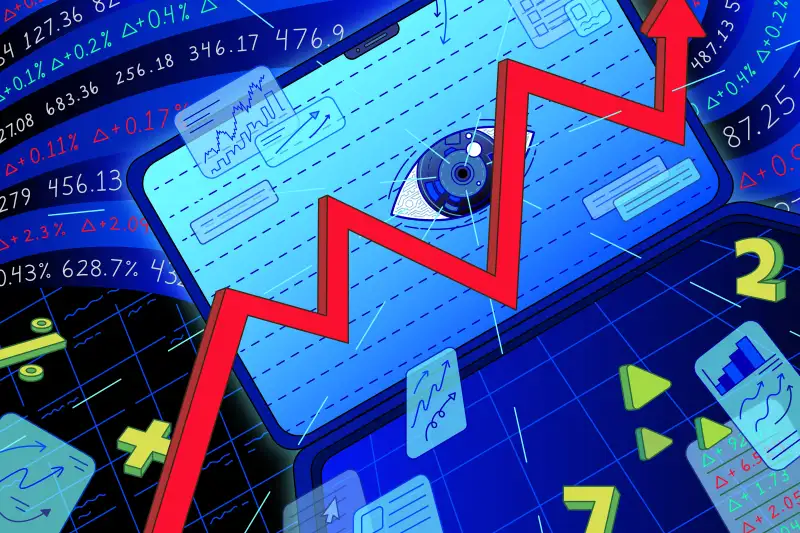 From the classroom to the boardroom, the artificial intelligence-powered chatbot ChatGPT is being billed as a game changer in how work is done. It can write a term paper, organize your calendar, plan your next vacation, explain the theory of relativity or even tell a joke (though, of course, with limitations).
Microsoft has made a huge bet on the technology with a $10 billion stake in ChatGPT creator OpenAI, and Google is rolling out a rival artificial intelligence (AI) service.
Our collective fascination with AI is not new — just look at the popularity of movies like Star Wars, The Matrix or The Terminator. But as we see the explosion of AI in everything from facial recognition software to autonomous vehicles, there's a growing appetite for potential investment opportunities in the technology.
Back in 2021, AI global funding doubled to $66.8 billion with a record 65 AI companies that reached $1 billion-plus in valuations, according to the International Trade Administration. Fast forward to this year and stocks linked to AI are soaring.
Should you get in on the action? Here's what investors need to know.
What is AI?
AI is often referred to simply as smart machines that can process information, reason and "think" autonomously like a human being. These systems work by analyzing huge amounts of data to identify patterns that can be used to make predictions.
What's next for AI?
The current surge in interest around AI may be just the beginning.
AI is poised for explosive growth in large part because the sector has a number of core building blocks that are falling into place, says Michael Loukas, principal and CEO at TrueMark Investments, which operates the TrueShares Technology AI and Deep Learning ETF (exchange-traded fund). The algorithms and software, processing power and data sets are all incredibly robust, Loukas says, and you now have motivated groups that are looking to utilize AI to solve for a pain point, whether it is facial recognition software, cybersecurity or a cure for cancer.
"You can't see it yet, but you can feel the ground rumbling," says Loukas. "Everyone is realizing that we are in the midst of a massive paradigm shift in how AI and deep learning is utilized, not only in business, but in society as a whole."
Where investors are finding opportunities
ChatGPT has added fuel to the fire in an already-booming shift towards AI tech that is quickly expanding across the globe and popping up as a key theme for major corporations like Meta and Google. Semiconductor company Nvidia Corp., which Wall Street experts say could be a big beneficiary of the hype around ChatGPT and AI, has seen its stock price jump around 50% so far this year amid the stock market's rally.
For investors looking to get exposure to AI stocks, here are three ways to do so.
3 Ways to Invest in AI
AI-focused ETFs
ETFs offer a more diversified approach to AI investing than going all in on specific stocks. The sector is seeing both growth and increased specialization, such as the combining of AI with robotics or automation. The Global X Robotics & Artificial Intelligence ETF, for example, invests in companies poised to benefit from increased adoption and utilization of robotics and AI, including those involved with industrial robotics and automation, non-industrial robots and autonomous vehicles.
Some ETF managers are focusing on "pure-play" AI companies that have developed applications or provide key building blocks, while others also include companies that are licensing and leveraging AI to enhance their business. First Trust Nasdaq Artificial Intelligence and Robotics ETF, for example, includes select companies in AI and robotics, while also classifying stocks into one of three categories. Those categories include enablers (companies in advanced machinery, semiconductors or databases used for machine learning), engagers (companies offering products, software or systems), or enhancers (companies that do not have AI/Robotics as their core business but still provide value to the industry).
"Because it is still early innings in terms of AI adoption, we think it is better to look at the long-term view with diversified exposure to various sectors, as well as enablers and developers and also companies that are leveraging and using AI," says Lisa Chai, a partner and senior research analyst at ROBO Global, which operates the ROBO Global Artificial Intelligence ETF.
Individual stocks linked to AI
AI technologies are emerging in virtually every industry, from agriculture and banking to transportation and entertainment. Before investing in AI companies, it's important to understand the AI ecosystem and the core building blocks: the algorithms (software), processing power (chip makers), and data sources and business use.
Chai says to take ChatGPT as an example: "It's a revolutionary bot, but in the end, what that bot depends on is processing power and data."
The aforementioned chip maker Nvidia, cloud-based data warehouse Snowflake and software and data platform Splunk are just a few examples of companies experts say to keep an eye on.
Household names
There are plenty of major companies you've likely heard of that are leveraging AI. Investing in large-cap stocks can give investors some exposure to AI, while taking some of the pre-development phase risk off the table, Chai says.
For example, Google-parent Alphabet is using AI to enhance its search engines and Amazon is using AI to make personalized product recommendations. Tesla, meanwhile, is using AI for robots, vehicles and more.
Should you invest in AI?
While it may be tempting to jump on the AI bandwagon, investors should ask themselves some key questions first.
To start, you need to understand AI applications and the broader AI ecosystem, Loukas says.
Investors need to look at where AI is being used effectively, what building blocks are needed to support that growth and, ultimately, what business models show potential to be profitable, he adds.
Financial advisors also don't tend to recommend making big shifts to your investment portfolios based on the news — or exciting trends that everyone else is talking about. Instead, you should consider your goals, risk tolerance and timeline, and focus on having a diversified portfolio. Artificial intelligence exposure could certainly be a part of that, just make sure you don't put all your eggs in this basket.
More from Money:
Can ChatGPT Save You From the Agony of Writing a Cover Letter?
These Metaverse Stocks Let You Invest in the Internet's Next Frontier