Vanguard Founder Jack Bogle Says This Was His Biggest Money Mistake
Money is not a client of any investment adviser featured on this page. The information provided on this page is for educational purposes only and is not intended as investment advice. Money does not offer advisory services.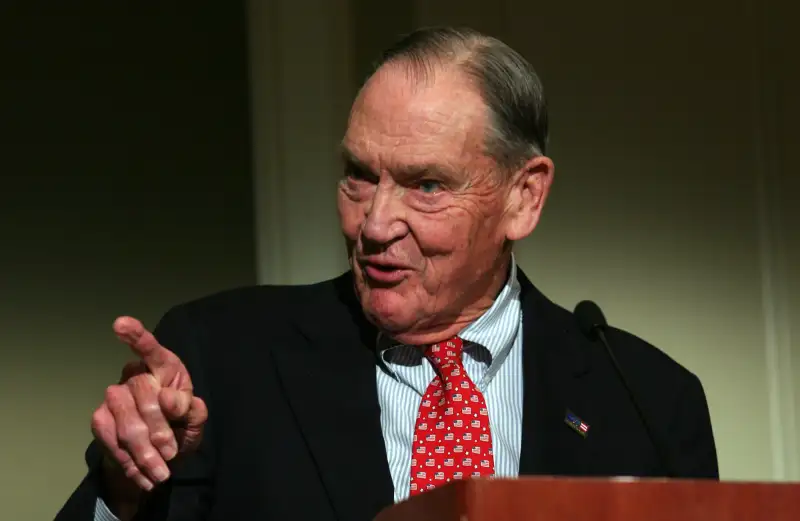 Bloomberg—Bloomberg via Getty Images
If the world of finance has anything close to a Pope, Jack Bogle is probably it.
The founder of investment giant Vanguard Group, who is held in wide esteem, revolutionized retirement with low-fee index funds, and has a moral center that puts the rest of the industry to shame.
Rather than enriching himself and his firm with billions of dollars as he could have done, Bogle passed along savings to the retirement accounts of individual investors.
For the latest in Reuters' Life Lessons series, we talked with Bogle about what he has taken away from his 87 years.
Q: Whom did you learn money lessons from at a young age?
A: Growing up in the Depression era, I actually lived with my grandparents for a couple of years, who had a farm in New Jersey. In those days, grandparents said to grandchildren anything they damn well wanted to. They were very strict with high standards, and were inclined to preach to you. And of course, they were always right.
Q: How did the great depression shape your understanding of money?
A: You understand a whole lot about money when there isn't any. What you learn is that money is hard to come by, and it is important not to waste it. By the time I was 12, I was working every summer, including as a pinsetter in a bowling alley. If I ever wanted anything, I knew I had to earn the money myself.
Q: As you became a success, what did you learn about handling wealth?
A: One important factor is that my wife and I are totally sympatico when it comes to money. She is very thrifty and frugal, has good values, and is not a big spender.
Q: How do you approach philanthropy?
A: I start with repaying my debts. My biggest debts were to Blair Academy and Princeton, where I went on scholarship. I also think the local United Way is extremely important, which I made a high priority at Vanguard. When you live somewhere, you have an obligation to that community. Then there is Bryn Mawr Hospital, where I got my heart transplant.
Q: Did your heart transplant in 1996 clarify what is truly important in life?
A: I had to wait 128 days in a hospital for a transplant, not knowing if I was going to live or die. So I feel an enormous sense of gratitude to my angels of mercy - the doctors and nurses, and to the heart donor who was only 26 years old. I even wrote a letter to the family, but I never heard back. It makes you value your life and your good fortune, and praise the Lord. Then you get on with your new life. I am 87 now, and I count my blessings every day.
Q: What money mistakes in your career stand out to you?
A: Oh my God, let me count the ways. I guess buying individual stocks, which I did through a broker for about a dozen years back in the 1950s and 60s. It eventually occurred to me that I wasn't getting anywhere.
Q: What is your portfolio breakdown right now?
A: I am about 50-50 in stocks and bonds. At this stage in my life, I am looking more at maintaining what I have, than expecting additional growth. It looks like a risky time to me: Stocks are fully priced, and investors should plan on lower returns in the coming decade, for both stocks and bonds. Stay the course, have a balanced program, and save more if you can. That is the only thing to do.
Q: What life lessons do you pass along to your children and grandchildren?
A: I don't want to lecture to them, so I just try to live a life they could learn from, by observing what I actually do. A lot of parents talk a big game, and then don't live up to that. That is hypocrisy. So I do my best to live a straight and honest life.