5 Ways Janet Yellen Says Donald Trump Is Wrong About the Economy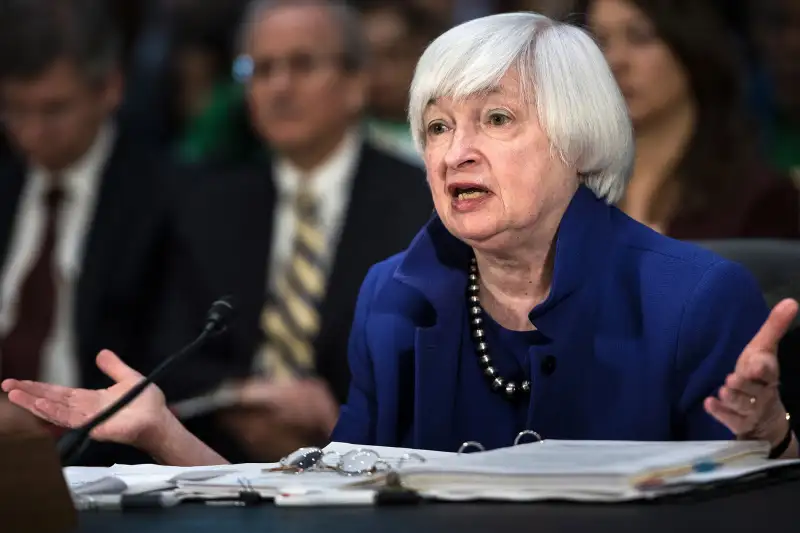 The economy is on track for some growth, but significant policy changes by the Trump administration could drastically affect that outlook: That was the key message from Federal Reserve Chair Janet Yellen in her annual report to the Senate on Tuesday.
Over the short term, Yellen said, she expects the economy to "expand at a moderate pace, with the job market strengthening somewhat further and inflation gradually rising to 2%."
But there's still considerable uncertainty around the long-term economic outlook, she emphasized—and while she stopped short of outright criticizing the administration's policies, she did note that significant policy changes could affect any expected expansion.
It was hardly the first time the two have found themselves in opposition: Trump has criticized the Fed for creating a "big, fat, ugly bubble" and called it more political than Hillary Clinton. But Yellen's remarks Tuesday again highlighted several areas where Trump's rhetoric doesn't always match the economic data.
Economic Outlook
Trump: Under his administration, Trump promised Americans will see a 4% to 6% increase in gross domestic product through his policies on taxes and trade.
Yellen: The bull markets and economic growth that have followed the financial crisis can't continue forever—and growth will likely only hit 2% over the next few years. "We've known for many, many years that the U.S. fiscal trajectory is not sustainable," Yellen said Tuesday. "The most recent forecasts show deficits increasing in the next 10-year ratio."
Jobs
Trump: The unemployment rate is miscalculated, and could actually be as high as 20% or more. "The unemployment number, as you know, is totally fiction … But don't worry about it because it's going to take care of itself pretty quickly," he said in December.
Yellen: The unemployment rate is 4.8%, and the number of jobs has increased—about 190,000 per month in the second half of 2016. Since 2010, the total increase in employment has been nearly 16 million. "Improvements in the labor market in recent years have been widespread, with large declines in the unemployment rates for all major demographic groups, including African Americans and Hispanics," Yellen said Tuesday.
Immigration's Impact
Trump: Immigration has been a focal point for the Trump administration, with an executive order banning the admission of many refugees into the U.S. and Department of Homeland Security raids aimed at arresting illegal immigrants. "The crackdown on illegal criminals is merely the keeping of my campaign promise. Gang members, drug dealers & others are being removed!" Trump tweeted Sunday
Yellen: If the U.S. halts immigration, it could undermine workforce participation, which has been trending down over the long term, Yellen said. "Immigration has been an important source of labor force growth, so slowing the pace of immigration probably would slow the growth rate of the economy," Yellen said.
Trade
Trump: U.S. trade deals are unfair and hurting Americans. "We have to renegotiate our trade deals. They're taking our jobs, they're giving incentives, they're doing things that, frankly, we don't do," Trump said during the first presidential debate in September. "We cannot do it any longer."
Yellen: The U.S. does have a "current account deficit"—the difference between the amount we spend on goods and services we import from abroad. It has increased in size and could be a long-term concern, she says, if it creates a build-up of indebtedness to foreigners—but it's not as troubling a picture as Trump paints. "It depends on what the long-term trend is and it depends on what we earn on our foreign investments versus what we pay," she said. "Historically we've earned more on the assets we hold abroad than what we've paid to foreigners who hold our assets."
Bank Health
Trump: In signing an executive order earlier this month directing the Treasury Secretary to review the provisions set up by Dodd-Frank, Trump questioned the strength of U.S. banks following the 2010 regulations. "Frankly I have so many people, friends of mine that have nice businesses that can't borrow money," he said. "They just can't get any money because the banks just won't let them borrow because of the rules and regulations of Dodd-Frank."
Yellen: Banks have not been crippled under Dodd-Frank, she said Tuesday: "U.S. banks are generally considered quite strong, relative to their counterparts" abroad. And only 4% of small businesses surveyed said they were unable to get all of the loans they needed, while only 2% ranked the ability to get credit as as their main problem, she said, citing a recent survey by the National Federation of Independent Businesses.