How a $600 Banjo Saved My Life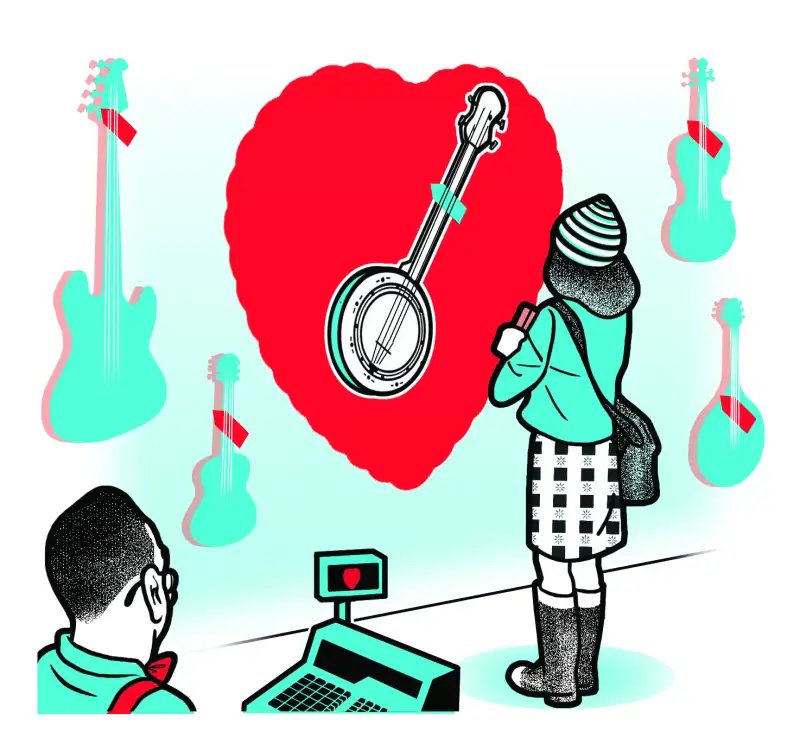 I stood in the music store beside my then boyfriend, looking up at the banjo on the wall. For $600 I could take this "starter" instrument home and indulge my new obsession with bluegrass. Six hundred bucks wasn't an outrageous price, but I was in my late twenties and inconsistently employed. The purchase felt grandiose, especially for an instrument so often derided. Question: How do you know if the stage is level? Answer: The banjo player is drooling from both sides of her mouth. Reluctantly, I handed over my credit card.
Not long thereafter, in the fall of 2007, I left my boyfriend of eight years. He liked the status quo; I wanted to get married. The split was tough. We'd shared everything—an apartment, friends. Now I felt isolated and lonely. I wanted to let loose, to dive into my newfound singledom. But I'd been in a relationship for so long, I didn't know how. Then I remembered the banjo.
It hadn't occurred to me to play with other people. I wasn't very good, and I lived in New York, not Tennessee. How many bluegrass musicians could there be in the Big Apple? As it turned out, a lot.
The open jam I discovered at a West Village bar was like nothing I'd ever experienced. At least 20 musicians—guitarists, fiddlers, mandolinists, and, yes, banjo players—stood in a circle, taking turns improvising and singing while bar patrons drank and laughed and applauded. Overseeing the operation was a 70-year-old Dobro player in a cowboy hat who called himself the Sheriff.
As I lingered outside the circle, a grizzled guitar player noticed my discomfort and offered to help me follow the chord changes. I was a disaster, but it didn't matter. For the first time in a long while, I felt like part of something.
I returned weekly, often playing until two or three in the morning. I learned to take solos and belt out songs like a Nashville diva. I made new friends and dated new men. If I ever felt alone, I had a place to go, though I wasn't often lonely anymore. After a while, my bluegrass friends urged me to trade up for a new banjo. I'd have to pay a couple grand, they said, but I'd love the sound. I considered it, but why spend more? For $600, I'd gotten a fresh start and a life filled with music. That was all I needed.
Jennifer Miller's first novel, The Year of the Gadfly, was published in 2012. Look for the bluegrass bar in her next book, out in 2015.
Do you have a purchase you consider Money Well Spent? Email us about it and what it means to you at moneywellspent@moneymail.com.
More Money Well Spent:
How One Family Discovered a Vacation in a Box