What It's Like to Win $47,802 on Jeopardy!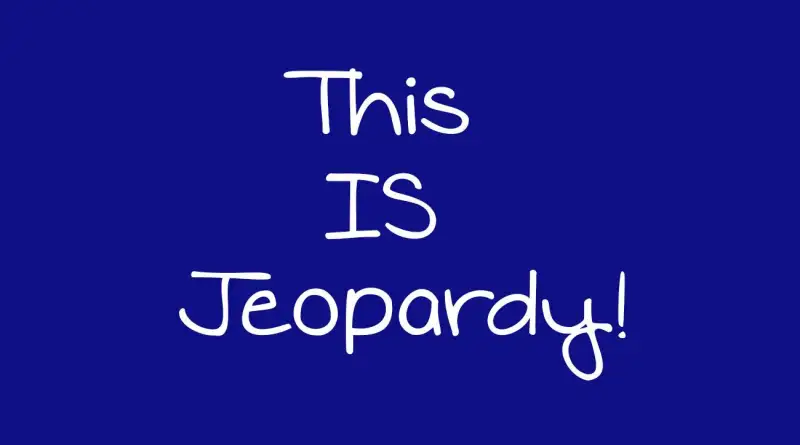 What I remember most from winning two episodes of Jeopardy! is what I felt after losing the third. Just as quickly as I had become a champ I had unbecome one: Minutes after whiffing on a Final Jeopardy question that would have made me $36,400 richer and a three-day champion, I was spat out into the midday southern California sun, giddy, overwhelmed, sworn more or less to silence about the outcome of my appearance but in possession of three crumpled carbon-copy sheets certifying winnings of $47,802, less California withholding of 7%.
As a sportswriter, I've often had to shout half-considered questions at a still-sweaty loser or champion. On that day I had been both, but no scrum of reporters stood by to ask me what was going through my head in that final moment. Not even a, "Talk about what this means to you and these fans." I wish someone had; some questioning could have helped me order my thoughts. Instead, I was just another guy on the Sony lot trying to find his Uber pickup and trying to process if after all this there remained anything in the world left for me to achieve.
My Jeopardy! journey had commenced ages before. The episodes, which aired in early April, taped in mid-January; the call that I would be appearing on the show came late in November 2017. I auditioned for the show at a hotel ballroom in New York earlier that year, in April, and received that audition because of my performance on the online test in October 2016. (I thought at the time that the in-person audition had gone well—a necessary hurdle, given that the show invites less than 10 percent of the in-person auditioners to appear—but then doubted myself once a few months passed without me hearing anything.) Before that, I had taken the online test essentially every year it was offered and even had one in-person audition before, in June 2012, when 21-year-old English-major me mumbled a bunch of words before the camcorder about how I loved romantic poetry so much that I would spend my potential winnings on a trip to John Keats' home at Hampstead Heath. (Stunner: they didn't call me.)
I had been wanting to compete on the show for as long as I can remember, and my yearning never had much to do with money. I held (and still hold) Jeopardy! in unmatched esteem among TV programs for the same reasons heartlanders love Roseanne and dweebs love the Big Bang Theory—the show reflects my people and my principles. Where else on television can one witness ill-dressed and ill-at-ease rule-followers thriving? Where else on television are folks rewarded for having knowledge, rather than being able to appear knowledgeable? (To see this fine distinction in action, revisit the highlights of a certain solemn CNN anchor's disastrous 2009 performance on Celebrity Jeopardy!)
The show has had such staying power—the Alex Trebek version has aired continuously in syndication since 1984—because it strikes several valuable balances: It is scholarly but not snobby; rigorous but not barbaric; traditional but not fusty. Jeopardy! proclaims itself "America's Favorite Quiz Show," and indeed it is tailored for the living rooms of aspirational families throughout the land. (And who better to speak to American strivers than the Canadian immigrant host who clambered his way from Sudbury, Ontario, and gigs on Battlestars and The Wizard of Odds to a reported $10 million annual salary and an unquestioned place in television history?) Aside from the occasional forays into fine arts and hard sciences, which have gotten more occasional with each passing year, the Jeopardy! clue-writers cover material one need not have attended college to know. To my mind, the Phi Beta Kappa crowd doesn't usually yield the toughest contestants, anyway—no, I went into my taping fearing the type that paid just enough attention in school before going home and gorging themselves on news and pop culture. (Every hour spent mastering number theory is an hour that can't be spent mastering the fact that "8-6-7-5-3-0-9/Jenny" was a No. 4 Billboard hit for Tommy Tutone in 1982.) Besides, rarely are Jeopardy! clues written to summon information in a vacuum; instead, the writers try to prompt what those of us with fancy degrees might call interdisciplinary thinking.
"What is the atomic number of argon?" is the kind of question that might come up on a chemistry test. (As with most questions historically asked of me on chemistry tests, I wouldn't know the answer.) On Jeopardy!, the question would more likely come as "You might find this atomic number of argon on the uniform of quarterbacking great Peyton Manning." ("What is 18?") The clues are also written to inform. From that one a Colts fan would learn something about noble gases, and Sir William Ramsay himself would learn something about the NFL. Most importantly, for contestants, the writers' approach means that few categories are as hopeless as they seem. With a little luck, you can cover up your lacunae.
But you don't think that way when it's your turn to go on the show. As my tape date approached, I panicked over my opera illiteracy and the biblical quotes I'd missed out on because my family attended a Unitarian Universalist church. I spent far too much of my free time quizzing myself with the "RANDOM FINAL JEOPARDY" clues on J-Archive. I crammed for various Final Jeopardy wagering scenarios and wondered when I had lost my arithmetic abilities. Eventually I convinced myself that I would have been better off had the show not taken me—that really what I wanted was a lifetime pass to complain about how I'd clean up on Jeopardy! if the bastards would ever let me on, which they wouldn't, because they'd get sick of all the winning I'd do. Clearly, my trip to L.A. couldn't come soon enough.
I flew out of New York on a Monday so that I'd be settled but not soft by the time I was due at the Sony studio lot early Thursday morning. Some relevant facts: Jeopardy! does not pay for contestants' travel or lodging, though because the show tapes a week's worth of episodes each taping day, even most winners can make due with only a night or two in L.A., if they're so inclined. Because they shoot so many shows in a day, contestants also have to bring three nice outfits to the studio. (This was a challenge for me, since I wear the same outfit every day—a black T-shirt, jeans, and sneakers—none of the components of which the contestant coordinators would classify as "nice.") At the studio, they do your makeup, but not your hair. For contestants the green-room accommodations are fairly spartan: water, coffee, tea, half a box of donuts. But we were told that they do break for lunch between the "Wednesday" and "Thursday" tapings, and those who hadn't yet been eliminated would get a voucher for a free lunch at the Sony Studios commissary.
The night before the taping, I barely slept. I had subconsciously moved the goalposts since arriving in L.A., and my nerves had begun to devour me. At first, all I had wanted was to play well enough and not become a meme. (A sharp young Washington Post reporter had appeared on the show in January and answered "Who is Eminem?" when a picture of Jack White appeared on the screen; she was summarily barbecued by the entertainment blogosphere.) Somewhere along the line, though, I had changed my mind. What I really wanted was a win, and my great fear was returning to New York without one. I remember confessing this to my girlfriend as though it was a dark secret. She laughed. "Of course you want to win!"
Standing between me and winning, though, were the dozen other competitors who turned up at Sony when I did. I began to size them up: Emily, from Michigan, the quiet reigning three-day champ, appeared to be about my age, so I figured she'd know a lot of the same stuff I did, and she had to be tough if she had won all those shows. Ashley, from Massachusetts, was a U.S. history teacher; she'd have me beat there. Daniel, from Indiana, was a journalist too, so I wouldn't likely run any categories about the media industry. Kristin, from New Jersey, was a maritime lawyer with a sense of humor. Arielle, also from Massachusetts, had a podcast. And there was a physicist from Colorado named Michael Boss. The name and the vocation alone would have scared me—but the bowtie he was wearing really did.
Thankfully the Jeopardy! contestant coordinators—a sweet, peppy, long-serving bunch—strive to keep the atmosphere light. They crack jokes. Maggie Speak, the blonde group leader with the pipes of a drill sergeant and the rasp of a chainsmoker, told me excitedly that she had slept with Joe Namath. Wow, really? I asked. Yes, she said, she fell asleep on his shoulder once on a flight and once they landed asked him if she could tell all her friends she slept with Joe Namath.
They also made us complete paperwork so comprehensive I'm pretty sure I would be sentenced to 60 days in jail if I even so much as watched an episode of Family Feud. They also ran through with us the personal anecdotes we had submitted weeks before, so that we wouldn't be caught off-guard. For every contestant, they put three different prompts on Alex Trebek's notecard. While they do point him toward one in particular, he's been known to freelance. He's said to be particularly fond of love stories. My top anecdote was that I wrote a cover story for TIME magazine in 2014 about Taylor Swift. "Should I not mention the name of the magazine?" I asked Corina Nusu, the contestant coordinator who was running through my stories with me. We had been told we'd be in big trouble for plugging any product on the air. She said I shouldn't, but Alex might. Again, he does what he wants.
Then came rehearsal. For the first time, we beheld the Jeopardy! set in all its purple, blue, and Lucite glory. Valhalla. It had that only-in-television feel of somehow being simultaneously smaller and vaster than imagined.
A stage manager taught us how to position ourselves for the cameras—don't look directly into them, except during the introductions—and work the signaling devices. (True Jeopardy! heads know better than to call them "buzzers." They don't buzz.) Glenn Kagan, one of the contestant coordinators, stood in for Trebek as we rotated in and out of the mock game. They wanted to make sure we used our clarion TV voices and looked happy up there rather than anxious. Although Jeopardy! is serious stuff as far as game shows go, the producers don't want the episodes to look like hostage videos. As it turned out, I didn't have to fake my smile—the rehearsal really was fun. I loved bopping around the game board, and I appreciated having a consequence-free chance to demonstrate the breadth of my heretofore useless collection of knowledge. After rehearsal, a game-show integrity officer explained to us that we'd be in a world of pain should we reveal any of the game material before our episodes aired. We could share with friends and family the game's outcome if we wanted to, but the clues had to remain secret.
Then it was time for taping. It had been about four hours since we first showed up. By that point they had loaded in the audience, a mix of contestants' friends and families and a few dozen people who may once have been extras in Cocoon. And, right, us! Two contestants were chosen at random to face off against Emily in the Monday game; the rest of us had to sit in the crowd and watch. (Our guests, sitting the next set of bleachers over, had been told not to make eye contact with us.) 93-year-old announcer Johnny Gilbert, in a satin jacket, read the opening bits from his podium. "Here, now, is the host of Jeopardy!… Alex Trebek!" And there he was, welcoming us to the April 2 show. He was relieved, he said, that no airing coincided with April Fool's. The game moved briskly; during commercial breaks Trebek took audience questions. I remember him saying something about a recent trip to the Galapagos being "satisfactory." He was pleasant if a little distant. I was thrilled enough to hear him speaking extemporaneously at all—it meant I was really going to be on Jeopardy!
All three players impressed me, though I wished I had been up there when none of the them were able to get $1600 and $2000 clues I knew in the "MacArthur Genius Writers" category. The Final Jeopardy—category: U.S. Government—struck me as preposterously easy. Onscreen they showed a portrait (it was Bobby Kennedy) and the clue said that the portrait hangs in the building of the Cabinet department he once ran. He was famously his brother's Attorney General. But only Daniel the reporter got it right, which meant that he'd be facing two new contestants on "Tuesday," and they'd be … Ashley and Jack! Oh boy. Daniel went back to change; we assumed our positions at our podiums. Ashley was in the middle; I was on the audience's right. I wrote my name in playful all-caps on the electronic touchpad in front of me, and soon enough Gilbert was reading out my name. "A journalist from New York, New York—Jack Dickey!"
I wasn't nervous when the show began. Enough time had passed that morning; I was ready to play. I figured I had the signaling-device approach mostly right, and my synapses, thank heavens, were firing like Gatling guns that day. It's not apparent to the home-viewing audience, but it's essentially impossible to ring in first if it takes you more than a split-second to get the question, because you have to mash the button with your thumb at the precise moment Alex stops reading the question. (I thought it wise to keep mine in my hand under the podium, lest America see how frantic I was handling it. Not all contestants do this, but they should.) Come in any earlier, you'll be locked out for a crucial fraction of a second; any later, you'll likely get beat. If you're racking your brain for the answer, you won't be able to focus on the timing.
I answered the first clue of mine correctly—"What is Mount Vesuvius?"—for $600. But the second clue, about an island of Japan beginning with "H", I flubbed. "What is Hokkaido?" I said. (Dan got the correct answer: "What is Honshu?") Some nerves crept back. When I regained control of the game board (Doll-Collecting, $200, "What is an action figure?") I took us to a basketball category, figuring I'd be able to run up a lead before the first commercials. I nailed the first two questions, but then Ashley and Dan took the next two to lead us into break. I was in third place.
During commercial breaks, the contestant coordinators come onstage and talk to the competitors. They'll tell you to enjoy yourself if you look lost, and they'll tell you to speak up if you're mumbling. But we were all pretty peppy in that game, so Maggie, Ashley and I found ourselves talking about trashy television and the D-list reality stars we had spotted in L.A.
Once the break was through, Alex came to ask me about Taylor Swift. He offered some comment about how magazines are going out of style these days—thanks, Alex—and I blabbed about the story. I joked that I had beseeched the TIME editors to put someone under 50 on the cover. Part of me worried that I had just offended my onetime bosses, but more of me worried that if I was worried about that, I'd stand no chance at winning. So I pressed on.
I finished the first round strong, correctly answering a Daily Double in the otherwise hostile doll category, and stood in second place by the time Double Jeopardy rolled around. Immediately I saw two nightmare categories: Shakespeare in Gov. (I barely know any, despite having studied English) and Physics Glossary (I barely know any, because I studied English). I figured my best chance at making up for those deficiencies was with the "We Appreciate Canadian Performers!" category. I knew the response to every clue, and rang in each time. But Ashley, much faster with the signaling device than I was, got them all. She had more than double what I did by the time she was through.
But then I hit a lucky streak. I successfully answered two Daily Doubles ("What is Quaker?" and "What are active and passive?"), for $7,500, plus a $2000 clue ("Who is Croesus?") and found myself $6,300 ahead of Ashley heading into Final Jeopardy. I had $21,500; she had $15,200. The category was U.S. History, Ashley's vocation. I joked to her during the commercial break that I was toast. I knew a little bit about the subject, though, and besides, there was no real argument, presuming I did the math right on the scratch paper they handed out, for wagering anything besides $8,901, which would give me a dollar more than Ashley if she doubled her score. I wrote down my wager on the screen; a crew member asked me to write it again, because the top of my 9 wasn't plump enough and wouldn't look right on TV. (They're so careful not to give any player an unfair advantage that they didn't confirm my wager with me verbally; instead, the crew member checking my wager wrote a "9" on a piece of paper and asked if that indeed was the number I intended to have as the second digit in my wager.)
The question came—another visual clue, this time with a picture I knew to be of Teddy Roosevelt. "In 1899, a reunion of this alliterative squad took place, with the governor of New York fittingly on horseback." Easy! Who are the Rough Riders? Daniel and Ashley both got it right, and Ashley bet all but a dollar, leaving her with $30,399. Trebek called on me. Did I wager enough? "By golly, he did!" he declared. I won by two dollars with $30,401. Watching the episode when it aired in April, I learned that I barely reacted the moment Trebek announced the win. I looked down toward my shoes, then the applause came in, and by the time my head came back up I was wearing a grin and a look composed, as best I can tell, of surprise and gratitude. I have no memory of making that face.
But I do remember that there was hardly any time to bask in the glow of the victory. The crew shuttled me backstage to change into my "Wednesday" outfit, a plaid shirt, and have my makeup touched up. One nice thing about winning is that everyone on Jeopardy! starts calling you "Champ," like they're all Bundini Brown. I decided that if I went on a weeks-long winning streak, I'd consider using the cash to hire a part-time corner man.
I'll skip the play-by-play of the second show, as it was the least gripping of the three. (I did bungle a $1600 clue about an "alliterative aid" for which New Yorkers were eligible if they had Parkinson's disease or Multiple Sclerosis. "What is Social Security?" I declared. Trebek said no. I looked flummoxed at first, then my eyes rolled back and I smiled.
Of course—the answer was medical marijuana. I had inadvertently revealed myself to America as the dope-spurning square I've always been.) I did win again, by $2, hopefully signaling in the process to all the young journalists out there that they, too, can one day do simple addition and subtraction under pressure. My haul, $16,401, was a little more than half of what it had been the prior show.
The ensuing lunch break eased some of the collective tension. I got a turkey and cheddar sandwich with dijon, and I ate half of it. I wondered if halftime of an NBA Finals Game 7 was anything like this.
Within an hour, we were back on set for the Thursday taping. A new audience had entered. Kristin and Arielle were my competitors this time, and from the jump I could tell something had changed. I had the ease of a two-time champ, but Kristin had an upstart's tenacity. She knew her Bible quotes, was quick on the buzzer, and she got the Daily Double, and by the end of the Jeopardy round she had $6,000 to my $4,800. (Arielle had $2,800.)
In Double Jeopardy, in the Books and Authors category, she missed a Daily Double that I knew (the clue was about Mario Puzo; she guessed Michael Crichton), but she knew a $2000 clue that I didn't ("Who is Ken Follett?"). I secured a Daily Double about the NRA—making me some social-media enemies in the process—but Kristin grabbed two more $2000 clues ("What is a harem?" and "What is Romania?") and caught me. We entered Final Jeopardy tied, with $18,200 each. Arielle had $6,400.
The category: Films of the 1990s. At first, I was relieved—especially since Wednesday's category had been "19th Century Classical Musicians." I thought only a "What is Babe: Pig in the City?" stood between me and at worst a tiebreaker. Then I realized that there were many films from the early '90s with which this 1990 baby was not remotely familiar. I had never seen Unforgiven or Dances With Wolves or Ghost or The Prince of Tides or The Silence of the Lambs or The Shawshank Redemption. (I had seen the best parts of the Beethoven series, though.) It was … time for some game theory! Until a few years ago, Jeopardy! permitted ties and returning co-champions, and because Arielle had less than half of what Kristin and I did, we would have been fine back then wagering $0 apiece, and returning together for the Friday show. These days there can be only one winner. I assumed that Kristin's 90s knowledge was superior to mine, and that she could recognize that and would wager everything. I could either a) wager everything, and guarantee at least a tiebreaker if I got it right, in the process ensuring that my streak would end if I got it wrong or b) wager $0 and hope for a question so obtuse it would stump Kristin, in the process risking elimination if she knew the answer.
I bet it all. I figured, if I lost on a question where I knew the answer, I'd be woulda-coulda-shouldaing myself for eternity. Then the clue came: "Tommy Lee Jones won the Best Supporting Actor Oscar for this movie based on a TV series that premiered in 1963." 30 seconds. Good luck.
The first thought that popped into my head: Well, f-------------------k. I didn't know it instantly, the way I had Tuesday and Wednesday's clues. The only thing I knew instantly about Tommy Lee Jones was that he went to Harvard, where he roomed with Al Gore and played football, which was of no use here. The only two movies I could say for sure that he was in during the 90s were JFK (definitely not based on a TV series) and Men in Black (plausibly based on an episode of The Twilight Zone, though unlikely to have yielded any Oscars for acting). I knew The Untouchables was an old TV series turned into a movie (though I didn't think it was a '90s movie, and I didn't think Jones was in it), and The Rifleman also came to mind, though I couldn't recall if it had ever been made into a movie. With time dwindling, I wrote down the least unappealing option: "What is Men in Black?" I figured there was a two percent chance I was right, and a 98 percent chance I'd resent Tommy Lee Jones's drawling Cantab ass for the rest of my life.
Trebek called on Arielle first: "What is The Fugitive?" She was correct. Kristin had it too, though she had wagered all but a dollar, leaving a chance for me to trump her. Meanwhile, I was wondering, literally, what is The Fugitive? I had never seen it or heard of it. I knew nothing about it. When the camera panned to me, I didn't bother with a poker face, instead shaking my head and trying to look cartoonishly forlorn. "You're going to finish in third place today, but you've won a lot of money already," Trebek said.
Indeed I had. What I thought of in that moment, and continued to think of once I got in the car back to the hotel, was just how happy I was that my information-hound habits had finally paid off. I no longer felt guilty for skipping calc homework to trawl Wikipedia, for passing up an assigned monograph to read a magazine. Had I venerated trivia any less, I wouldn't have known what I knew. Serendipity, all of it!
My flight back home was the next day, on a Delta plane like the one I had flown out on. I was behind on my reading for a book review I owed an editor, but I decided instead to go with an in-flight movie, letting serendipity take me away. I scrolled through the first couple pages of offerings; nothing grabbed me. Then I saw a movie poster featuring Harrison Ford in a dead sprint. THE FUGITIVE. I began to laugh uncontrollably, and then reached for that book I had to read.